Augusta National Membership Cost
Augusta National is a famous golf club founded in 1932 on an old plantation and plant nursery. The golf course was designed by Bobby Jones with the aim of building a world-class winter golf course natal in Georgia.
The first Masters championship was held at Augusta National in 1934 and its first club professional was Ed Dudley. He won 15 Professional Golfers' Association tours. Also, former United States President Dwight Eisenhower was a guest of Augusta National.
How much does the Augusta National membership cost?
If you want to be a "green jacket" at Augusta National, you should be prepared to pay anywhere between $100,000 and $300,000 for this membership. The annual dues would be around $30,000. Also, membership to the National is available only by invitation.
Another fee you need to consider when talking about the costs of being a member of Augusta National is the green fee, which is around $400. It can increase to $550 during the week when the Masters is held.
Once you are given the literal "green jacket", you will have to wear it during the tournaments. In case you are not using the "green jacket", you will have to return it. The only exception is the winners of Masters. They are allowed to keep the jacket for a certain period of time before they have to return it.
This club used to be an all-male club, but almost a decade ago two women members were also accepted, so now it is open for both men and women.
In the table below you will find the latest Augusta National membership costs.
Item
Price
Green Jacket Membership
Green Jacket (Invitation Only)
$100,000 to $300,000
Annual Membership
Annual Dues
$30,000
GREEN FEE (BASE FEE)
Green Fee
$350 – $500
Private or Public?
Augusta National is a private golf club and the membership is available only by invitation.
Difficulty rating
The Augusta National golf course is an 18-hole course. The unofficial rating the Augusta National received from The United States Golf Association is 78.1. Before this, the club had a rating of 76.2.
Amenities
Some of the facilities offered by Augusta National include a default clubhouse, cabins, a wine cellar, a bar, and pro shops. Currently, there are three cabins dedicated to the sponsors AT&T, IBM, and Mercedes-Benz.
You might also like our articles on the cost of membership at Hacienda Golf Club, Sand Hills Golf Club, or Druid Hills Golf Club.
The club's on-site press building is equipped with leather chairs, television studios, staffed bathrooms, a complimentary restaurant, and various snack options. The cameras which are placed all over the course are connected directly to the press building's studios through underground cables.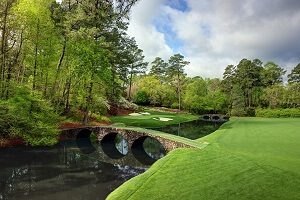 Besides the great amenities, Augusta National club has strict rules that its staff, members, and guests (patrons) need to follow. For instance, electronic devices are forbidden on the site. Also, as a spectator, you are not allowed to cheer when a player makes a mistake. Loud talking or running around is not allowed either.
These rules are enforced by the security guards, that are traditionally offered by Pinkerton. In case you break one of these rules you will be permanently banned or even prosecuted when it is possible.
Also, the maintenance of the Augusta National golf course is impeccable. For example, the pine tree needles are imported and the staff even used to dye the waters blue. Though, they have stopped this practice. Bird sounds are played over the speakers.
The Augusta National Golf Club course has some notable spots such as the Amen Corner, a press building, Berckmans Place, Eisenhower's tree, that was later cut down, "a place of staggering charmlessness and aesthetic death" in an old plantation house where tournament winners are presented with a green jacket and other more.
Important things to consider

The Berckmans Place from Augusta National Club operates only for one week during the Masters. It is known also as Berckmans or simply BP and it is a 90,000-square foot private shopping and dining complex. Be prepared to pay around $10,000 for the one-week entry pass. Also, you will need the approval of Augusta National as there is a 10-ticket limit.
In this cost free dining at Berckmans' five full-service restaurants, Pavilion, Augusta's Seafood, MacKenzie's Pub, Calamity Jane's, and Ike's Place, is included.
As a BP client, you can use an exclusive entryway and parking lot. There are also four putting greens and a pro shop.
https://www.thepricer.org/wp-content/uploads/2022/08/Augusta-National-membership-cost.jpg
380
610
Alec Pow
https://www.thepricer.org/wp-content/uploads/2023/04/thepricerlogobig.png
Alec Pow
2022-08-02 06:33:06
2022-12-23 05:00:09
Augusta National Membership Cost