How Much Does the Austin Country Club Membership Cost?
Last Updated on November 11, 2023 | Written by CPA Alec Pow
First Published on June 16, 2021 | Content Reviewed by

CFA Alexander Popivker
In 1899, Lewis Hancock founded the Austin Country Club which is said to be one of the first country clubs in all of Texas.
How much does the Austin Country Club membership cost?
The cost of a membership at Austin Country Club can be about $7,500 up to $100,000 for the initial fee, while the monthly dues stand around $170.
The Austin Country Club is one of the most exclusive private clubs in all of Texas. This club only accepts new members who are invited by existing members who have been vetted and found to be "in good standing."
You might also like our articles about the cost of memberships at the Navesink Country Club, the Echo Lake Country Club, or the Butterfield Country Club.
A golf-only membership at the Austin Country Club will be around $100,000, based on what we could gather from unconfirmed third-party sources like the Austin American-Statesman. You couldn't get an official price point, as there is no public information on the official website or other official sources of the club.
With the lack of a clear price list, those curious about joining must contact an active member to get this precious information. Those who want to get accepted should take note that memberships differ depending on what is included. There are three membership types: golf, tennis, and social.
Recently, a City-data.com member claiming to be in the know noted that social memberships at this club come with a $13,500 initiation fee and annual dues of $240 while resident membership for all facilities, which included golf, tennis, dining, pool, and more, would have an astounding initial fee of over $80,000. The thread itself was a few years old, but it still gives valuable information, so you have an idea of the expenses that surround the club membership.
Updated costs of the Austin Country Club membership

In the year 2021, they updated their information about the cost of different segments. In the following table, we illustrate the cost by the class of membership.
Types of Membership
Initial non-taxed fees

Capital and dues
Monthly renovation fees
ACC lifestyle
$1000

Monthly: $170
Annually: $2,040

$40
Hormel foods lifestyle
$250

Monthly: $210
Annually: $1,440

$40
ACC junior foundational
$250

Monthly: $165
Annually: $1,980

$40
Hormel Foods Junior foundational
$250

Monthly: $165
Annually: $1,980

$40
ACC foundational
$1000

Monthly: $375
Annually: $4,500

$40
Hormel foods foundational
$250

Monthly: $285
Annually: $3,420

$40
ACC premier
$2000

Monthly: $430
Annually: $5,160

$40
Hormel foods premium
$250

Monthly: $360
Annually: $4,320

$40
With a 17-year waiting list for golf-only memberships only getting longer as time goes on, it's clear that becoming a member of the club isn't as easy as you might think – even if you have the necessary funds to do so.
Amenities offered by the club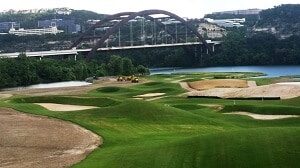 Golf: Golfers of all experience levels are given the opportunity to play at a world-famous golf course, designed by one of the top architects in the industry. The 18-hole, 180-acre layout is characterized by dramatic terrain changes and deep pot bunkers with limestone slabs for revetments on greens and tee boxes. Golf enthusiasts can also take advantage of additional amenities such as Harvey Penick's learning center after their round-off.
Tennis: The 10 tennis courts of the club are separated into two types: hard surfaces and har-tru. The 8 hard surface courts offer a full calendar with leagues, social mixers, private lessons for all levels of players, as well as clinics to help improve anyone's game day or night. The golf club also offers 2 indoor buildings equipped with pro shops that have everything from equipment like rackets and balls to apparel such as shirts and shorts in every color imaginable; this is one place you'll never run out of things to do no matter what time it is.
Fitness: If you're looking for an exercise regimen that will suit all of your needs then the expansive fitness center at this club should be perfect for you. The club offers seasonally appropriate workouts as well as certified personal trainers. The center is open from 5 AM until 10 PM each day, at least according to the website.
Pool: The pool at the club is a perfect place for all types of swimmers. The heated pool is home to the official Dolphins swim team. During the summer months, you'll have plenty of entertainment for the whole family, and adult lap swimming is available deep into the winter season.
Marina: The marina amenity includes ample parking, boat launches, and 57 slips available for private lease with Resident, Junior, and Senior boating memberships as well as year-round boating access without the need to own a vessel.
Clubhouse: A large clubhouse offers many different kinds of amenities. The club features multiple dining areas, meeting rooms, lockers, and a ballroom that can be used for events such as weddings or family reunions.
Pickleball: The Austin Country Club offers a pickleball court, which is among the newest additions after the recent renovations. This game can be played on a professional Pickleball court. This game will require the player less physically, being played on a considerably smaller court than a tennis game.
What are the preferred activities of the Austin Country Club members?
Some of the features that attract new members to the Austin CC are its PGA golf course which is eligible for any worldwide tournaments, and the impressive pool.
Dress code
The dress code of the country club is strict and prohibits members from wearing hats in certain areas. For example, while Harvey's restaurant offers more relaxed attire for its guests, men are not allowed to wear hats at all inside their Terrace area or any of the banquet halls.
https://www.thepricer.org/wp-content/uploads/2021/06/Austin-Country-Club-cost.jpg
380
610
Alec Pow
https://www.thepricer.org/wp-content/uploads/2023/04/thepricerlogobig.png
Alec Pow
2021-06-16 07:43:47
2023-11-11 10:32:35
How Much Does the Austin Country Club Membership Cost?