How Much Does a Birmingham Country Club Membership Cost?
Last Updated on November 11, 2023 | Written by CPA Alec Pow
First Published on June 24, 2021 | Content Reviewed by

CFA Alexander Popivker
The Country Club of Birmingham is a prestigious, friendly, and family-oriented country club located in the lively city of Birmingham. The club was founded back in 1898 to offer its members socialization and recreational facilities.
How much does a Birmingham Country Club membership cost?
From what we could gather, the initiation fees to get into the Birmingham Country Club are about $60,000 and the annual dues are around $6,600. Additionally, the monthly dues for Full Membership amount to $980.
The club offers you a few levels of membership, each with its own fees depending on your needs.
The membership options
Corporate membership – Corporate members of the private club are granted access to all amenities including a golf course, fitness center, and swimming pool. They also receive shares in ownership which grants them voting privileges on issues within the club.
You might also like our articles about the cost of membership at the Riviera Country Club, Medinah Country Club, or Austin Country Club.
Social membership – Social members have full privileges of the Clubhouse and all banquet facilities, including dining options. Members also get to use swimming pools, fitness centers as well and a golf club with certain restrictions on their frequency.
Under 40 membership – This membership is designed for members ages 26 to 39, and it allows them to make annual payments on the corporate membership of the club. Under 40 members receive all of the same extras as corporate-level members but they have a discounted rate on their monthly fees. This level grants full access to the club.
Intermediate membership – This is a special class of membership that is reserved only for the kids of Corporate level members. The details will vary depending on how old they are.
Country Club of Birmingham membership details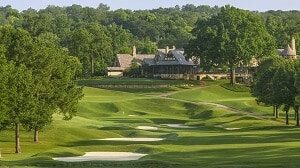 A stunning 18-hole Championship golf course, which was designed by Thomas Bendelow in 1916 is available on the club's property. The club also has a Pro Shop on-site is also available, where you can buy everything related to golf.
The facility offers a six-lane, 24-meter competition pool with diving boards for you to perfect your dive! The shallow play area is just the right size for toddlers or young children. You will also find a large decking area where you can enjoy the Sun. For children between the ages of 5 and 18, a children's pool and swimming lessons are also available.
This club provides racquet courts for people of all ages as well as experienced pros. The tennis courts complex includes four paddle courts, two clay, and 4 asphalt ones to provide a variety of playing surfaces. They also have an on-site court shop that can fulfill any needs so players don't have to leave their game behind.
A fitness facility is available, where you can enjoy state-of-the-art training equipment, personal trainers, and locker room facilities.
The club's dining options range from elegant, upscale meals inside the Club Room to casual family-friendly fare in Founders Pub. Adult diners can also enjoy meals at The Maguire.
The club hosts a variety of social and recreational events for members throughout the year. These include themed golf scrambles, Father's Day pool parties, and Halloween costume parties to name just a few.
Any additional expenses to consider?
As with most clubs, you have to pay a food and beverage minimum of about $1,800 per year. But at this time we don't know the exact specifics. Private lessons or clinics may be an additional cost to be prepared for.
Dress Code and Guest Policy
There are just over 590 members in the club, and most of them live within five miles. Although there may be a waiting list when you apply for membership, it is worth applying if your schedule and budget permit.
Birmingham Country Club enforces a dress code policy that all members and guests are expected to maintain. Golfers are expected to wear collared shirts and Bermuda shorts or skirts on the course and practice areas. Men's shirts should be tucked in, and women's shirts should have either collars or sleeves. In dining areas and the clubhouse, a more formal dress code applies, requiring collared shirts, slacks, and jackets when necessary. Jeans, cargo shorts/pants, gym wear, and athletic shoes are not allowed indoors, and hats are to be worn only outdoors on the golf course.
BCC has established a guest policy to accommodate members who wish to bring guests to the club. Under this policy, guests must always be accompanied by a member, and it is the responsibility of the member to ensure that their guests adhere to the club's dress code policy and rules. Additionally, the club imposes a limit on the frequency of guest visits, and all guests are required to register with the front desk upon their arrival at the club. This policy helps maintain the club's standards and ensures a pleasant experience for both members and their guests.
https://www.thepricer.org/wp-content/uploads/2021/06/Birmingham-Country-Club-cost.jpg
380
610
Alec Pow
https://www.thepricer.org/wp-content/uploads/2023/04/thepricerlogobig.png
Alec Pow
2021-06-24 11:06:58
2023-11-11 10:22:10
How Much Does a Birmingham Country Club Membership Cost?