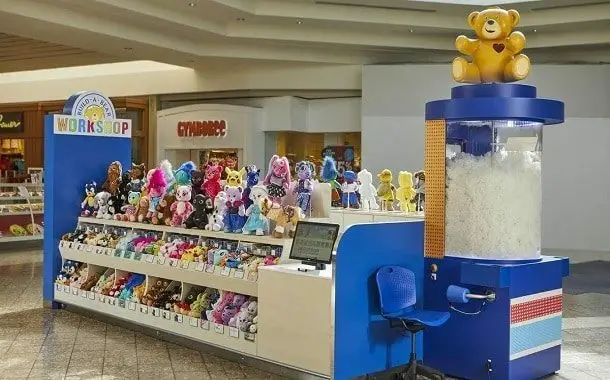 Founded in 1997, Build-A-Bear Workshop is the largest chain of stores that allow customers to personalize their own stuffed animals. The company has been ranked as one of Fortune's 100 best companies for many years in a row and was even selected by Forbes as one of America's most promising small businesses at one point. This innovative idea allows children and adults alike to go through an interactive process where they can create whichever teddy bear they want with all different colors, clothes, and accessories.
Alongside donations made annually worth millions of dollars which have gone towards charities such as Make A Wish Foundation or Ronald McDonald House Charities (RMHC), the Build-a-Bear experience is fun and creative while also creating jobs for a lot of people. So here's everything you need to know about the price of a Build-a-Bear toy.
How much does Build a Bear cost?
Build-a-Bear can be an affordable way to make a new furry friend for a child, that will last forever and the perfect gift for someone that wants a companion but isn't ready for the responsibility of owning a real pet. And, in a world where it seems like everything is more expensive than ever before, Build-a-Bear offers some of the most reasonable prices for their signature stuffed animals and accessories.
On average, you will spend $10-$50 for the bear alone, without any clothing. As you add each additional outfit or accessory there will be a certain amount added per garment/accessory – most people spend around $45-$80 on a plush bear they are happy with that has all its pieces accounted for (and this price varies depending upon how many combinations you use).
You might also like our articles about the cost of Lifetime Fitness birthday party, Kiddie Academy, or AC Moore's birthday party.
The first step is to pick out a stuffed animal. The cost of the toy varies from $10-$50, depending on what kind and how popular it is. Next, you can buy clothes for your stuffed animal. There are many different options that range in price from about $3-$15 per clothing option (tops/bottoms or dresses).
For an extra special touch, you could also get them accessories which typically only set you back between $1-$10. Depending on what you like, you can opt for a themed accessory or a simple headband.
On Build-A-Bear's website, there are a number of animals you can choose between. They range anywhere from $10 up to about $65 and might cost more depending on what you'll end up choosing. For instance, characters from movies or cartoons like their 15-inch Sandy Cub retails for just $10 while the 16-inch My Little Pony retails for $25. Disney-themed stuffed animals range close to $40 without additions.
The most popular Build A Bear Pokemon Pikachu can run as much as $65 with bundle options which include its very own backpack. Paw Patrol Animals vary in price but an individual panda costs $28. When it comes to limited edition animals, these can be more expensive, with prices of around $50. The products on the website will depend on their availability and any ongoing promotions.
You will find in the table below the prices that we managed to find online and in build-a-bear stores:
Type of Animal
Average Price
Charmander
$60 for bundle
My Little Pony
$25 for the animal
$20 for accessories
Paw Patrol
$28 for just the animal
$60 for bundle
Pikachu
$60 for bundlec
Promise Pets
$25 for just the animal
Star Wars
$35 for just the bear (R2-D2, Darth Vader, Kylo Ren, Stormtrooper Bear, Yoda, Rey, Chewbacca, Boba Fett)
$20 for costume
Some forum threads on TripAdvisor.com discuss the cost of getting a build-a-bear near Disneyland, and members say you should be prepared for a Build-a-Bear cost of around $20-$50+, depending on the outfits and accessories you go for.
Build-A-Bear details
At the workshop, you get to pick an adorable stuffed animal and create a personalized look for it. You start by picking out your favorite toy at one of the many tables set up. Then you will head over to the stuffing machine where they put in a special fabric heart that you will have to kiss before it is placed inside. Then the toy is filled with fluffiness.
Once it's ready for dressing, you will have to stop by the clothes and accessories station which is full of animal shoes, hats & more – so much fun potential here on display just waiting for your imagination. When everything is said and done, you will also receive a cardboard carrier and a birth certificate for your new toy.
With over 400 personalized items, you can find the perfect clothes for your bear. Some brands include Sketchers and Harley-Davidson so that even bears with their own personality have a sense of style to match.
Furniture such as beds, chairs, desks, or tables is also available on this site depending on what type of home décor you prefer. There's no limit to how many accessories you want – each one will increase the cost but it'll be worth every penny when your furry friend has an outfit that matches his/her unique individuality.
Build-a-bear has a variety of collections, including My Little Pony, Disney and Girl Scouts. They have build-a-bears that fit with different themes like Christmas or Halloween for kids to use their creativity during different holidays or celebrations.
Any extra costs to consider?
Clothes are priced between $5 to $25, depending on the type of outfit. For example, a simple t-shirt can set you back as little as $5 while a football uniform could be upwards of $25. With new outfits being released regularly, you will be able to come back for clothes when you feel like changing the bear's outfit.
With Scentiments, you can have your bear give out a unique scent. You could make them look and feel like they're really alive by adding sounds for an extra $3 to $10. These can be pre-recorded or personalized messages from loved ones – it all depends on your personal taste.
If you want to offer a birthday treat bear but don't want to go to build-a-bear, you can always buy a build-a-bear online from their official website. With Build-a-Bear, ordering online is easy; you can just log in at their website and personalize as many bears as desired without ever leaving home. Shipping may be free depending on the price of the order but will otherwise be an additional expense to consider.
Tips to keep in mind
The Build-A-Bear shop offers a fun and welcoming environment for children to build their own teddy bears. The company is most popular with youngsters aged three to nine. It's also best if your child visits the store when it isn't busy in order that they have plenty of time to make decisions instead of being rushed by other shoppers.
Still can't visualize how Build-a-Bear works? Check out this youtube video:
Is there any way to save some money?
Join the Stuff for Stuff Club. For every dollar you spend at the club, you will earn one point, which can equate to a gift card. According to the point redemption system — every 100 points earns you a $10 gift card and along your way there are freebies too!
At 150 points, for example, receive an outfit but at 250 get yourself a new stuffed animal. And on top of all this excitement? You'll even be rewarded with special coupons on your birthday as well.
Also, if you're interested in a good deal, be on the lookout for a discount or coupon before going to the store. They are known for having $5 off a $25 purchase.
Getting the Build-a-Bear app is a great way to receive special deals and promotions, cool in-store happenings, and/or online or printable coupons. Once you join the Build-a-Bear bonus club. whenever you get something either by paying or with the help of a valid discount code, you can earn points that can be redeemed for other build-a-bear products.
If you are looking for something specific or just want an easier way of finding what is available in your area, try browsing eBay or Craigslist or even try to shop for outfits from Amazon.
The official Build-a-Bear website also has a clearance section available for the bonus club members where you can get items well below their normal price, but most of the time items from this section are sold pretty quickly.
Bear accessories, clothing, and even jewelry can really add up in price. Keep this in mind when you're budgeting for your build-a-bear toy because the animal itself is not what's going to cost an arm or leg– it will be all of the outfits that you want them to wear, like designer brands or limited edition full outfits.
If you have the necessary knowledge, you can try the make-your-own approach and stitch the bear's clothes yourself to cut down on the final cost.
Also, prices are subject to change and the final expense may vary quite a lot depending on the accessories you get.
https://www.thepricer.org/wp-content/uploads/2021/05/build-a-bear-animal-cost.jpg
380
610
Alec Pow
https://www.thepricer.org/wp-content/uploads/2023/04/thepricerlogobig.png
Alec Pow
2021-05-05 07:33:03
2023-04-30 23:02:36
Build a Bear Prices