Cost To Develop A New Drink
The options when it comes to drinks are very varied and will depend on the taste and desire of people. They can be either alcoholic or non-alcoholic. If you have experience in the production of drinks (possibly if you have worked in an alcohol production factory before) and if you can afford the huge costs at the beginning of the business, then you could start a business around the development of a new drink, although you should take into account the things we have written below on the subject.
How Much Will It Cost You To Develop A New Drink?
There are many processes involved in developing a new drink such as recipe development, branding, packing, marketing, and website development. The overall cost for all of these would be more than $45,000. And after you launch your product there will be extra costs you need to take into consideration, like distribution for example. And don't believe that the sales will fund all of these in the beginning. On the contrary, when you just start, this wouldn't be possible as most wholesalers have long-term payments.
As only one in ten new businesses survive, you should be ready to risk losing $45,000 or more in initial investment funds. Also, launching a new drink is a slow, long journey. The successful brands you see out there didn't become famous overnight, and before they got customers' attention, they spent much more than their initial investment.
Professionals you need to develop your new drink
Recipe developers
The drink you developed in your own kitchen can't be produced in mass in a factory without the help of a recipe developer. Also, you need to consider a lot of other elements including the legality of the ingredients and the nutritional information which will be required on the packaging. You are not allowed to use all ingredients and you should check the Novel Foods regulations to understand this. Also, you must get informed about taxation and health issues regarding sugar levels. You can get help with all of this from your recipe developer. Search for one that can meet your needs. Like with any industry, there are good recipe developers and bad ones. Ask for recommendations and talk with previous customers.
Packing manufacturers

The choice of packing is crucial for going forward. There are several options you can choose between including Tetra Pack, Glass, Cans, and PET (plastic).
You might also like our articles on the cost of Prime Drink, energy drinks, or Cocke Freestyle machines.
As the glass can be filled in small runs thanks to the material which can resist high pasteurization temperatures, it is cheap to produce. However, this is a good option only until a wholesaler refuses you because the glass can easily break down during transportation or while being sold, or due to the weight of cases. Also, glass isn't working well with mail orders, which have increased greatly in the last two years due to the pandemic.
Since the strong campaign against single-use plastic packaging, PET (plastic) has fallen out of favor. Most shoppers will choose to stock only recyclable packaging.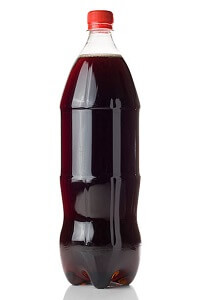 There are some types of PET packaging including:
High-Pressure Processing or HPP is recommended for juices because you can use the pressure of cold water to remove all the bacteria. However, this is very expensive due to the fact that the product must be kept chilled at all times, has a short 60-day shelf life is packed in small batches. But, this type of packaging is ideal for juices because retains the antioxidants and flavors.
Aseptic packages have to be completed in large volumes due to the aseptic zone where the liquid is filled. This type of production is very expensive because the lines must be cleaned every time and the product has an ambient shelf life of only six months.
Hot fill can be done in small runs but needs unattractive, thick packaging in order to withstand the high temperatures of the drink filled in.
Cans are the most common type of packaging on the market as 75% of the world's aluminum is recyclable at this time. There are different size formats such as 500 ml, 330 ml, 250 ml, and 150 ml. These are much easier to transport and have a shelf life of two years, which makes them the least wasteful packaging method.
Tetra Pak comes in a wide variety of sizes and shapes but is very expensive for a start-up as the minimum run is 100,000 units per flavor.
Branding
Avoid cutting corners when it comes to presenting your drink to your target market. A designer who has technical skills is not the same as a brand consultant who can talk to your target clients through the message written on the drink's packaging. You may consider asking a family member or friend to help you with the design of your drink's packaging, but in the end, this will cost you more money and time.
Marketing material and website
Most Food and Beverage start-ups don't consider budgeting for their website and marketing materials, but this is both costly and essential. And hiring a professional will decide your success.
Considering the fact that the product is in the launch phase, you should seek to inform the potential clientele about the appearance and presence on the market of the new type of drink. For this purpose, the promotion method will be the use of brochures, leaflets, advertisements, the Internet, TV commercials, participation in fairs with specialized themes on natural products, and participation in various conferences in the field.
An online beverage store has the potential to build customer loyalty – the products are consumable, so orders are made repeatedly.
Also, you want customers so satisfied that they recommend the store on their own initiative to their friends and acquaintances.
Final thoughts
Once you've started your business, it's important to focus on quality products and, in the meantime, expand your production line and grow your business.
https://www.thepricer.org/wp-content/uploads/2023/02/cost-of-developing-drink.jpg
380
610
Alec Pow
https://www.thepricer.org/wp-content/uploads/2023/04/thepricerlogobig.png
Alec Pow
2023-02-14 08:46:01
2023-02-09 12:30:45
Cost To Develop A New Drink