Cost to Hire Commercial Window Cleaners
The cleaning of office windows at least once a year is carried out by any commercial organization that respects itself. It is the duty and obligation of the employer to maintain the proper sanitary conditions of the workspace. In addition, cleaning the office windows gives a great look to the workspace and helps to increase the presentability of any business.
How Much Does it Cost to Hire a Commercial Window Cleaner?
You should be prepared to spend anywhere between $6 and $15 per window for commercial window cleaning services. If the company you hire is charging by the pane, then you should expect to pay anywhere between $3 and $9 per pane. Also, there are companies that charge a flat rate which would be anywhere between $4.5 and $7 per window. Companies that charge by the hour usually have fees anywhere between $38 and $60 per hour.
The average price for buildings with one or two stories is anywhere between $4 and $7 per pane only for the outside cleaning, while for both inside and outside you will have to pay anywhere between $5 and $9.

You might also like our articles about post-construction cleanup services, lawn maintenance services, or dryer vent cleaning services.
On the other hand, for the smaller panes like the French panes, the cost should be only around $1.5 to $3 per pane.
Plan on spending more on the windows that have multiple panes. However, there are companies that offer discounted rates for big buildings which have multi-paned windows.
It is important to say that the companies which charge a flat rate for commercial window cleaning may change it depending on the amount of work needed for the cleaning process. Though, there are companies that offer discounts if you have to clean a large number of windows.
What are the extra costs?
You should be prepared for some extra costs when hiring a commercial cleaning window service. For example, if there is a need to remove any stains or paint from the windows then the costs would be anywhere between $4 and $7 for a regular-sized window.
In case the cleaner does not include tracks and sills in their regular cleaning fees, then you will have to pay another $1 to $6 for the service.
In general, the cost for first and second-story window cleaning is the same, but the cost for the third and fourth-story cleaning increase by another $3.5. to $6 per window.
Expect to pay anywhere between $0.75 and $6 per screen in the case of screen cleaning, but take into consideration that most of the cleaning companies do not clean damaged or broken screens.
For the sliding glass door cleaning you should expect to pay anywhere between $3 and $9 per door.
Even though there are some companies that include the removal of mineral deposits from windows into their cost, most of them charge an extra fee for this service. Expect to pay around $22 per pane.
5 Steps of Window Cleaning:

In the video below you will find the needed knowledge to perform a proper commercial window cleaning in five easy steps.

The advantages of hiring a professional window cleaning service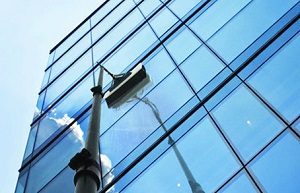 There are some advantages to hiring a professional window cleaning company such as:
Expertise and experience
By hiring professional cleaners, you will benefit from their expertise and experience, which means you can always expect great results.
Personalized cleaning services
Professional cleaners understand that the cleaning needs of different companies will vary. Therefore, they will not have a single offer for all types of services. Cleaning companies will meet with their customers and discuss the unique needs of each customer and possibly the time when they need cleaning services. This will help them come up with a customized program that suits their customers' specific business and exact needs.
Appropriate equipment and tools
The team of professionals within the cleaning company has all the necessary equipment and solutions to do the job correctly. In addition, they know how to handle any kind of mess and have the right cleaning supplies for all your needs. They will also use appropriate equipment and tools to deliver their services, which will help reduce the risk of damage to furniture, equipment, or property.
How to choose a window cleaning service?
When talking about the commercial cleaning services there are many offers you can choose from, but you should consider some aspects before hiring a professional.
First of all, you must consider the history of the company and the experience of the employees. Obviously, a company that has been in the business for many years offers good services.
Ask for references and reviews from previous customers, friends, family, or neighbors. You can consider a recommendation more trustworthy when it comes from a person you know.
Try to find a company that can adapt to your needs as every business, building, and window setup is different. If the company you intend to hire can not offer you a customized service, then you should look for another one.
It is extremely important that the cleaning company has insurance that covers its workers and the company itself. Otherwise, you will be responsible for any injury of the workers or damages.
https://www.thepricer.org/wp-content/uploads/2022/02/commercial-window-cleaninc-cost.png
380
610
Alec Pow
https://www.thepricer.org/wp-content/uploads/2023/04/thepricerlogobig.png
Alec Pow
2022-03-01 06:37:35
2022-02-27 22:43:33
Cost to Hire Commercial Window Cleaners