Cost to Lease a Lamborghini
Lamborghini is a car that is part of the exclusive category, for drivers who respect themselves, who love luxury, quality at the highest level and want to have all the necessary comfort as long as they are behind the wheel. Lamborghini is for those whose driving is a passion, who drive with pleasure, and who want to enjoy any ride.
Not everyone can afford to drive such a jewel on four wheels, which is why the companies that offer the option of leasing this car have appeared.
How Much Does It Cost to Lease a Lamborghini?
The amount of money you will have to spend to lease a Lamborghini will be influenced by some factors such as the model you choose and the area where you are living. However, you should be prepared to pay anywhere between $2,600 and $3,600 per month. Also, you should consider some other costs like the extra insurance coverage and the security deposit.
In the table below you will find the average leasing costs for different models of Lamborghini.
| | |
| --- | --- |
| Model Name | Average Monthly Leasing Cost |
| Lamborghini Urus | $2,700 – $3,300 |
| Lamborghini Huracan Spyder | $2,800 – $3,400 |
| Lamborghini Huracan EVO Spyder | $2,800 – $3,100 |
| Lamborghini Huracan | $2,500 – $3,200 |
| Lamborghini Aventador | $3,000 – $6,300 |
As you will surely notice, the leasing costs are highly influenced by the model of Lamborghini, but you should expect to pay at least $2,600 per month for this luxury car. Also, before making a final decision, you should talk to multiple lenders.
You might also like our articles on the cost of a Bugatti Veyron, Aston Martin DB9, or Lamborghini.
Where should I lease a Lamborghini from?
The Lamborghini company offers you the possibility to lease a car directly from them, in-house through Lamborghini Financial Services. Though, a third-party lender may offer you better deals. There are advantages and disadvantages to both of these options, which we are going to talk about in the following lines.
Leasing Through Lamborghini
Ask about the leasing options when you visit a Lamborghini authorized dealership. They may be able to offer you the best possible option through their in-house financing branch, Lamborghini Financial Services.
Each dealer has its own exact offer when it comes to leasing a Lamborghini, but in general, Lamborghini Financial Services offers very flexible lease terms. Among these options are included:
lease rates which are calculated based on the vehicle's initial and future value;
no security deposit;
low insurance deductible requirements;
the mileage limits are flexible;
minimum initial cash down;
full warranty coverage.
Even though there are many advantages, it will always be more expensive to buy or lease a vehicle from a dealership than it would be if you choose a third-party lender.
Leasing Through a Third-Party Lender
The majority of the Lamborghini dealerships have partnerships with private lenders. The quality of a lender depends on your dealership and this is why you always have to get information about the company you are going to work with.
In general, third-party lenders offer older Lamborghini models than what a dealership has to offer. But this means that the renting prices are cheaper and the initial cash down is lower.
The advantages of leasing a Lamborghini through a third-party lender are highly influenced by the lender you choose. When shopping for a lender, always make sure to ask for insurance options, warranties, or special deals.
Leasing vs. Financing a Lamborghini: Which is Better?
If you have an extra $255,000 to $410,000 at your disposal you may think twice before leasing a Lamborghini. There are people for who financing a Lamborghini makes more sense in this situation.
Leasing a Lamborghini
The monthly costs for leasing a Lamborghini would be anywhere between $2,600 and $3,600 on average. In general, this is lower than the costs per month for financing payments. When leasing a vehicle, you are not paying for the vehicle itself, but for the depreciation of its value.
If you are not 100% sure that a Lamborghini is the car for you, then you should go for leasing. You have some different options you can choose from when the leasing period is over.
purchase the vehicle for the residual value;
upgrade to some other car;
extend the leasing period.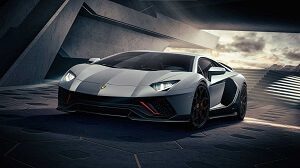 In case you want to purchase the car you have been leasing you can choose to finance the remaining amount or to buy it outright.
But there are some disadvantages to leasing a Lamborghini and one of the biggest ones is represented by the mileage limits.
You may be limited to only 3,500 miles per year throughout the course of your lease, depending on who you lease the car from. You will need a second car for sure if you plan on driving a lot during the leasing period.
Also, leasing is the best option for new cars, because a used vehicle will not have enough value when the leasing period is over. So, financing may be a better option if you want to drive an older Lamborghini.
Financing a Lamborghini
You can do whatever you want with the car when you finance it. Of course, you will still have to make monthly payments, but these will rather be for the purchase of the car and not for leasing.
But, the monthly costs for financing are higher than for leasing. Expect to pay anywhere between $4,600 and $7,600 per month, depending on the terms of your vehicle loan.
Financing is the best option if you are sure about which car you want to buy and you plan on keeping it for a longer period of time. Financing offers you many advantages such as modifying the car according to your preferences, driving it as much as you like, and even selling it in the future.
Overall, purchasing a Lamborghini is a good investment. If you maintain it properly, it can hold its value for many years.
How Much Does It Cost to Insure a Leased Lamborghini?
Most probably the lender will ask you to purchase a full coverage insurance policy when you lease a Lamborghini. Here will be included both collision and comprehensive insurance. Also, there may be included financial protection for your car.
There are some lessors who recommend buying gap insurance as well. This insurance will help you in case your car is stolen or totaled.
As its name says, this insurance helps you pay the "gap" between the value of the car and what you still owe. However, this type of insurance is available only for the lessor and the leaseholders of a car. Even though it is recommended by many lenders, this is not required in general.
Taking into consideration everything we talked about above, you should expect to spend anywhere between $550 and $650 per month for premium car insurance. In case you pay it annually, the costs would be anywhere between $6,100 and $7,600 per year.
Do All Insurance Companies Cover Lamborghinis?
There are many insurance companies that will not cover Lamborghinis for several different reasons. One of the main reasons is that it is very expensive to repair or replace such a car.
Also, the chance to get involved in an accident with a Lamborghini is high because these are high-performance, racing cars.
You may be able to get luxury or exotic car insurance for your Lamborghini, depending on the model. Ask your car insurance company if they offer such policies. The companies that are most likely to offer Lamborghini insurance include Esurance, Liberty Mutual, and Allstate.
How Do You Get Approved to Lease a Lamborghini?
The process of leasing applications is different and depends on the lender you choose. However, in general, the first thing you have to do is to talk with a lending company. They will give you all the information you need and explain the entire process.
You may even be able to apply online. You will need the next information to complete the paperwork:
your Social Security number;
your name, address, and other contact information;
the requested leasing timeframe;
some other financial information.
After getting all of this information, the lender will review it and conduct a credit check. Once the information is processed, the lender will tell you if your application has been approved or not.
Conclusion
With a leased car, you have more time for yourself and your professional or personal activities. Also, the costs are much lower; you no longer have the same worries that you would have for your personal car, the responsibility decreases, and the costs, overall, are lower. In a word, only advantages.
https://www.thepricer.org/wp-content/uploads/2022/04/lamborghini-leasing-cost.jpg
380
610
Alec Pow
https://www.thepricer.org/wp-content/uploads/2023/04/thepricerlogobig.png
Alec Pow
2022-04-28 08:33:14
2022-04-27 06:07:58
Cost to Lease a Lamborghini