Cost to Rent a Home Depot Truck
Last Updated on March 13, 2022 | Written by CPA Alec Pow
First Published on June 24, 2020 | Content Reviewed by

CFA Alexander Popivker
Whether you intend to deliver a larger-than-average thing from Home Depot or somewhere else straight to your home by yourself, almost all Home Depot places enable you to lease some of their flatbed trucks or freight vans either by the hour, day, week and even month.
The cost of a Home Depot truck rental
As of 2020, the main Home Depot website claims the initial 75 mins will only cost $19 and for every extra 15 minutes after the initial 75 mins will incur a $5 per 15-minute charge. This is the rental fee for the pickup truck or cargo van only. All bookings will need a $50 deposit, however, as for any deposit, it will be reimbursed upon returning the truck.
First 75 minutes – $19
Every 15 minutes after the first 75 mins run out – $5
Every hr after very first 75 mins end – $20
Daily – $100
Weekly – $695
Month-to-month – $2,900
How to book a rental vehicle
First, see if you qualify for the vehicle rental. Home Depot requires that all candidates have to be 21 years of age as well as have either a UNITED STATE or Canadian driver's license. If it's a Load 'N Go rental, then car insurance is required also.
Next, check the availability of either the rental flatbed vehicle or cargo van by checking out the main Home Depot site.
Also read about the cost of renting a: Horse and Carriage, Backhoe, and Team of Movers
On the confirmation page, as soon as you submit your postal code, you will be confronted with a list of nearby stores and the availability of the rental in question. If available, you will then be able to reserve by picking the neighborhood store.
As soon as confirmed by the shop, you will then reach the Home Depot of your choice, either at the Special Solutions work desk or Tool Rental Center to rent your vehicle.
Description of the vehicles available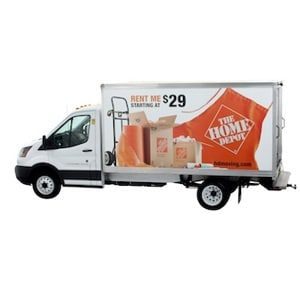 The Load 'N Go flatbed truck has a specialized aluminum bed capable of loading up to 3,000 pounds, while the cargo van has the exact same weight capacity but the bed will be confined.
This truck/program is meant for those who intend to rent it for a few hours at once, yet it can, upon demand, be leased per day, week, and even month. The automobile make, model, and year may vary somewhat depending on the shop, but for the most part, they will be similar in terms of attributes.
Product features for the flatbed vehicle consist of transmission, air conditioner, a seating capability of three, four-wheel anti-lock braking, double seat-mounted side airbag, V8 engine, stereo as well as a back-up alarm system, while the cargo van supplies dual bucket seats and freight tie-downs, along with the flatbed truck functions.
Points to know
In order to rent out a Home Depot rental vehicle, the candidate must go to the very least 21 years of age as well as have either a valid U.S. or Canadian motorists' certificate.
Proof of insurance coverage is only required for Lots 'N Go leasings.
To prevent a gas surcharge, the vehicle should be returned refueled.
No one-way leasings are permitted and all vehicles need to be returned to the same stores they were rented out from at first.
You do not need to purchase from Home Depot in order to book the vehicle for the day, however, some people have reported at the supervisor's discernment as some people were unable to lease without making a huge acquisition. It's always best to call the shop if you want to know the official rules.
https://www.thepricer.org/wp-content/uploads/2020/06/homedepot-truck-rental.jpg
380
610
Alec Pow
https://www.thepricer.org/wp-content/uploads/2023/04/thepricerlogobig.png
Alec Pow
2020-06-24 12:29:07
2022-03-13 23:09:55
Cost to Rent a Home Depot Truck