Last Updated on December 23, 2022 | Written by CPA Alec Pow
First Published on September 26, 2020 | Content Reviewed by

CFA Alexander Popivker
Used Semi Truck Costs
Since their innovation in the 1920s, semi-trucks have ended up being a need for moving construction products from one worksite to another. They can be utilized on the road or off it, for very long-distance or shorter trips, to carry loose material like dirt, gravel, sand, and waste.
Buying a semi truck is a significant investment. New, strong semi trucks generally cost anywhere from $100,000 to $150,000. If that's more than you want or are able to invest, think about purchasing a used semi truck. You'll still have the opportunity to get a truck that runs well, is useful, and has a long lifespan – however, at a considerably discounted price.
Average Costs of Used Semi Trucks
Second hand or reconditioned semi-trucks have prices that start at around $15,000 and can reach $100,000 or even more. Just like for any other used piece of construction equipment the rate differs based upon the age, condition, size, mileage, and functions of the truck.
A pre-owned medium tonnage semi truck typically costs $20,000 to $40,000. You can sometimes get them in the $10,000 to $15,000 price range, however, be ready for a truck with high mileage and great deals of wear and tear. At that rate, the semi-truck might not have a long functional life ahead.
Strong semi trucks frequently sell for about $30,000 to $80,000. Nevertheless, a reasonably new truck with low mileage may cost $100,000.
We've done some research online to give you an idea about what the market has to offer and this is what we found out:
A 2011 Peterbilt 348 with 500 miles and 330 horsepower would more than likely cost somewhere between $95,000 and $100,000.
A 2006 Kenworth T800 with a 17-foot bed and 200,000 miles would likely cost $70,000 to $80,000.
A 1999 Volvo with a 22-foot bed and 150,000 miles could end up costing $30,000 to $40,000.
Remember that there's a big difference between a used truck and a reconditioned one. Trucks that have actually been reconditioned to the initial maker's requirements are most likely to be functional longer – and hence, more pricey.
Purchasing a used Semi Truck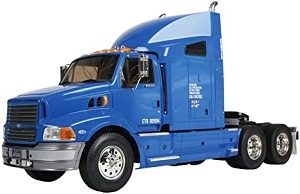 Purchasing a used or second-hand semi trunk is a lot like purchasing a used vehicle – on a much bigger scale, obviously. Naturally, you will want the truck in the very best condition possible with reasonably low mileage for the very best price possible. To get this, it's a great idea to go look at several dealerships to find out what each has for sale.
When you find a truck that seems like the best match for you, take it for a test drive. Ensure it's comfortable enough. Also, take note of how efficiently it drives and listen for unusual sounds. If possible, take the semi truck to a mechanic you know and trust, and have it checked.
Trucking is a huge part of the U.S. economy. Trucks make up for the huge bulk of the nation's ground transport of consumer goods and raw materials.
Also read our articles about the cost of Menards truck rental, Home Depot truck rental, and RV rental.
Purchasing a brand-new semi-truck is a significant financial investment. Nonetheless, whether you're a single owner-operator or you own a big fleet of trucks it's a financial investment that will pay for itself again and again.
New Semi-Truck Average Expenses
Semi-trucks, also called highway trucks, will usually differ in price. The expense is affected by the size of the truck, whether it's a day cab or sleeper, and elements like fuel effectiveness, horsepower, and tonnage.
New trucks have a price that starts at around $80,000 and can easily go to $150,000 or even more. If you go for a lot of custom-made additions, the price might even reach $200,000.
On the low end of that cost range, you will get a day cab with a single axle and lower tonnage.
On the higher end, you can be able to get a sleeper cab with big cargo capacity and a lot of horsepower.
There are quite a lot of funding possibilities readily available for highway trucks. If you choose to pay for your truck, you can get a loan through the bank or benefit from dealership funding. Most of the time, an initial deposit is needed.
Leasing a truck is another alternative to think about. Typically, no deposit is needed. This is generally the very best alternative if you prepare to update your fleet of trucks every couple of years. After the lease term is up, you can sell your semi-truck for a more recent design.
Choosing the right Semi-Truck
Before you get close to a dealership it's a better idea to know what type of truck you want to get. If you only plan to travel in a small area, you'll need to purchase a day cab. If they're very long, you'll need to purchase a sleeper instead.
Bear in mind that the preliminary purchase or lease cost is far from the only expense you'll come across. You'll also have to be prepared for:
Fuel expenses
Routine oil changes and other regular upkeep
Insurance coverage
Fuel performance and cargo capability are 2 other essential factors to consider in picking a highway truck. You'll require a truck that is big enough to manage the volume of material or products you plan to transport. However, you'll also wish to pick a make and model that is developed to get the very best fuel effectiveness possible at highway speeds.
https://www.thepricer.org/wp-content/uploads/2020/09/the-cost-of-a-semi-truck.jpg
380
610
Alec Pow
https://www.thepricer.org/wp-content/uploads/2023/04/thepricerlogobig.png
Alec Pow
2020-09-26 23:07:46
2022-12-23 14:01:13
Semi Truck Cost