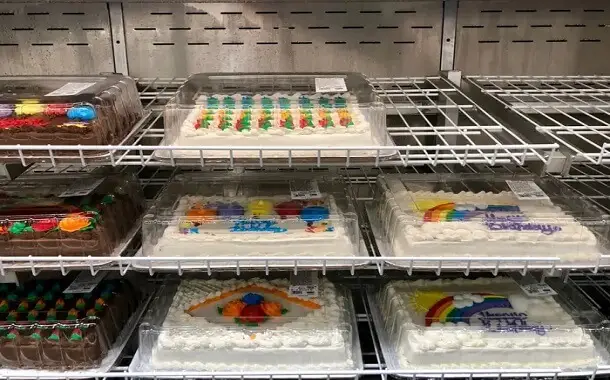 If you are looking for an affordable and tasty cake for your future event, then Costco is a great option. The sheet cakes you can find at Costco are pretty large and can be cut into almost 48 servings. Plus, they cost roughly the same as the smaller cakes available at any local grocery store.
How Much Does a Costco Sheet Cake Cost?
Plan on spending, on average, around $25 for a Costco half-sheet cake, regardless of how would you like to customize it at your local Costco shop. Considering that you can serve 48 people with a cake, you will spend only $0.41 per serving.
You might also like our articles on the cost of a cake from Walmart, Publix, or Cake Boss.
According to a post on the blog He and She Eat Clean from 2016, the price of a sheet cake at Costco was around $20 in that year.
Costco cakes cost less than their competitors. For instance, a Walmart cake costs around $30, while BJ's, another grocery store, charges $28 for a cake of a similar size.
 Costco sheet cake – short presentation
The size of a half-sheet Costco cake is anywhere between 12 and 16 inches and can be divided into 48 pieces based on two-by-two-inch cuts.
If you want to order a Cake at Costco, you will have to fill out a form and return it to the Costco location you want to pick the cake from.
Costco offers only two cake flavors, chocolate cake and vanilla cake (known as white cake). The chocolate option is made of a chocolate sheet cake and has chocolate buttercream icing and chocolate mousse filling. The white cake is made of a vanilla sheet cake and has white buttercream icing and a vanilla cheesecake mouse filling.
When ordering, you will be able to choose between more than two dozen designs, including the American flag, a skateboard, balloons, soccer, a smiling sun, tennis, rainbow, hockey, clown, golf, princess clown, football, dinosaur, basketball, caterpillar, baseball, music, chocolate bouquet, over-the-hill, scored rosebuds, beach, lattice heart, carriage, bouquet, cross, roses, and graduation. Also, for the graduation cake, you can tell them to design the cake in the school's colors. In every store a board and/or a book with all of these designs are available, so you can see what they look like before ordering.
A small message can be added as well.
Important things to consider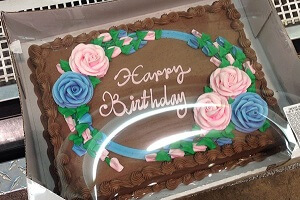 As the bakery needs a minimum of 24 hours of lead time, the ordering process is pretty simple. All you have to do is to put a checkmark on the filling form next to the type of design, frosting, and cake, and write the message you want to be on the cake. You can do this job inside the bakery close to the cakes.
Remember that you will need a Costco membership to purchase a cake. You have to write your membership number on the order sheet.
In case the bakery is open, you can purchase a pre-made cake. The staff will be more than happy to write your message for free. This would be a great solution if you need a cake at the last minute.
Some disadvantages of ordering a sheet cake from Costco include the limited range of designs compared to other bakeries and stores and the fact they usually don't take "special orders" and make the cake just the way it is presented. Though, the majority of people consider that the lower cost is worth losing these additional options.
If you want to overcome these disadvantages, you can buy a plain cake from Costco and the decorating supplies, and make your own design. You will still get a tasty, high-quality cake and with your desired design.
Costco will also offer seasonal options during the spring, winter, and fall months.
You can download a Costco cake order form directly from their website before going to a local store if you want to save time.
Tips for saving money
One of the easiest ways to save money is to place your order online, without making that special trip to the Costco store. Just download the form from their official website and send it through fax to your nearest location. Though, some clients say that there are some Costco locations that don't accept fax orders. So, you should call them beforehand to find out for sure.
https://www.thepricer.org/wp-content/uploads/2023/03/costco-sheet-cake-cost.jpg
380
610
Alec Pow
https://www.thepricer.org/wp-content/uploads/2023/04/thepricerlogobig.png
Alec Pow
2023-03-23 08:13:44
2023-03-17 14:40:18
Costco Sheet Cake Cost