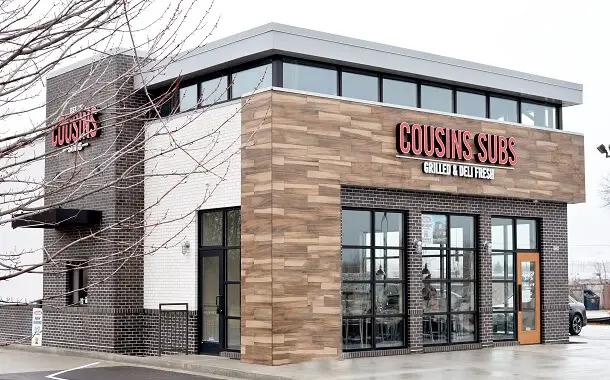 Cousins Subs is a regional sub shop chain with locations in Indiana, Illinois, and Wisconsin. With a history of more than fifty years, this restaurant is specialized in serving grilled-to-order sub sandwiches such as Bacon Cheddar, Cheesesteak, and Philly. The subs come in sizes of five inches for children, and 7.5 and 15 inches for grownups. Their menu also includes fan favorites such as Wisconsin Cheese Curda, root beer, and Mac & Cheese.
In order to get an idea about how much you should budget for a delicious meal from Cousins Subs, you can take a look at the table below where you will find their latest menu prices.
Cousins Subs Menu Prices
Food
Size & Price

Deli Fresh

Chicken Cheddar Deluxe
7.5″ – $5.49 15″ – $10.49
Double Portion Chicken or Steak Subs
$2.86
Ham & Provolone
7.5″ – $4.99 15″ – $9.49
Roast Beef & Cheddar
7.5″ – $5.49 15″ – $10.49
Turkey Breast
7.5″ – $4.99 15″ – $9.49
Veggie
7.5″ – $4.99 15″ – $9.49

Classics

Club
7.5″ – $5.49 15″ – $10.49
Italian Special
7.5″ – $5.49 15″ – $10.49
Meatball & Provolone
7.5″ – $4.99 15″ – $9.49
Pepperoni Melt
7.5″ – $5.49 15″ – $10.49
Tuna
7.5″ – $4.99 15″ – $9.49

Grilled to Order

Bacon Cheddar
7.5″ – $6.99 15″- $13.49
Bacon Mushroom Swiss
7.5″ – $6.99 15″- $13.49
Cheese Steak
7.5″ – $6.99 15″- $13.49
Philly
7.5″ – $6.99 15″- $13.49

Soup

Bowl
$3.44
Cup
$2.86

Meals

Make it a Meal
$2.86

Sub in a Bowl

Bacon Cheddar
$8.04
Bacon Mushroom Swiss
$8.04
Cheese Steak
$8.04
Chicken Cheddar Deluxe
$6.31
Club
$6.31
Ham & Provolone
$5.74
Italian Special
$6.31
Meatball & Provolone
$5.74
Pepperoni Melt
$6.31
Philly
$8.04
Roast Beef & Cheddar
$6.31
Tuna
$5.74
Turkey Breast
$5.74
Veggie
$5.74

Toppings

Bacon
$1.14
Cheese
$0.69
Double Portion
$2.29
Guacamole
$2.29

Sides

Fries
$1.69 – $2.29
Chips
$1.37
Fresh Baked Cookies
$0.49 – $1.00
Wisconsin Cheese Curds
$3.44

Salads

Gourmet Garden
$5.74

Kids Meals

Kids Meals
$5.16

Beverages

Fountain Drink
$1.79 – $2.09
Wisconsin Root Beer
$1.79 – $2.09
Bottled Drink
$2.4
Brand history
Yes, Cousins Subs was founded by the cousins James Sheppard and Bill Specht. They opened their first restaurant in 1972, in Milwaukee, Wisconsin. They were determined to start this business by the fact that they weren't able to find a sub sandwich in that town as delicious as they ate in New Jersey when they lived there.
You might also like our articles on the prices you will find on the menus of Firehouse Subs, Subway, or Jersey Mike's Subs.
After they opened the restaurant, Sheppard and Specht started a partnership with a local baker to prepare their own bread. During the Cousins' early years, a large segment of clients consisted of former East Coast residents.
This company is very socially responsible and in 2013 established "The Make It Better Foundation", which aims to improve the quality of life and welfare in the communities, with a focus on youth education, wellness and health, and hunger.
In 2015, when the co-founder Bill Specht retired, his daughter Christine Specht-Palmert became the CEO of the company.
In 2016, Cousins Subs started a rebranding campaign that included the remodeling of all locations, the expansion of its footprint across the Midwest, the update of its uniform designs, packing, exterior design, and logo; and the enhancement of the digital in-store experience for its clients.
Currently, there are more than one hundred Cousins Subs restaurants located throughout three US states including Indiana, Illinois, and Wisconsin.
Our review
Cousins Subs is the ideal place if you are craving a mouthwatering sandwich. They offer grilled-to-order deli-fresh submarine sandwiches such as Bacon Mushroom Swiss, Cheese Steak, Bacon Cheddar, and Philly at the price of $7 to $14, depending on the ordered size.
The Classics options like Tuna, Club, Meatball & Provolone, Italian Special, and Pepperoni Melt are a little cheaper, with prices that range anywhere between $5 and $11. Also, the Deli Fresh options are in the same price range, and you will be able to choose between Chicken Cheddar Deluxe, Ham & Provolone, Veggie, and Turkey Breast, to name a few.
Plan on spending another $1 to $3 for additional toppings like Double Portion, cheese, guacamole, or bacon. Sides such as chips, fries, or Wisconsin cheese curds cost anywhere between $1.5 and $3.
You can choose to enjoy your submarine sandwich in a bowl and pay $5 to $7, depending on what you order. Some of your options would include tuna, veggie, turkey breast, chicken, roast beef and cheddar, and cheese steak.
Cousins Subs offers also kid's meals at the price of around $5, and soups and salads that cost anywhere between $3 and $5 each. The beverages cost around $2.
Cousins Subs FAQs
At what time does Cousins Subs open?
Most Cousins Subs restaurants open at 10:00 a.m. Monday through Sunday. However, it may vary from one location to another and you should visit the company's official website to check this information.
At what time does Cousins Subs close?
In general, Cousins Subs restaurants close at 10:00 p.m. Monday through Saturday and at 08:00 p.m. on Sunday. But again, it depends on the location and the day of the week.
Where did Cousins Subs originate from?
Cousins Subs was founded in 1972, in Milwaukee, Wisconsin.
Who founded Cousins Subs?
This restaurant business was founded by the two cousins Jim Sheppard and Bill Specht.
What type of mayonnaise does Cousins Subs use?
Cousins Subs uses real mayonnaise, made freshly in-store.
Does Cousins Subs make their own bread?
Yes, the bread is baked fresh at all Cousins Subs locations on a daily basis. They believe that better bread means much better and more delicious sandwiches.
How many locations does Cousins Subs have?
Cousins Subs has more than one hundred locations across the United States of America.
Can you have your food delivered at home from Cousins Subs?
Unfortunately, food delivery is not available at the moment.
https://www.thepricer.org/wp-content/uploads/2023/05/Cousins-Subs-menu-prices.jpg
380
610
Alec Pow
https://www.thepricer.org/wp-content/uploads/2023/04/thepricerlogobig.png
Alec Pow
2023-05-31 10:28:03
2023-05-28 00:27:22
Cousins Subs Menu Prices