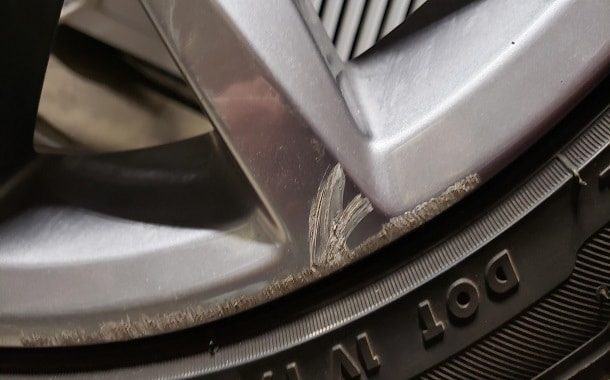 Whether it's a bad parallel parking job or you merely misjudged the curb, your wheel can have suffered curb rash because of it.
Depending upon the degree of the damage, the expenses will considerably differ, typically based upon the kind of rims your vehicle has.
Just how much does wheel curb rash repair work cost?
In the majority of curb rash situations, the vehicle's rims will take the full force of the hit, which means that usually, you will have to fix or in the worst-case scenario, change your rim completely. This ultimately means that the two most important elements to think about when getting a quote will be the scope of the damage and the kind of rims you have set up, with a lot of quotes, when talking to an expert, being in the $50 to $250+ area.
Seeing that there are quite a few rim types, we broke down the popular rim products and the expenses associated with the table listed below:
Rim Type
Steel
If Scratched or Scuffed – $50 to $100, however, this expense isn't a must. It's usually done for cosmetic reasons only.
If Bent – Depending on how is the bend, welding might be needed, with expenses in the $50 to $150 area. If no welding is needed, many jobs can be carried out for less than $50.
If Cracked – Steel rims normally do not break, however, they can gouge. In this case, the rim will have to be changed for sure.
Aluminum/Alloy
If Scratched or Scuffed – $50 to $100 when utilizing sand, putty, and paint, but for most of the rims, matching the color specifically can quite be hard.
If Bent – Replacement is the recommended path, as this kind of rim can not be bent back into a normal position.
If Cracked – Like a bent rim, replacement is extremely recommended for safety factors.
Chrome
If Scratched or Scuffed – It will usually have to be replaced, however, if you do not wish to replace it, they can typically be re-plated for $200 to $500.
If Bent – $50 to $125 to bend back into position as long as the bend isn't too severe. Remember, nevertheless, that if you were to go for the bending alternative, it can damage the surface of the rim.
If Cracked – 99.9% of the time, a replacement is needed and will be more affordable than fixing.
Plastic Clad
If Scratched or Scuffed – Usually no good way to fix it, so replacement is recommended.
If Bent – In most cases, a bent plastic outfitted rim will result in a rather big chip. Once again, replacement is required.
If Cracked – No repair work option is offered and replacement is needed once again.
You might also like our articles about the cost of Walmart tire installation, wheel alignment, and wheel balancing.
For those who are good at Do It Yourself projects and wish to avoid spending on professional work, at-home packages are readily available, and their costs can vary anywhere from $15 to $35, depending upon the brand name you go for. For at-home sets, nevertheless, the results typically wonțt look as good as an expert job and the colors can be pretty tough to match. If you wish to get an at-home package, just make sure to check out the reviews before doing so to make certain you're purchasing the better product.
On a MercedesCLA online forum thread, a member published a photo of their rim scratches, asking what should they expect to pay, and according to the replies they got, they had to pay a minimum of $120 to $150 per wheel at a local dealership.
Another member on a CorvetteForum online thread mentioned they were given a quote of $125 for their bent wheel that they published an image of.
The 4 kinds of rims
As we have already detailed above, the majority of vehicles will utilize one of the 4 rim types, with each type having its own benefits and downsides.
Aluminum alloy: Frequently found on newer models of cars, aluminum alloy rims, as the name indicates, are made from the alloy of aluminum and are typically painted with a clear coat. If they are bent, the repair work can be pretty challenging, however, when it comes to a scuff or scratch, many specialists have the ability to sand and repaint pretty easily.
Chrome-plated: When it comes to curb rash, many chrome-plated rims can be sandblasted and re-plated; nevertheless, for a lot of them, the rate of this repair work can typically be close to buying a brand-new rim, the primary reason most individuals choose to simply get a brand-new similar rim.
Plastic clad: Similar looking to the chrome one, a plastic-clad rim will be much lighter and less expensive for the maker to develop. As it's made from plastic, any sort of damage done to this kind of product can be almost impossible to fix because, the majority of the time, the rim will break and need to be replaced.
Steel wheel: Steel, as basic material, is rather durable and can endure a great deal of damage. Because of this, it will mean that you can typically fix them without the need for replacement, whether it's scuffed or bent.
The process
When fixing a curbed wheel, the procedure typically starts by eliminating all of the dirt, particles, and protective surfaces from the rim, according to the Cars. com website. Next, the broken spot is sanded down, covered with a filler, sanded once again, and lastly buffed to get a smooth surface with no scratches. Then, the broken spot will have to be primed and painted to match the initial color and topped with a clear-coat surface. This is typically the procedure for scratches and scuffs, without any bending or cracking that is too visible.
https://www.thepricer.org/wp-content/uploads/2020/11/curb-rash-repair-cost.jpg
380
610
Alec Pow
https://www.thepricer.org/wp-content/uploads/2022/01/thePricer.png
Alec Pow
2020-11-08 01:42:10
2022-03-13 22:42:47
Curb Rash Repair Cost