What is a dental bridge?
If you have missing teeth, your dental professional can close – or bridge – the spaces in your smile with dental bridges. A dental bridge is an artificial tooth (called a pontic) that is kept in a fixed position by the abutment teeth on either side of the space. Although pontics can be made from a range of products such as gold, normally they're made from porcelain to visually blend in with your natural teeth.
Dental bridge types
There are 4 primary kinds of dental bridges:
conventional
cantilever
Maryland
implant-supported
Conventional dental bridge
A conventional dental bridge will have an artificial tooth or teeth being fixed in place by dental crowns that have actually been sealed onto each of the abutment teeth. A conventional bridge is the most popular kind of dental bridge and can be utilized when you have natural teeth on both sides of the space made by your missing tooth or teeth.
Cantilever dental bridge
Although pretty similar to a conventional bridge, the pontic in a cantilever dental bridge is fixed in its place by a dental crown that is sealed to only one abutment tooth. For a cantilever bridge, you will only need one natural tooth beside the missing tooth space.
Maryland dental bridge
Also very similar to a conventional bridge, Maryland dental bridges make use of 2 natural abutment teeth, one on each side of the space. Nevertheless, while a conventional bridge utilizes dental crowns on the abutment teeth, a Maryland bridge utilizes a structure of either metal or porcelain that is fixed onto the backs of the abutment teeth.
You might also like our articles about the cost of a dental crown, dental implants, and the cost of braces.
Like a conventional bridge, a Maryland bridge can only be utilized when you have a natural tooth on each side of the space of the missing tooth or teeth.
Implant-supported dental bridge
As the name shows, implant-supported bridges make use of dental implants instead of crowns or structures. Normally, one implant is surgically put for each missing tooth, and these implants hold the bridge in position. If one implant for each missing tooth isn't possible, the bridge might have a pontic suspended between 2 implant-supported crowns.
Seen as the best and most stable system, an implant-supported bridge typically needs 2 surgical treatments:
one to embed the implants in the jawbone
a 2nd surgical treatment to put the bridge
It can take a couple of months for the treatment to be entirely healed.
What does a dental bridge cost?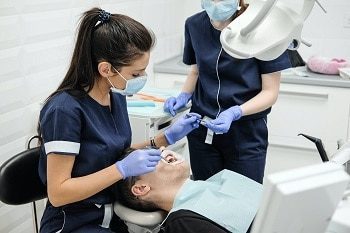 Here are a lot of variables to take into account, that can impact the cost, like:
the type of teeth required to fill the space
products utilized, such as composite resin, zirconia, or metal alloy covered in resin
complexity/difficulty of the positioning
extra treatments for other dental problems, such as gum illness
geographical area
The expenses will also depend upon the kind of bridge that you pick:
Standard or cantilever bridges normally cost $2,000 – $5,000 for one pontic and a crown for each abutment tooth.
Maryland bridges generally cost $1,500 – $2,500 for one pontic with the structure, or wings, connected to the abutment teeth.
An implant-supported bridge might cost $5,000 – $15,000 for a bridge with 2 dental implants covering 3 or 4 teeth.
Dental bridge vs. Dental implant
Numerous dental insurance coverage plans will cover bridges, and many of them now cover implants as well. A dental bridge might have to be changed every 5 to 15 years, depending upon appropriate care, while implants are seen as a long-term option. There are aspects that can lower the life of all kinds of bridges, including implants, such as oral health.
Why do I have to get a dental bridge?
When you have a missing tooth or multiple missing teeth, it can affect your life in a range of ways. A dental bridge can help in some very important ways, including:
regaining your smile
bringing back the capability to properly chew
restoring your speech and pronunciation
preserving the shape of your face
re-adjusting your bite to appropriately disperse the force when you chew
avoiding your remaining teeth from leaving the correct position
Outlook
If you're missing a tooth or a number of teeth, you have a few replacement alternatives to go over with your dental practitioner. There are numerous advantages to utilizing dental bridges, and there are lots of aspects – including expenses – that you need to think about prior to deciding.
https://www.thepricer.org/wp-content/uploads/2020/11/dental-bridge-cost.jpeg
380
610
Alec Pow
https://www.thepricer.org/wp-content/uploads/2023/04/thepricerlogobig.png
Alec Pow
2020-11-04 10:56:20
2020-11-04 10:56:20
Dental Bridge Cost