Dutch Bros Coffee Franchise Cost
Last Updated on November 11, 2022 | Written by CPA Alec Pow
First Published on April 2, 2021 | Content Reviewed by

CFA Alexander Popivker
Dutch Bros Coffee prides itself not only with its excellent drive-through coffee but also its equally excellent staff service. The team radiates an aura of positiveness, enough for clients to keep coming back again and again.
With its appeal and general friendly environment, you may wish to run a store yourself. However, just how much does a Dutch Bros Coffee franchise cost? And what would you need to get one started?
Typical Dutch Bros Coffee Franchise Cost
The typical Dutch Bros Coffee franchise price is $30,000, which must be paid in advance. A net worth of a minimum of $500,000 is also needed.
Besides that, the franchisee will also be asked to pay 5% of gross sales or $1,300, whichever is higher, as a royalty cost.
Though the exact Dutch Bros Coffee franchise start-up charge is hard to find, a few of the important things you will have to think about to start your coffee franchise company are the following:
Dutch Bros Coffee Affiliation
If you are a business owner or a financier who wishes to have his own franchise of this highly-regarded coffee location, you will need more than just money to get this done. That's because this business does not want any outsiders to have anything to do with its brand.
The first requirement is that you will have to become a Dutch Bros staff member initially before you can get a franchise. The monetary capability will only come 2nd in order of priorities. And mind you, the minimum requirement is to be employed by the business for at least 3 years.
You might also like our articles about the cost of 85 Degrees Bakery Franchise, a TopGolf Franchise, or a Dollar General Franchise.
On top of that, you will at the same time need a minimum of one year of supervisory experience within those years of being employed at Dutch Bros Coffee.
Liquid Capital
Let's say, just for the sake of conversation, that you have already worked at this business for a number of years. To become a franchisee, you will need to pay a start-up cost. Furthermore, you also need to have liquid capital.
The needed liquid capital for a Dutch Bros franchise is around $125,000. The price will include money, stocks, bonds, and extra costs like securities. The said amount should be easily available for usage.
Aside from the liquid capital, you must also pay $30,000 to $60,000 for the necessary expenses throughout the opening day.
You should keep in mind that Dutch Bros might extend a loan for you to fund the franchise. For example, one term provided to a worker involves the business extending a loan of about $250,000.
This fund is payable for ten years at 12% interest. The loyal personnel needs to only put forward $5,000 for 5 franchises while the remainder of the expense is to be covered by the aforementioned loan.
Required gear
Coffee shops would not run without a couple of devices that make the beverages. Dutch Bros is no different in this area. The shop needs to have an espresso maker, blender, and cooler, to name a few.
Among the must-haves for a Dutch Bros franchise is a La Marzocco espresso machine. This espresso maker costs around $10,000. If you factor in other devices, the overall expenses would be around $150,000.
On the accounting side of things, a cash register and credit card machine are necessary for incoming transactions.
The location
A Dutch Bros coffee shop or "home" can either be rented or purchased. The expense would depend upon your area as cities and counties have differing leasing and acquisition rates.
The good news is, with its constant growth, Dutch Bros might go as far as spending for the renovation or construction of the shop. The expense of building a franchise would depend upon the requirements for that specific branch.
The business would also aid you to find a strategic place where you will be sure sure to lure in consumers.
Other Requirements to Become a Dutch Bros Franchisee
Dutch Bros wants to keep its values, work culture, and quality products in all of its branches. That is the very reason why its franchise is closed to the general public.
The coffeehouse has a track record of employing only the best baristas or "broistas" so you can expect that unique coffee experience each time you go to a different location. For instance, a crew member at the business is expected to ask how a client's day was, know a purchaser's choices, and offer small benefits for somebody who's feeling down.
The culture of Dutch Bros focuses on the connections it makes with customers. That being said, loyal workers are the leading prospects to continue the business's legacy.
Likewise, besides the monetary requirements already discussed, you will be needed to send a 250-word essay about the reason why you would wish to get a franchise. This will be accompanied by a short video essay where you talk about your character.
Gains from a Dutch Bros Franchise
Giving back to the community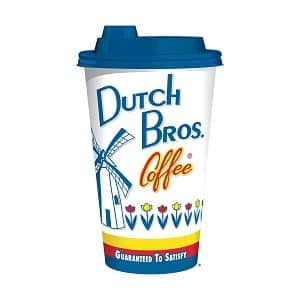 It's not unusual to see businesses giving back to the community as part of their social duty. However, with Dutch Bros Coffee, you should expect a lot more in this department as it's certainly not always about the earnings.
Sure, the shops are high-earners, no doubt. Nevertheless, the genuinely fulfilling part is the fact that you might give your own share back to the people around you, not just as a choice but as a priority. This is really one of the most important things instilled in Dutch Bros Coffee's culture that you need to welcome if you wish to fit in its requirements.
For example, the business will donate a one-day worth of profits to the Muscular Dystrophy Association. This charity was created by founder Travis Boersma, following the death from Lou Gehrig's illness of his sibling and co-founder Dane.
The business also holds a yearly event called "Buck for Children Day", intending to contribute to regional youth-oriented non-profit organizations.
Additionally, the business makes sure that 1% of the gross sales from each shop is reinvested in the community around the shop.
How Crucial Reputation Is For Dutch Bros Coffee?
Dutch Bros is very driven to keep its track record untarnished. For example, the business would buy out a franchise that will not have the ability to carry out its requirements, no matter the expense.
If you wish to get a Dutch Bros franchise and you're not a worker, you will usually get a job initially. In the business's words, you need to go and "join the Mafia."
A Dutch Bros Coffee franchise would go a long way, thanks to its dazzling concept. Its customers would definitely enjoy what they'd get from a drive-through coffeehouse that has a lot more to provide than just a cup of coffee.
https://www.thepricer.org/wp-content/uploads/2021/04/dutch-bros-franchise-cost.jpg
380
610
Alec Pow
https://www.thepricer.org/wp-content/uploads/2023/04/thepricerlogobig.png
Alec Pow
2021-04-02 23:18:20
2022-11-11 07:50:25
Dutch Bros Coffee Franchise Cost