Elevator Installation Costs
Elevators are one of the inventions of modern society designed to make our lives easier, more comfortable, and more accessible.
How Much Does It Cost To Install An Elevator?
When talking about elevators, there are different sizes and types we can choose from, which obviously will influence the price of installation. Some of the most common types are hydraulic elevators, pneumatic elevators, and cable-driven elevators.
In the residential buildings, we will usually find pneumatic and hydraulic elevators. The easier to install is the pneumatic elevator and the average cost to install it is around $21,000, while the hydraulic elevator is more difficult to install and costs around $51,000. On the other hand, the costs to install a cable-driven elevator are around $15,000.
When splitting the costs, the labor costs for a hydraulic elevator installation are anywhere between $21,000 and $30,000, and the elevator unit costs around $26,000. This brings the total cost somewhere around $47,000 to $56,000.
You might also like our articles about the cost of hardwood stair installation, concrete steps, or Bilco door installation.
The price of a pneumatic elevator is around $16,000 and the labor costs to install it are anywhere between $11,000 and $26,000, resulting in a total price of $17,000 to $42,000.
A cable-driven elevator might cost around $11,000 and installing it will cost you anywhere between $11,000 and $16,000. That means that the total expenses to install a cable-driven elevator are anywhere between $22,000 and $27,000.
Elevator installation details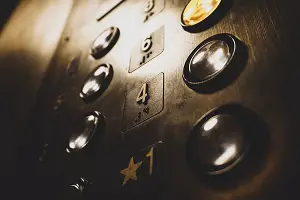 According to the residential building elevators, the limited size for in-home elevators installation is 18 square feet. That means that you have to be able to block off an area of five square feet in order to install a hydraulic elevator into a home.
Even though the pneumatic elevators are less expensive, they are not installed into a home. Usually, these are installed in an open and accessible area. Moreover, they will usually have an inside area of only three-foot by four-foot. Even though there are larger models available, all of them will have a weight limit of up to 500 pounds.
An outdoor elevator (house facade) proves to be more advantageous in many cases when it pertains to space.
If you are thinking of installing an elevator yourself you better forget about it because this is not like any other DIY project. In fact, this job requires proper installation for effective and safe use, plus the strict building codes must be respected.
It is recommended to install an elevator into a home while in the construction phase as it is much cheaper and easier. This way the shaft is ideally placed and you will also have more options for fitting the unit into the home.
In the case of retrofitting the elevator in an existing house, be prepared to pay the most for the labor costs needed to make space for it.
Important things to consider
Technical equipment and additional features in particular will represent a very important part of the final price for an elevator. Technically superior equipment can quickly make a much more expensive elevator. But not all of this is necessary in practice, especially not with less used elevators. Above all, it is important that the elevator fulfills its purpose. It's like a car: if you add heated seats and heated exterior mirrors, combined with other additional elements, it quickly becomes expensive. But the car would run without these things.
What are the extra costs?
In case there are more construction and demolition works needed, or other retrofitting works are required, the price for a hydraulic elevator installation can go to $105,000 or more.
The price estimates presented above do not include the expenses with the permit fees, taxes, and inspections.
How can I save money?
The most affordable models of elevators are the shaftless ones as these do not require so much construction and installation work.
Occasions in which an elevator is dismantled are quite rare – but there are a few. If you find such an elevator to get parts from, you can often expect cost reductions of up to 50%. Maybe it's worth it. However, you should always contact individual dealers and make sure that the parts are still functioning properly.
The most important thing to help you save money is to compare the offers of elevators from different manufacturers. Each elevator supplier offers its customers different elevators, which can vary greatly in terms of pricing depending on the material, the site situation, technical data, and dimensions.
https://www.thepricer.org/wp-content/uploads/2021/11/elevator-cost.png
380
610
Alec Pow
https://www.thepricer.org/wp-content/uploads/2023/04/thepricerlogobig.png
Alec Pow
2021-11-02 07:41:46
2021-12-09 12:54:56
Elevator Installation Costs