When parents would do anything to have their kids get over hereditary "elf ears" to save them from bullying in the future, there are those who would in fact take extreme measures to have them. Yes, we are talking about the Lord of the Rings fans.
Some might think it's odd and unnerving that there is such a big market for this kind of surgery. Or we thought the need for this kind of look does actually exist, however, we wouldnàt even think that it would be so ordinary among fans. If some individuals want to do anything for the sake of fanaticism, some real groupies take their nickname to an entirely new level and modify their looks to show how they are crazy about one show or character.
Call it self-expression, weirdness, and even insanity, as long as it makes you happy and you are not in any way affecting other people's lives, then who are we to be against it? Always do whatever makes you happy, just make sure it isn't a fading desire which you might regret in the future.
With the debate surrounding this surgery, you would probably ask yourself just how much elf ear surgery costs.
General Costs of Elf Ear Surgery
This kind of treatment is mainly carried out by body adjustment artists, piercers, and even tattoo artists as some cosmetic surgeons are not usually OK with the intervention.
However, there are also some physicians who want to carry out the surgery and even think that this ear modification might improve your hearing. One specific example is the Hungarian physician practicing in New York City, Dr. Lajos Nagy who supposedly carried out the surgery first.
Due to the debate and since it is not entirely accepted in the medical field due to the risks it brings and ethical issues, finding a cosmetic surgeon to do the treatment may be a genuine challenge.
As a reference, otoplasty, which is the surgery to fix external ear defects, costs approximately $4,200 with the price varying between $650 and $7,500 if you consider all places around the world according to the RealSelf website. On the other hand, Westlake Dermatology in Austin, Texas has a fee of $4,200 for otoplasty.
The cost is different depending on the location, whether done by a medical professional or by a piercing artist, and a bunch of other factors. Be ready to pay around $600 to $1,000 for elf ear surgery when done by somebody who is not a certified medical professional or cosmetic surgeon.
And keep in mind, there are not a great deal of body adjustment artists who do this kind of procedure. Among the only few is Steve Haworth who is generally seen as the person to have actually done it outside the medical field.
Here are some other interesting topics: The cost of vampire fangs implants, jaw surgery, and eyebrow tattoos.
Why such a noticeable difference you ask? Not only the price would be very different between the licensed physicians and the body adjustment artists. The latter, considering that they are not real physicians themselves, can not and are not permitted to make use of anesthetics in the treatment and can not recommend any medications when issues occur such as infections and of course, failed surgical treatments. So if you are not prepared to take on these risks, look for a real cosmetic surgeon.
What Will be Included in The Price?
The expense of elf ear adjustment if done by a licensed medical professional or cosmetic surgeon would include the following:
Cosmetic surgeon charges
Material prices
Equipment needed for surgery
Operating room or facility operating expenses
Any needed medications or post-surgical devices
Follow up visits
The surgery would take a couple of hours to be completed and is done by cutting and modifying the cartilage on the top part of the ear, and even eliminating some part of it or a little wedge to reach the needed shape and stitch the cut together again and developing a pointy part at the same time. If a physician or cosmetic surgeon is doing the operation, you would be provided with anesthesia. Otherwise, you would need to take the pain.
Depending upon the client's choices, the pointy part can be prominent or apparent, or very subtle. However, the bottom line is, when you have actually chosen to do the procedure and it was finished, there is no reversing. This is since, unlike some cosmetic improvements and implants, elf ears are irreparable. This is apart from being at risk of some dangerous ear defects. So getting you to sign a waiver prior to the surgery is not an impossible concept.
The bandages will generally come off in a week while the stitches are typically out within 2 weeks to a month, after which, your brand-new ear is prepared to amaze the world.
You should keep in mind that you need to be at least 18 years old to undergo this treatment.
Otherwise, get an adult's authorization.
Extra Expenses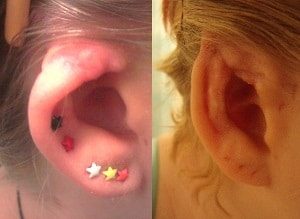 Before you go through any treatment done by a physician or a cosmetic surgeon, a preliminary consultation is a must. Here, you might ask anything about the surgery and your physician can go over the benefits and drawbacks so you can be informed and choose to go through it or not. This preliminary assessment usually costs around $250 to $500 on top of the expense of elf ear adjustment if you still want to go through it, although some physicians might waive this cost.
If you are relying on body adjustment artists for the treatment and anesthesia can not be administered, taking a painkiller prior to the treatment and even after can be done to, in some way, make the discomfort manageable and in some cases can even speed up the recovery procedure and reduce healing time.
You would also need some cleaning solution to aid you to sanitize the surgical injury and prevent infection.
Looking For Elf Ear Surgery
When seriously thinking about ear surgery, you could take a look at the BeautifulSelf website.
If you are ok with body adjustment artists doing the treatment, then, by all means, you can get in touch with one to book a visit.
Elements That Affect The Elf Ear Surgery Final Price
Your location – the rarer the surgery is carried out in a specific location is, the more pricey the expense would be. That is aside from the expense of operating in the area.
Who carries out the surgery – the choice between having a body adjustment artist or piercer and a physician doing the surgery should make a substantial difference in the elf ear surgery cost. However, it does not warranty a totally risk-free surgery if done by a physician. It is simply that the threat of infection is reduced as you can ensure that a medical professional would only utilize professionally disinfected and sanitary surgical tools and can recommend medications to appropriately deal with the aftercare. Plus the physician can give you anesthesia for a no-pain procedure.
Hospital, clinic, or facility – if you went with a real medical professional, the treatment includes the hospital fee for utilizing an operating room which also equates to the guarantee of safety and sanitary place of the surgery, to name a few expenses that feature the majority of surgeries.
The complexity of the surgery – it is possible to come across ears that are harder to handle during surgery than others due to the natural shape, so anticipate paying more for the more complex your ear shapes.
Additional Details
The discussion around this surgery appears one without an end, with some medical professionals claiming they are uneasy just thinking about it, while others believe they are hypocritical considering they do body improvement all the time like breast enhancement, nose lift, and abdominoplasty, to name just a few.
What makes elf ear surgery any different? Medical professionals' explanations are very simple. They do surgical treatments and improvements to make an individual a much better variation of their selves, not to give the appearance of some legendary animals.
https://www.thepricer.org/wp-content/uploads/2020/09/elf-ear-surgery-cost.jpg
380
610
Alec Pow
https://www.thepricer.org/wp-content/uploads/2023/04/thepricerlogobig.png
Alec Pow
2020-09-04 08:57:13
2022-09-23 06:11:19
Elf Ear Surgery Cost