Five Guys Burgers and Fries or just Five Guys is an American fast-casual restaurant chain specialized in serving high-quality burgers, hot dogs, and cheeseburgers.  They allow you to even create your own personally designed burger.
The menu prices charged by Five Guys are a little bit higher than those charged by other fast-food restaurants and this is because they use 100% fresh beef with no preservatives or filler to prepare their dishes.
In the table below you will find the latest Five Guys menu prices.
FOOD
SIZE
PRICE

Sandwiches

Veggie Sandwich
 
$4.69
Veggie Sandwich with Cheese
 
$5.39
Grilled Cheese
 
$5.39
BLT
 
$6.59

Hot Dogs

Hot Dog
 
$5.69
Cheese Dog
 
$6.39
Bacon Dog
 
$6.69
Bacon Cheese Dog
 
$7.39

Burgers

Hamburger
 
$7.99
Cheeseburger
 
$8.69
Bacon Burger
 
$8.99
Bacon Cheeseburger
 
$9.69
Little Hamburger
 
$5.99
Little Cheeseburger
 
$6.69
Little Bacon Burger
 
$6.99
Little Bacon Cheeseburger
 
$7.69

Fries

Five Guys Style or Cajun Style

Fries
Little
$4.09
Fries
Regular
$5.19
Fries
Large
$6.79
Cajun Fries
Little
$4.09
Cajun Fries
Regular
$5.19
Cajun Fries
Large
$6.79

Drinks

Coca Cola Products
Regular
$3.39
Coca Cola Products
Large
$3.69
Dasani Bottled Water
 
$3.09
Brand History
The history of Five Guys restaurants starts back in 1986 when Jerry Murrell and his wife Janie, alongside their four sons Ben, Chad, Matt and Jim opened the first location in Arlington's Westmont Shopping Center.
By 2001 there were five Five Guys locations opened in the Springfield, Old Town Alexandria, and Virginia areas. Two years later, in 2003, the company started to franchise their business. In 2012 there were 1,000 restaurants opened all over the United States and Canada.
You might also like our articles on the menu prices of The Melting Pot, Firehouse Subs, or Wawa.
In 2013 the first location outside North America was opened, in the United Kingdom, in London on Long Acre in Convent Garden.
Nowadays, there are more than 1,670 Five Guys restaurants all over the world.
Our review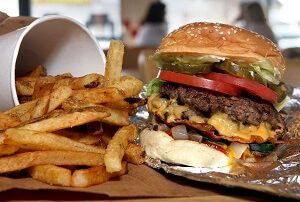 The Five Guys menu focuses mainly on hamburgers served along with applewood-smoked bacon or Kraft American cheese and kosher-style hot dogs. Their menu also includes vegetable sandwiches, BLT, grilled cheese, and milkshakes.
When buying a cheeseburger or hamburger from Five Guys, you can choose any topping you wish at no extra cost. Some of the toppings you can choose from include hot sauce, mayo, BBQ sauce, lettuce, onions, steak sauce, pickles, green peppers, tomatoes, jalapeno peppers, grilled onions, ketchup, grilled mushrooms, relish, and mustard.
The customers' favorites are the Cajun fries and the bacon cheeseburger with grilled mushrooms and onions.
Clients are satisfied with the efficiency of the service. Your order will be ready in approximately five minutes or even less. Also, the staff is welcoming and friendly.
Five Guys FAQs
At what time does Five Guys open?
Five Guys restaurants open at 11:00 a.m. from Monday until Sunday. At this hour, the restaurant opens for customers who want to dine in, but also for those who would like to call ahead for pickup. In case you want to order from Five Guys online, you can do it before opening hours to make sure it is ready before the opening time, so you will not have to wait too much.
At what time does Five Guys close?
In general, Five Guys restaurants close at 10:00 p.m. every day. However, it depends on the day of the week and location. It is recommended to check the schedule of the restaurant you are interested in on their official website. Also, if you order online or call ahead to place an order, the pick-up hours will end at the same time the restaurant closes its doors.
How did Five Guys get its name?
The name of Five Guys comes from the five men in the Murrell family, Ben, Jerry, Chad, Jim, and Matt. An interesting fact is that after the opening of the restaurant, the Murrell couple had another son, Tyler. These days, the five brothers are considered to be the "Five Guys" the restaurant got its name after.
Where was the first Five Guys restaurant opened?
The first Five Guys restaurant was opened in Arlington, Virginia, at the Westmont Shopping Center. Many of the Five Guys restaurants that opened in the following years were also located in shopping centers and malls close to residential areas.
Who founded Five Guys?
Five Guys was founded by Jerry Murrell and his wife, Janie with the help of their four sons. It was a family endeavor to grow the Five Guys franchise.
How many Five Guys locations are there?
There are around 1,670 Five Guys locations all over the world in countries such as Australia, United States, Canada, United Arab Emirates, Hong Kong, Saudi Arabia, Republic of Ireland, Malaysia, Germany, and Luxembourg, to name a few.
When was Five Guys founded?
Five Guys was founded in the year of 1986 when the parents of the Murrell brothers made them decide between starting their own business or get a college degree.
Who owns Five Guys?
Five Guys Holdings, Inc., which was founded in 2007 owns Five Guys. This company is the parent organization of other businesses within the restaurant's empire like Five Guys Foods UK Limited, Five Guys Enterprises, and Five Guys Operations.
https://www.thepricer.org/wp-content/uploads/2022/05/five-guys-menu-prices.jpg
380
610
Alec Pow
https://www.thepricer.org/wp-content/uploads/2023/04/thepricerlogobig.png
Alec Pow
2022-05-11 10:30:04
2022-05-10 06:52:15
Five Guys Menu Prices