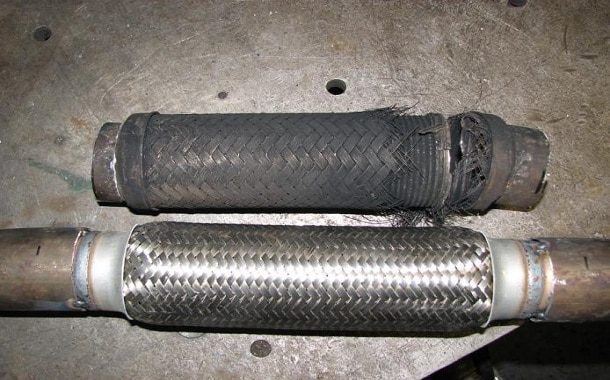 The exhaust flex pipe is a pipe that is shaped like an accordion, installed on the motor, to protect your vehicle's exhaust system by offering it the additional flexibility it requires by managing any contractions, vibrations, and/or unnatural movements.
Just how much does an exhaust flex pipe repair work cost?
The cost of an exhaust flex pipe repair work, just like any vehicle repair work, will significantly depend upon the vehicle you drive, the mechanic you work with, and your geographical location. During our extensive research online, we were able to find out the typical cost for this job, which seems to be in the $115 to $275 range at a local muffler store if you were to fix only a section or part of it; nevertheless, if you were to change the whole flex pipe, then the expense might vary from $400 to more than $1,000 at a local dealer if the pipe has a converter attached to it.
When considering only the parts, with no labor from a professional mechanic, the expenses can vary from $15 to $50+, depending upon the brand name of the pipe and the maker.
What is a flex pipe?
The flex pipe is the bendable portion of the pipe which provides the exhaust system with some versatility, according to professionals from LousMuffler. As a crucial element of a front-wheel-drive car and even on nearly all all-wheel-drive cars, the part will protect your exhaust system from damage as you accelerate your vehicle. Without this additional flexibility that the part provides, the exhaust system can break much more easily, which will then leak and cause a loud sound.
You can also read about the cost of muffler delete, exhaust install, and tire installation.
How will you know when the part is broken?
The majority of the time, it can be a pretty straightforward job to notice when this part begins to go bad due to the fact that in the early phases, you will begin to hear a small exhaust leak-like noise as you start up your car's engine and start to move in any direction. Nevertheless, as long as the leakage isn't too noticeable, it will gradually disappear as you drive. However, for a larger-than-average leakage, it will not disappear and will be much louder, basically helping you understand there's something very wrong. While practically all flex pipes will break from the interior of the pipe, it can make a sound like you do not have an exhaust at all. If you hear any noises originating from your exhaust, do not neglect the issue as it can lead to significant damage to your exhaust system in the future, increasing your repair work expense by quite a lot. This might consist of broken bolts, flanges or perhaps ruining the exhaust manifold, another repair work that can bite a big chunk of your paycheck.
Tips to remember
All car dealers will want to change the whole flex pipe based on their store requirements, however, 99 percent of the time, this isn't a must. To save a big amount of money, think about looking for a local family muffler store near you to see if a part of the flex pipe can be changed to make sure you spend less and keep your exhaust system in perfect state. The majority of the time, a small welding job and about 30 to 45 minutes of your time will be all it takes to have a working flex pipe.
https://www.thepricer.org/wp-content/uploads/2020/09/flex-pipe-reparir-cost.jpg
380
610
Alec Pow
https://www.thepricer.org/wp-content/uploads/2023/04/thepricerlogobig.png
Alec Pow
2020-09-10 22:40:31
2022-05-25 11:24:43
Flex Pipe Repair Cost