No matter if you have to haul dirt away to your location or from your location to a place where you want to dump it this will always come at a cost. The price of hauling dirt will depend on some factors like the amount of dirt, the place you are living, the travel distance, and the company you are going to hire.
How Much Does Hauling Dirt Cost?
You should budget anywhere between $60 and $160 only for the truck rental before loading any dirt into the truck. This fee will be influenced by some factors such as the type of dirt that is hauled, the geographical location, and the distance that is traveled. In most cases, hauling companies will offer a price quote for "cubic yards", which is three feet tall, wide, and long. If charged per yard, expect to pay anywhere between $45 and $55 per yard to have a screened topsoil delivered and anywhere between $27 and $30 per yard for fill dirt.
Plan on spending $420 to $850 per truckload in case you need to take away the dirt from your property. For instance, Ace Hauling company charges around $600 to rent out a 13 to 16 cubic yard truck to remove the dirt from your property and dump it.
There are companies that charge per hour to haul the dirt away. In this situation, the costs per hour will be anywhere between $85 and $110.
Hauling dirt details
There are more types of topsoil most of the contractors can offer in case you need to have dirt hauled to your home. These include organic-rich topsoil, blended organic topsoil plus sand, clayey, and loess/loam.
You might also like our articles about the cost of soil, sand, or pool water delivery.
For most companies, a typical load size will be anywhere between eight and ten tons per single axle or up to fifteen tons for a double rear axle. Your largest option will be a pup or tilt trailer, that can haul around twenty-five tons in a single trip.
The companies which are able to deliver and haul dirt may include specialty hauling services, junk removal services, landscaping companies, and tractor services. You can order a hauling dirt service by simply calling them and talking about the amount and type of dirt you need. After you give information about the delivery address by phone and after you make the payment, you will receive your order in a few days, depending on how busy the company is and the time of year.
The delivery company will deliver the dirt in the location chosen by you as long as it is accessible by truck.
What are the extra costs?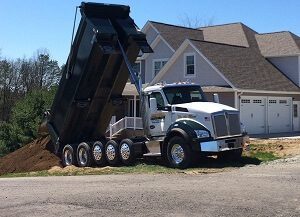 Expect to pay more for filtered dirt, which is free of twigs and stones and is used for landscaping projects.
If the dirt has to be picked up then a distance surcharge might be applied.
In case a job will require any special equipment then you will be responsible for the rental fees.
Be prepared to pay an extra cost if any grading or sloping is needed because the delivery services will only dump the dirt in one location.
Important things to consider
You may be wondering how much does a cubic yard of dirt weighs. This depends on the type of material that is measured, but in general, each cubic yard of soil weighs around 2,000 pounds.
How can I save money?
If you're looking for a dirt removal service, be sure to get estimates from several different companies so that it is easier on your budget. A good rule of thumb when hiring any type of professional service such as this one would be to always make sure they offer competitive prices and have excellent customer reviews before making an investment in their work.
Though, you should pay attention to these price offers as there are companies that charge on the loaded amount and will not include the travel fees. Due to this fact, always make sure that you get a price offer with all the costs included.
It would be a good idea to put a free ad on Craigslist if you have dirt at home which you want to haul away. There are many people who would be more than happy to come to your location and pick up the dirt at no cost.
The best option for smaller hauls would be a rock supply company or a local landscaper. Also, if you don't have a problem with getting your hands dirty take into consideration renting a truck and picking the dirt by yourself. Keep in mind that this option is only recommended for those who work with small amounts of dirt.
https://www.thepricer.org/wp-content/uploads/2022/01/hauling-dirt-cost.jpeg
380
610
Alec Pow
https://www.thepricer.org/wp-content/uploads/2023/04/thepricerlogobig.png
Alec Pow
2022-01-03 07:28:00
2022-12-23 14:01:12
Hauling Dirt Cost