Home Depot Water Heater Installation Cost
Water heaters have become one of the most practical options for heating domestic hot water, in an extremely short time, in the kitchen, bathroom, or other similar spaces. Due to their specific properties, design, and compact dimensions, these heating systems allow easy installation and instant supply of hot water even in the most inaccessible places.
Regardless of whether you live at home and need an efficient solution to heat the water or you live in an apartment where the hot water still happens to stop or you simply want to have a functional alternative at hand to benefit from hot water all the time, you should go at Home Depot. This company does not only sell the water heater but also offers installation services.
How much does it cost to install a water heater from the Home Depot?
If you want to install a water heater from Home Depot, you should know that the cost will be influenced by two main factors. Firstly, the price is influenced by the target of your project because there are jobs that require more labor and parts than the average. Secondly, the time of the year will affect the price because the promotions change constantly.
While doing our research online, we found that the initial inspection would cost around $50, but usually, this is deducted from the entire bill if you agree with the price. For the basic installation provided by Home Depot, you should budget around $370. Though, this fee may increase if you will need additional equipment such as additional piping. Also, some previous customers said that you will have to pay a delivery fee, which is around $85, as part of the final price.
You might also like our articles on other services from Home Depot like door installation, carpet installation, or truck rental.
To sum up, you will have to pay anywhere between $450 and more than $600 to install a water heater from Home Depot, without including the cost of the water heater which you will also have to buy from their store.
In the table below you will find the average fees for each service offered by Home Depot when talking about water heater installation.
| | |
| --- | --- |
| Task | Expected cost |
| Quote | $40 but this fee might be deducted from the final expense if you buy the heater from Home Depot and use their installation services |
| Basic Install | Will Start at around $300 but might increase substantially if the job is harder or additional piping is needed |
| Delivery Fee | There is usually a fee of about $85 for delivery of the heater to your home |
| Disposal Fee | You will usually be faced with a %50 disposal fee |
Note: These are just some estimates and may vary depending on the location, time of the year, and your project. It is recommended to contact your local Home Depot to get a more accurate price offer.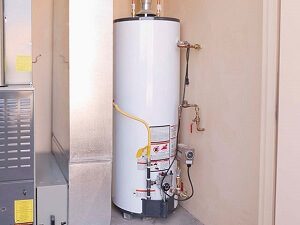 For example, a member of the Red Flag Deals forum said that he had to pay $50 for the quote offered by Home Depot, $350 for the basic installation, and another $85 as the delivery fee. On the same forum, another member said that he was charged by his local Home Depot around $430 for the water heater installation, plus another $320 in labor costs for changing the pipes.
According to the creator of the Slickdeals online forum, the cost of the water heater and its installation was around $655. This price also included the removal of his old water heater. For sure, this was a deal at that time and this cost may not be available anymore right now. However, this doesn't mean that you will not be able to find a good price. If this is not an urgent job, you can wait for a good promotion.
Home Depot sells popular brands of water heaters like Richmond, Westinghouse, and Rheem for residential jobs. Just for these water heaters, you will have to pay anywhere between $440 and more than $970.
What is included in the price?
Home Depot offers a one-year warranty on labor, all of the parts, and all the services related to the water heater installation.
There are areas where the installation jobs are available the same day from Monday until Thursday. But in order to qualify for this offer, you have to request the service before noon and your location must be within 30 miles of the Home Depot store. If you want to check the availability of this service, you should visit the official website of the company.
Important things to consider
Actually, Home Depot will not perform the installation of the water heater. They have contracts with other professionals who are licensed and background screened to do this job.
Home Depot water heating solutions are of high quality, affordable, and with their help, you will constantly benefit from hot water at the temperature you want. Choose the option that works best for you, depending on the heating power, capacity, and dimensions, all of which you should also have adapted to the available space.
https://www.thepricer.org/wp-content/uploads/2022/04/home-depot-water-heater-installation-cost.jpg
380
610
Alec Pow
https://www.thepricer.org/wp-content/uploads/2023/04/thepricerlogobig.png
Alec Pow
2022-04-12 08:03:01
2022-04-08 23:42:25
Home Depot Water Heater Installation Cost