How Much do Bevolo Lights Cost?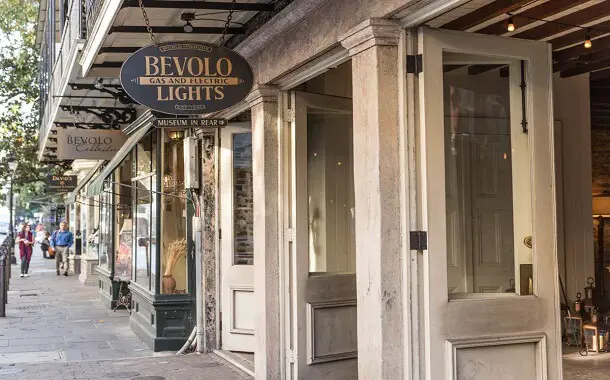 Bevolo Gas and Electric Lights is the oldest and largest company in the United States of America that produces hand-riveted, hand-made copper lanterns. They have created more the five hundred styles of lanterns, that are used both for residential and commercial applications. Their lights are ideal for both indoors and outdoors.
How Much do Bevolo Lights Cost?
You should plan on spending $220 to more than $3,100 per unit for Bevolo lights. The average cost will be affected by factors such as the size of the fixture, the design, add-ons, brackets being used, and materials. However, most prices will be anywhere between $220 and $350. This cost range will not include any professional installation costs and will apply only to the lights.
Expect to pay anywhere between $1,600 and $2,200 for a pole fixture and around $1,200 for a wall-mount fixture, according to the Period-Homes.com website.
The online retailer DeringHall.com offers a wide variety of Bevolo lights for sale, with prices that start at around $350 for a hanging pendant, and go up to $3,000 for a street light.
In the table below you can find the average prices for different types of Bevolo lighting.
| Type of Lighting | Average Price |
| --- | --- |
| Carriage Lantern | $690 |
| Hanging Pendant | $402.50 |
| Pool House Lantern | $460 |
| Lantern on a Column Mount | $661.25 |
| French Chandelier | $1,265 |
| Lantern on a Bracket | $690 |
| Street Light | $872.85 |
| House on a Hanging Chain | $690 |
Bevolo lighting – short presentation
Bevolo Gas and Electric Lights is a family business founded in 1945 by Andrew Bevolo Senior. Currently, the company is run by Andrew Bevolo, III. They are specialized in manufacturing brass, hand-riveted copper, and handcrafted lanterns.
You might also like our articles about the cost to leave a light on, set up a drone light show, or install a circuit breaker.
Bevolo lights are all manufactured by hand using antique copper. All of their products are produced within the New Orleans area and are available in electric, natural gas, or propane gas lighting options.
These products come with a lifetime warranty as the makers believe they should last a lifetime.
Bevolo lighting is approved by Edison Testing Laboratories (ETL). Also, all Bevolo fixtures are approved for Canada.
Over the years, Bevolo company continued to create the highest quality custom-designed, traditional, and antique handmade lighting fixtures.
What are the additional expenses?
Depending on the usage, the average gas bill for each light would be $10 to more than $30 per month. According to the company, one light will consume nine gallons of propane if you leave it on 24/7.
You need to factor in the handling and shipping costs, if you order Bevolo light fixtures online. Also, a rush fee is available for an extra charge.
There may be applied extra installation fees if you need a qualified technician. As all jobs are unique and different, it is recommended to ask for multiple price offers from local contractors.
Copper bulbs and other important things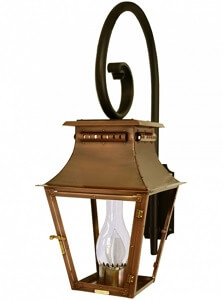 The Bevolo company offers more the five hundred types of bracket and light combinations. Also, they offer custom-made lighting. All of their products are riveted by hand by a very skilled and experienced team of craftsmen from the French Quarter area of New Orleans.
The company also provides a free design service. Potential clients can send them their odds or a picture of the area and they will realize a free lighting analysis, that will include photos with installation instructions, schematics, and even utility locations if necessary.
As time will pass, the color of your light will change a little as the copper will develop a lovely patina. Your climate will influence the speed at which your lights patina. The process will be faster in climates near salt water or with high humidity, and the lanterns will eventually develop a green or verde-gris green hue like the Statue of Liberty. Some lights may reach a full patina within a year, while others may take fifty years.
The usual delivery time is two to four weeks when you order Bevolo lights directly from the company.
You can use any medium base socket bulb, including LED and CFL, with the Bevolo electric lanterns. The costs per year will vary depending on the type of bulb. For instance, a Bevolo Liquid Propane burns 1200 to 1500 BTUs per hour, so you will spend $30 to $38 per month to burn 24/7. On the other hand, a Bevolo Natural Gas light lamp has a flame that burns 800 to 1200 BTUs per hour, and you spend $7 to $10 per month to have it burn 24/7.
Tips for saving money
Take into consideration purchasing slightly used Bevolo lights from websites such as eBay or Craigslist.
https://www.thepricer.org/wp-content/uploads/2023/06/Bevolo-lights-cost.jpg
380
610
Alec Pow
https://www.thepricer.org/wp-content/uploads/2023/04/thepricerlogobig.png
Alec Pow
2023-07-03 08:01:17
2023-06-29 00:05:53
How Much do Bevolo Lights Cost?