How Much do Micro Braids Cost?
Micro braids are inspired by African culture but have become a popular hairstyle all over the world. This type of hairstyle is in high demand in beauty salons because it protects your hair, is versatile, and is suitable for any face shape.
There are several types of afro ponytails that you can try and each of them will help you stand out and impress your friends. Although it takes quite a while to style your hair this way, you can wear it like this for a month without any problems.
How much do micro braids cost?
Micro braids cost anywhere between $110 and $550 on average, depending on the salon or stylist where you choose to get them done, the length of your desired final style, and the state of your hair.
Micro braids overview
The whole process of making micro braids takes between three and seven hours, depending on the volume of hair, the hair strand, the braids used, and the length.
It is not recommended to try to do them yourself at home, because a professional will know how to premeditate the number of extensions used. It will take them less time than it would if you did it yourself, he would make the micro braids and the strands between them even, and they would know how to "behave" with the hair, how hard to tighten it so that it doesn't unravel during sleep, however, you will pay more for the labor, but also for the supplies needed to make this hairstyle.
There are also varieties of braid options, and this gives you the opportunity to choose the style that you think suits you best. Even the paths of the braids can have different shapes, from triangles, squares, or even diamonds. The hairstylist gradually intertwines the extensions with your natural strands to create a simple finish that will help avoid breakage at the roots.
Types of micro braids
There is no limit when it comes to style options. You can opt to pull your micro braids into a ponytail at the top of your head or one at the nape of your neck if you're going to exercise or run and pull it all up in a bun for dinner.
Another idea is to hold only half of the braided hair, and you can let the other half flow over the shoulders, the micro braids also being pinned together in a larger braided ponytail and tied with a flower accessory.
Here are some of the most popular micro braid styles:
Half-Up Top Knot
Ballerina Bun
Fishtail Braid
Sky High Ponytail
Face Framing Twists
Cornrowed Crown
Curly Braids
How long do micro braids last?
The micro braids last up to one and a half months, two months max, depending on the sensitivity of the scalp. Being attached very close to the scalp for a long time can create sensitivity to it, which is why it is not recommended that they be worn permanently, but for a maximum of one and a half months.
What hair do I use for micro braids?
Micro braids can be created with your natural hair or you can opt for additional hair to give the braids a longer or fuller look. Even though most protective styles are installed with synthetic hair, it is recommended to use human hair for small braids because the probability to tangle in your strands is much lower.
You might also like our articles on the cost of box braids, tree braids, or instant locks.
Do micro braids pull out hair?
Most micro braids wearers are sometimes confronted with receding hairline and thinning hair, but this doesn't necessarily mean that this hairstyle is not good for you. It can become a problem only if you wear them for too long. Then they can begin to wreak havoc on your threads.
Though, this style is not recommended to those who have fragile or thin hair because only a few of your natural threads are used for each braid when styling micro braids with added hair. The additional weight of the extra hair leaves weak locks at real risk of damage.
How do I care for micro braids?
Depending on their care, micro braids can last up to two months, but that depends on how you wash your hair and your hair type, especially. It is important to keep your hair hydrated by using weekly mousses or oils with products with natural moisturizing ingredients such as coconut milk, shea butter, and argan oil. You should also try to focus on washing your scalp rather than the length of your braid.
It is also recommended to tie your hair with a silk scarf at night and use a bonnet to keep your micro braids intact. This helps to avoid rubbing the hairs in the pillowcases. Another tip is to straighten your hair daily if the tresses are also made of natural hair, so as not to melt them, because this will give a fresh look to the hairstyle.
Advantages of micro braids
Here are the advantages of micro braids that should make you try this hairstyle:
It protects your hair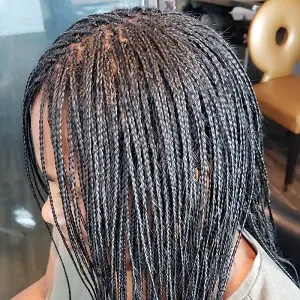 The best way to protect your hair is not to interfere on it with harmful products or heat. Straightening or curling negatively affects your hair in the long run: it thins your hair to the point of breakage.
If you braid your hair in micro braids, your hair will be protected from hair extensions and will no longer be affected by the sun's rays or other external factors. This way, you also give your hair a break from heat treatment where it can grow healthy.
They can be worn for a long time
If you keep your hair in curls, the hairstyle would last a maximum of one day. Instead, micro braids can be worn even for a month if you take care of them properly. Specifically, when you sleep it is good to wrap your hair in a satin or silk bonnet.
This hairstyle is not only made with your own hair but also with micro braid extensions, which weave over the natural hair and protect it. They can be natural or artificial hair extensions depending on your budget or the final look you want.
They are easy to care for
Unlike any other hairstyle that takes about an hour to do, micro braids always look the same, whether you just woke up or went to work for eight hours. They are thus the most suitable style for people who are always busy and do not have much time to arrange their hair.
Although it can take anywhere from five to ten hours to get micro braids depending on how thick the hair is or how long the braids are, they don't need a lot of maintenance.
https://www.thepricer.org/wp-content/uploads/2023/07/micro-braids-cost.jpg
380
610
Alec Pow
https://www.thepricer.org/wp-content/uploads/2023/04/thepricerlogobig.png
Alec Pow
2023-07-17 08:49:10
2023-07-08 22:22:04
How Much do Micro Braids Cost?