How Much Do Progressive Lenses Cost?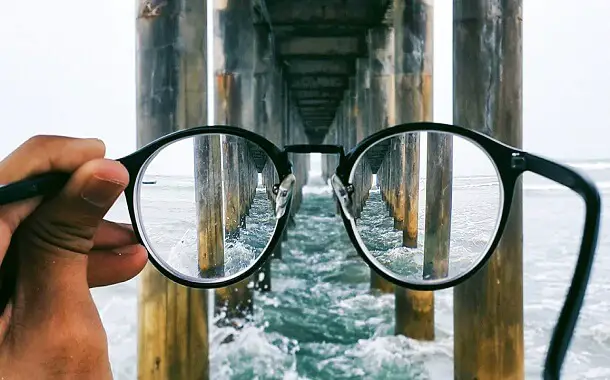 Progressive lenses, an alternative to bifocal lenses are those types that have both diopters for near vision and diopters for distance vision on their surface. The transition between the two areas is seamless and is done gradually, progressively, through a progression channel where we can see well even at intermediate distances. Therefore, we use progressive lenses when reading, to see at a distance, but also when using the computer, for example.
This type of lens is very useful for those who, in their current activities, need to see well, alternatively, far, near, and intermediate distances.
How Much Do Progressive Lenses Cost?
The price of progressive lenses is affected by various factors such as the place you buy them from, the type of lenses, and the brand. You should be prepared to pay anywhere between $90 and $450 only for the progressive lenses, a price that doesn't include the prescription or the frames.
When including the prescription, the coating, frames, and lenses, the overall costs would be $320 to more than $600. According to Consumer Reports, the average retail price of progressive lenses is $270.
For instance, at Walmart, you will have to pay around $170 for high-index lenses and almost $80 for basic progressive lenses. These costs would not include the frames and the coating of lenses. The total cost would be around $450 when you include everything.
At another well-known retailer, Costco, the average cost of one pair of HD progressive lenses with UV protection and anti-reflective coating is around $140.
Depending on their type, the Warby Parker progressive lenses may cost anywhere between $280 and $390, without any other inclusions.
The popular retailer of prescription eyewear, LensCrafters has a price of $550 to $650 for its progressive lenses. This cost includes the lenses, prescription, and frames.
Varilux, which is another appreciated brand, sells just its lenses for $130 to more than $420. Another famous brand is Freeform, which sells its high-index lens for $135 to more than $310.
According to the OpticianWorks.com website, you should budget anywhere between $210 and $650 for a complete set of progressive lenses. Also, they recommend avoiding buying the most expensive and latest marketing items unless they have a 100% money-back guarantee.
Progressive lenses – short presentation
Multifocal lenses are the best way to give you normal vision at a distance and up close. Presbyopia is the diminution of near vision that occurs in most people, after the age of 40. It is not a disease and there is no need to panic because it is a natural thing that happens due to aging. To see clearly at 40 cm, you will need to wear a pair of reading glasses prescribed by your eye doctor.
You can wear progressive lenses as an alternative to bifocal and trifocal glasses. They have a cost that fits into the vast majority of budgets. They fit most people and provide an acceptably wide reading area, but require a higher lens height to achieve a smooth transition from distance to reading area.
You might also like our articles on the cost of transition lenses, hybrid contact lenses, or Ocumetics bionic lenses.
Narrow channel progressive lenses are slightly more expensive than standard lenses, but they can fit into a smaller eyeglass frame with a faster transition between the distance zone and the reading zone. The reading channel is narrower, so distortions are perceived when looking past it. It is recommended that they be made by an experienced optician, and when they are used for reading, you must look straight, so as not to have distorted vision.
Wide-channel progressive lenses have a wider intermediate zone, typically taking up to half of the lens. These lenses must be larger, but they offer an increased degree of comfort in office activities, being also known as progressive computer lenses. They are well suited for painters, artists, dentists, barbers, mechanics, and architects, but also for people who have had problems adjusting to narrow channel lenses.
Premium progressive lenses provide a wider reading area without distortion. They are customized to fit optimally in the chosen frames and to provide the best clarity, according to the needs of your eyes.
Which are the additional expenses?
We already mentioned in the beginning that the estimative prices are only for the lenses and do not include the cost of frames. These may cost $20 to more than $160, depending on the brand.
A prescription will be required, and if you don't have insurance, it would cost anywhere between $65 and $130, depending on where you go.
Plan on spending another $45 to $100, if you want to have your lenses coated. Also, you will have to pay another $7 to $25 for adding a tint.
In case you purchase your lenses online, you may have to pay for shipping, depending on the seller.
Important things to consider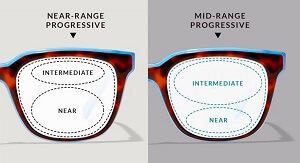 General-purpose bifocals are primarily indicated for those who need reading glasses because that is where the need to have one or more pairs of glasses starts. They are very useful for those who carry out activities during the day that involve seeing alternately both at a distance, and near, and at the computer.
The best examples are the teachers who have to see the whole class, but also on the notebooks, possibly also on the computer. Also, a good example is office workers who read documents, work on the computer but also participate in discussions with the rest of the room.
The higher price of progressive lenses is justified as follows: they replace 2 or 3 pairs of glasses; they have advanced technology behind them and you rarely change them. This does not mean, however, that you cannot find advantageous prices.
It is important to know that progressive glasses are not always a perfect solution. Some new glasses wearers might find a not-so-good fit when it comes to progressive lenses: they see in fog, have headaches, balance problems, nausea, or discomfort and peripheral vision problems due to aberrations on the sides of the lenses. Science still does not know exactly why this happens.
Tips for saving on the average cost
It is highly recommended to purchase lenses from an online retailer instead of going to a local shop. Usually, the costs will be much lower even when factoring in the shipping fees.
Also, look for special deals and coupons at the local vision center and see if they have better offers.
Take into consideration keeping your old frames if these are still in good condition. This way you will be able to save more than $160.
Search for progressive lenses at multiple stores and compare prices.
https://www.thepricer.org/wp-content/uploads/2023/05/Progressive-Lenses-cost.jpg
380
610
Alec Pow
https://www.thepricer.org/wp-content/uploads/2023/04/thepricerlogobig.png
Alec Pow
2023-05-31 06:50:12
2023-05-27 21:42:21
How Much Do Progressive Lenses Cost?