How Much Does a Dance Floor Rental Cost?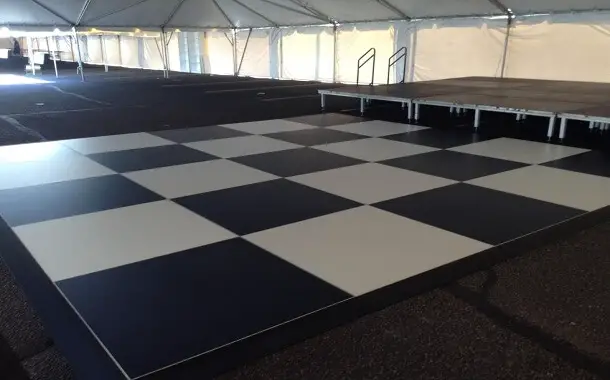 A dance floor is often required for weddings, parties, mitzvahs, or corporate events. Most of the time the venues have one, but still, there are cases when you will need to rent one instead. One example is outdoor events.
Rental companies offer a variety of floor options, and you can go for the material and color that complements your decor. Usually, your rental company will be able to set up a dance floor in minutes when renting.
How Much Does a Dance Floor Rental Cost?
Dance floor rental costs, on average, between $200 and $600 or more, depending on several very important factors, including, its dimensions, design, as well as the material it is made from.
When it comes to dimensions, if you were to host an event with 40 guests, we recommend a 12×12 square feet section, which is somewhere between $150 to $400. In case there is a need for additional space on the dance floor, you can rent additional sections to create a larger area, with each extra section costing between $6 and $45.
The size of the dance floor is very flexible depending on your subjective needs, although you won't be able to rent a floor with a size under the minimum requirement of the provider.
There is a quick way to calculate how much space is needed based on the number of guests. A tile of flooring is one square foot in size and the price per piece rental is $1 to  $2. Making a rough estimation of your needs is quite easy, considering that the space of three square feet per dancer is usually enough.
As mentioned above, there are different types of flooring as well.
A wood parquet dance floor, which is usually for indoor events, may be rented for a cost of anywhere from $200 to $350. This is a price estimated for 100 to 150 guests.
Another flooring type is the oak plank. Generally, to accommodate 100 to 150 guests, the rental price can go from $260 up to $400.
You might also like our articles about the cost of a drone light show, balloon arch, or stage rental.
Wooden floors have a classic flair which can give a timeless look suitable for any event.
Besides the wood-type flooring, you can also opt for a vinyl type, which is a perfect choice for themed events. As a rough estimation, the cost to rent a vinyl dance floor could go from $290 up to $380 for a group of 100 to 150 guests.
If you want to have something more extravagant, an LED dance floor is also an option. These flooring types can be programmed to feature different colors and patterns. For Led flooring, the rental costs per square foot can go from $40 to $55.
Dance floor rental overview
Our research suggests that most companies rent out dance floors by section. For example, the section may be in the size of 12×12, 12×16, 16×16, 12×18, 15×15, 16×18, 18×18 and 21×21.
The most common indoor dance floors are oak plank and wood parquet, perfect for a classic wedding or a corporate event. If you're looking for a more versatile look, you can always get a vinyl one. Usually, you can choose between all-white, all-black, checkboard patterns, and even a wooden print. But there are some companies that have a more unique pattern or can even customize some tiles based on your preferences.
Although as a general rule, the delivery, installation, and dismantling charges are all included in the rental costs, some companies may charge some extra fees for the setup.
What are the extra costs?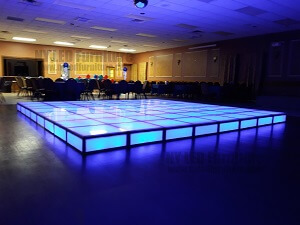 Most rental businesses have additional fees that go towards preserving their goods. So, usually, companies ask for an upfront damage waiver as additional insurance. This fee is often 10 to 15 percent of your rental cost.
Having a dance floor at a public event usually comes with a serious responsibility. In order to insure a group of tens or even hundreds of people, liability insurance is recommended. This insurance will usually cost around $200 additionally.
Additional accessories come at an extra cost. For example, adding a disco ball can be somewhere between $60 and $120 to rent. If you want more lighting, save up around $120+.
Important things when you rent a dance floor
Some companies will only want to install the rented dance floor if the tent is rented from the same company.
There is no need to rent a dance floor that can accommodate all of your guests at the same time. For example, if you have 400 guests, renting a floor big enough for only 40 percent of them should be enough. It is the maximum percentage of guests that would generally participate in the same dance at the same time.
Saving money when you rent a wedding dance floor
Calculate your flooring size needs beforehand and contact at least three to five rental companies around you to ask for a quote. This is the best way to compare price estimates and find the best deal.
There are also people who decide to make their own dance flooring. Based on the available information online, you can build it for a maximum of $350 and you can also customize it as you like.
Usually, the large events take place on weekends, but if you choose to do yours on weekdays, companies will most likely offer the dance floor at a much cheaper charge.
https://www.thepricer.org/wp-content/uploads/2023/08/Dance-Floor-Rental-cost.jpg
380
610
Alec Pow
https://www.thepricer.org/wp-content/uploads/2023/04/thepricerlogobig.png
Alec Pow
2023-08-26 06:15:15
2023-08-25 07:09:52
How Much Does a Dance Floor Rental Cost?