How Much Does a Llanerch Country Club Membership Cost?
Last Updated on October 3, 2023 | Written by CPA Alec Pow
First Published on September 27, 2023 | Content Reviewed by

CFA Alexander Popivker
The Llanerch Country Club is a private club in Havertown Township, Delaware County, Pennsylvania, United States that is said to provide the best services in the area. The club, located at 950 West Chester Pike, has run under this name since 1919 but was founded in 1901 when it was known under a different name. This prestigious country club guested various large events, such as the first PGA Championship. Also, it has an Olympic-size swimming pool, several restaurants, fitness facilities, and other amenities.
How much does a Llanerch Country Club membership cost?
The cost of a Llanerch Country Club membership is somewhere from $250 up to $500 per month, depending on the type of membership you apply for. Also, there is an initiation fee between $3,000 and $14,500. These costs may vary depending on policy requirements. We recommend contacting the Llanerch Country Club staff, like the club's general manager, directly to get more information on different membership tiers.
The private club located in Havertown has three types of memberships: House membership, Intermediate membership, and Full Golf membership.
If you apply for a Llanerch Country Club House membership expect to pay an initiation fee of around $3,000 and monthly dues of $250. This membership offers new members access to the dining areas and the fitness area.
To become a Llanerch Country Club Intermediate member, there is an initiation fee of around $5,000 and monthly dues that may cost somewhere from $300. Members have access to their Olympic-sized pool, bar, poolside grills, dining, fitness, and other amenities.
The most complex option is the Llarnech Country Club Full Golf membership. This membership provides full access and, as stated on their website, would cost an additional initiation fee of $17,500 if you do not have one year as a House Member.
However, if you already are a House Member for one year, there is an Incentive Plan. This plan has an Incentive Initiation fee of $14,500, from which $2,000 will be charged as annual dues to be considered on a waitlist. The monthly payments can be as much as $500, according to some online reviews. In case you are approved for this membership, a Certificate worth $5,000 must be purchased and a Certificate Registration Fee of $100 must be paid.
There may be a waiting list, but we recommend contacting the Lllanerch Country Club for more specific details. Also, the costs are just estimates. For a more accurate quote, please get in touch with the club.
The membership options
As stated above, Llanerch Country Club has three different membership options each offering its own amenities.
House – As a House member you have full access to the clubhouse, tennis courts, dining area, and swimming pool center and you are also entitled to one round of golf per year. House members also attend special events, holiday parties, and summer barbeques.
Intermediate – Intermediate Membership offers full access to the golf course and social and dining privileges. Also, you can benefit from the swimming and tennis programs. This membership available to members is a less expensive choice for young professionals, 35 years old or under, who cannot yet afford the Full Golf membership. However, once the member turns 36 years old, they will have to apply for the Full Golf membership automatically.
Full Golf – This membership provides you full access to the golf course, swimming area, tennis court, cricket, and social amenities. You will have the opportunity to attend social events and the dining area. As a Full Golf member, you will have the right to vote and participate in club golf tournaments, considering that the club also hosts several. The fees for attending the tournaments like the Member-Guest league and annual Llanerch Cup, will be disclosed at the moment of the registration.
Llanerch Golf Club overview
The Llanerch Country Club offers its members numerous facilities such as an 18-hole golf course, tennis courts, a swimming pool, a golf pro shop, and a clubhouse.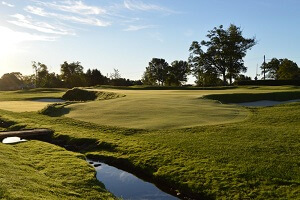 Situated on 129 acres, the club has a driving range, 20 tee stations, practice facilities, and a golf complex pro shop. You can also benefit from golf lessons and fitting services for your equipment.
The club provides four hard courts and three clay courts, all professionally lighted for tournaments or practice during the night. There are tennis programs available for children, women, men, and diverse teams. So, yes children are allowed to and may join a country club to become golfers. Members can enjoy a tennis pro shop with the experienced staff of USPTA. Reservations for the courts will be made at the shop.
You might also like our articles on the cost of membership at the Marbella Country Club, Tavistock Country Club, or Waverly Country Club.
One of the most popular amenities at the Llanerch Country Club is the Olympic-sized swimming pool. It also includes access to several swimming pools for toddlers, but only on a strict time program. The use of the pools is strictly reserved for the Llanerch Country Club members, as guests are not allowed. With the pool access, members can benefit from the snack bar, side pool grill, and cocktail bar. Members can enjoy the pools between Memorial Day and Labor Day.
A fitness center is provided for the club members only and children are permitted to use the fitness center only during the time frames and inside the recommendation indicated by the club. Cardio workouts, weights, balance, and stability training are all available. Members can also opt for personal training classes. Locker rooms and showers are set up separately with different entrances.
Besides all the amenities mentioned above, members can attend different social events. These include weddings, banquets, corporate meetings, private events and parties, live music performances, wine tastings, and other events. The club can also provide catering services for the events if needed. Lanerch Country Club can host events of 220 guests, as well as small gatherings of 10 attendants.
Important things to consider
The Llanerch Country Club has a dress code policy where members and guests need to wear collared shirts and appropriate shorts. Wearing denim, athletic wear, and cargo shorts is prohibited.
Usually, applying for a membership is based on invitation only. However, there are times when the club offers the opportunity to register on a waiting list.
Members are allowed to bring guests. Guests will benefit from a pass with temporary access to numerous amenities.
What are the extra costs?
Additional costs will be charged for golf, tennis, and swimming private lessons.
Also, taking part in a tournament will come with an extra fee.
If you consider benefiting from the services of a personal trainer, an additional fee will be charged.
According to GolfNow.com, a $130 weekend green fee is charged. Carts will be provided in this fee, which is only required for the members who do not have golf privileges.
Social events will come at an additional fee.
The catering service from the club will come at an extra charge.
https://www.thepricer.org/wp-content/uploads/2023/09/Llanerch-Country-Club-membership-cost.jpeg
380
610
Alec Pow
https://www.thepricer.org/wp-content/uploads/2023/04/thepricerlogobig.png
Alec Pow
2023-09-27 10:37:29
2023-10-03 12:56:28
How Much Does a Llanerch Country Club Membership Cost?