How Much Does a Waverly Country Club Membership Cost?
The Waverley Country Club Portland is a private establishment found in Portland, Oregon, spread over 138 acres of land on the riverbank of the Willamette River.
According to the official website, it was established in 1895 and it slowly became one of the best country clubs in the US.
How much does a Waverly Country Club membership cost?
The cost of membership at Waverly Country Club starts at $35,000 in initiation fees, while annual dues are known to go into the high five figures, depending on the membership level, according to past and current members. Of course, these are just estimates that haven't been confirmed by official sources. As country clubs change their prices quite often, you should get in contact with Waverly directly to get a more accurate number for membership dues.
A discussion on the GolfWRX forum revealed that members consider the dues way outside of their league with one individual saying that the initiation fees will go over $35,000 easily.
Golf Club Membership Fees and Categories
When looking to become a member of the Waverly Country Club, you can pick between several membership categories, so that you join under the one that best suits not only your interests but also your budget. Depending on the level of access to club amenities that particular memberships offer, the initiation fees and the annual dues will also differ. According to unverified sources, you can join under a Social membership, a Full Golf membership, or a Junior Golf membership.
Social Membership
This is a membership level for people who aren't really interested in joining the club for golfing opportunities. If you only want to take advantage of the club's social events and dining options, then the Social Membership will probably be the best for you. Becoming a Social member will entitle you to access to all non-golf amenities provided by the club. This includes dining rooms, tennis courts, and the swimming pool. Expect a lower initiation fee and lower annual dues, as the membership is rather restrictive. For the initiation fee, aim for the low $35,000, while annual dues will be in the low five-figure range.
Full Golf Membership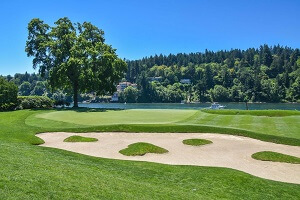 The Full Golf Membership is not only the most popular but also the most expensive category for the Waverly Country Club. It will give you full access to social events, dining options, tennis courts, a swimming pool, a practice facility, a golf course, and all other amenities found inside the club. Expect the highest initiation fee for this membership level, with a cost of over $50,000 in initiation fees and annual dues in the high five figures.
You might also like our articles on the cost of membership at the Dunwoody Country Club, Firestone Country Club, or Kenwood Country Club.
Junior Golf Membership
Junior Membership is designed for people who love golf and are aged 21 to 39 years old. You will get full access to almost all features that the country club offers, including social events, dining options, tennis courts, a swimming pool, a practice facility, and a golf course.
Waverley Country Club overview
The golf course, designed by Jack Moffat, has a 134 slope rating and a 72-course rating, being an 18-hole par 72 course. You can get some great reviews of the course itself with pictures and personal experiences from golfing blogs like BreakingEighty.com. The official website also offers a detailed description with pictures and videos hole by hole, if you want to see the course in further detail.
The club also offers training programs from experienced professionals on-site, a junior clubhouse, a practice facility, and the popular Field House, aside from the golf course.
There are other notable amenities as well, including a wine program that is recognized nationally, all kinds of social activities, and multiple dining options, like the Ladies' Lounge, the Men's Bar, the North Lounge, Veranda Dining, the Terrace Room, 1986, the Wine Cellar, and Riverside Dining.
What are the extra costs?
Most social events and dining gatherings that are held over any year will come at an additional fee if you want to participate.
Clinics, lessons, events, and tournaments will also come at an additional fee as long as they are organized by the club.
Important things to consider

The club allows members to form groups on the first tee, as it doesn't have a tee time culture. All new members have the possibility of joining a game with the Saturday golfers, as Saturday morning is an open play for all members.
It is known as the second private golf club available west of the Mississippi River.
Frequently Asked Questions
Can I bring guests to the club?
As long as they abide by all guest policies and you accompany them all around the club, you can bring guests inside with you. You will have different numbers of times you can bring guests with you, depending on the membership you are part of.
Are there any additional fees for using the club's amenities?
Each membership category offers a number of amenities, all of which are covered by your annual dues. Still, if you were to use the club's restaurants or bars, you would have to pay additionally for the food and beverages you get.
Can I split the initiation fee into installment payments?
No. The initiation fee will be paid in full within a specific time frame after being accepted if you want to become an active member of the club. There is still a possibility to get help from the club's preferred lenders, as long as you are eligible for financing options.
Is there a waiting list for membership?
The Full Golf membership has a long waiting list of people who have applied to become members. Currently, based on the information available online, there is no waiting list for Social membership or Junior Membership.
Is there a dress code at the club?
Yes, as with other private golf clubs, there is a strict dress code policy in place, that not only members, but guests as well will have to adhere to.
Can I use the golf course for practice only?
Unfortunately, you can only use the golf course to play golf. Still, you can use the extensive practice facility you find on the club's premises if you want to improve your golfing skills.
https://www.thepricer.org/wp-content/uploads/2023/09/Waverly-Country-Club-membership-cost.jpg
380
610
Alec Pow
https://www.thepricer.org/wp-content/uploads/2023/04/thepricerlogobig.png
Alec Pow
2023-09-24 10:23:01
2023-09-14 11:53:38
How Much Does a Waverly Country Club Membership Cost?