How Much Does a Rage Room Cost?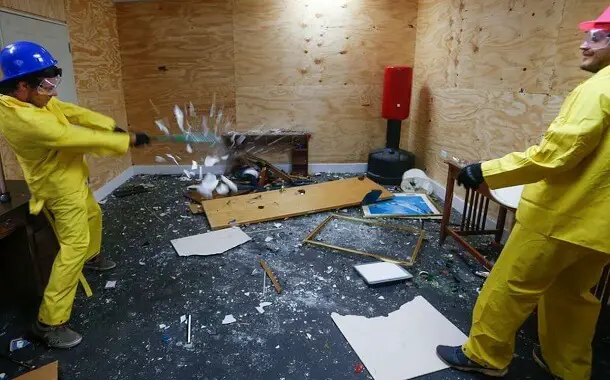 No matter how calm we are, sometimes we have worse, more agitated days, days when stress reaches its maximum levels. When we get into such situations, our ability to concentrate and productivity drops drastically, so the best solution is to free ourselves from all the negative feelings that control our thoughts. For this reason, a bold business idea was born, namely the so-called "rage rooms", which aim to de-stress employees and people in general.
How much does a rage room cost?
The cost of a rage room is anywhere between $35 and $110 per individual for a ten-minute to one-hour smash session. Though, the cost may be slightly lower if you add an additional individual or several persons in a single session. For example, the cost for a standard group of five to ten people can be $155 to $260.
In case you are looking for some places in the United States of America where you can release your anger, you can find in the table below some popular range rooms with the average costs for tickets per person.
| Rage Room | Location | Price per person | Minimum Booking Time |
| --- | --- | --- | --- |
| The Break Room | Atlanta, GA | $20 | 15 minutes |
| Outraged Rage Room | Washington, DC | $25 | 15 minutes |
| The Secret Chamber Rage Rooms | Unknown | $40 | 20 minutes |
| Rage Ground | Los Angeles, CA | $65 | 45 minutes |
| Unchartered Adventures | Austin, TX | $39 | 15 minutes |
| The Smash Room | Orlando, FL | $35 | 15 minutes |
| Tonic Rage Room | Concord, NC | $25 | 10 minutes |
| The Rage Cage NYC | New York City, NY | $64.99 | 20 minutes |
| Smash*t Break Room | Denver, CO | $89 | 20 minutes |
| BrainyActz Rage Rooms | Multiple Locations | $40 | 30 minutes |
| Rage Room | New Jersey | $30 | 5 minutes |
The prices presented above are estimative and are available only for a few among the over sixty rage rooms you can find only in the United States. Even though the rage rooms have age limits, the price to smash per person is still the same regardless of whether you are over or under eighteen years old. Children will likely have to be accompanied by an adult.
At most rage rooms you are allowed to bring your own stuff to destroy. Usually, in this situation, a BYOB (Bring Your Own Breakables) individual package is cheaper than if you were to destroy the location's breakables.
You might also like our articles on the cost of escape rooms, laser tag, or axe throwing.
Though, the staff from the rage rooms have to look at the items before a session to make sure you only bring and break stuff that is approved. Most premium rage rooms approve only flat-screen TVs, bottles, glass, newer electronics and electronic appliances, and clay household items.
Factors affecting the cost of a smash room
There are several factors that affect the cost of a rage room session, including:
the number of persons in a session;
the availability of the room
the time spent in the demolition room breaking items;
the number of items you smash;
how much in advance you make the appointment
the type of items you smash.
Rage room experience overview
This concept was first implemented in 2008, in Japan, but now these rooms can be found in many countries around the world, from Serbia and England to Argentina and America. The purpose of these anger rooms is to help people destroy their sense of anger, literally.
Depending on the time you want to spend in these rooms or the intensity with which you want the activity to take place, you can choose to break anything from plates, and glasses, to household appliances of different sizes.
What to expect when you visit a premium rage room?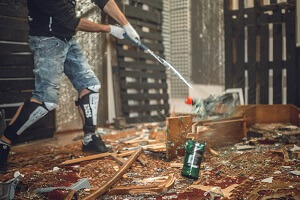 Although it seems like a bit of a chaotic activity, safety comes first. Before entering the spaces specially designed for the destruction of objects, customers receive a short briefing in which the safety rules are explained to them. They also receive proper safety equipment: goggles, helmets, protective gowns, and gloves. In case you are sensitive to loud noises, you should bring earplugs.
Glasses, old flower vases, porcelain trinkets, printers, televisions, telephones, toilet bowls, kitchen furniture, plaster busts, or even unexpected objects that break spectacularly are proposed for breaking. All this happens in a controlled environment, without any consequences, in complete safety.
It is recommended to make a reservation for your group of friends, a partner, or just yourself, a few days or weeks in advance for most premium splatter rooms or wreck rooms.
Rage rooms are not recommended for pregnant women and people who have consumed alcoholic beverages are not accepted.
Final words
Although the idea of releasing frustrations by destroying objects is not supported by science, it turned out to be extremely satisfying to destroy a room. The rage room experience is the antithesis of all the classic tips to overcome nervousness (yoga, meditation, or breathing exercises). While these approaches are passive, the rage room is an active way to release your anger.
https://www.thepricer.org/wp-content/uploads/2023/07/rage-room-cost.jpg
380
610
Alec Pow
https://www.thepricer.org/wp-content/uploads/2023/04/thepricerlogobig.png
Alec Pow
2023-07-17 06:12:33
2023-07-11 11:45:23
How Much Does a Rage Room Cost?