How Much Does a Seafood Boil Cost?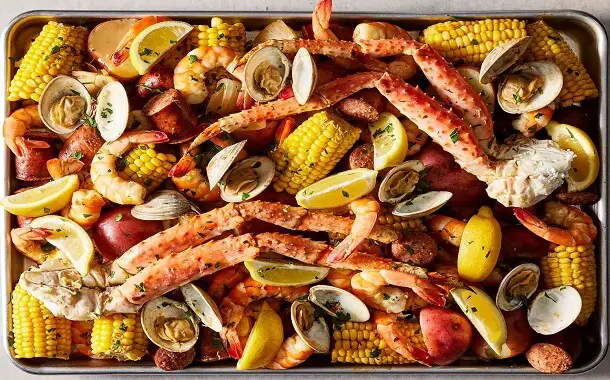 The seafood boil is a culinary tradition that uses a mix of lobster, clams, crab legs, shrimp, and other types of seafood that is boiled with a combination of vegetables, herbs, and aromatic spices.
Many people choose to spread this communal meal across a big table that is covered with newspapers. The huge amount of food is then enjoyed by savoring all the rich flavors while dipping in sauces and cracking shells. It can also be accompanied by sides of potatoes, sausage, or corn.
To figure out the cost of this delectable seafood boil, you will first need to understand the many different factors that affect it. Everything from the selection of fresh seafood to other accompaniments and seasoning, all elements will contribute to the overall cost.
This article will not only give you information on prices but also the factors that influence the final bill so that you have an understanding of how to create the perfect budget for an excellent feast.
How Much Does a Seafood Boil Cost?
The seafood boil cost is somewhere between $100 and $200 or more, depending on quantity, seafood type, side dishes, and seasoning, among other factors. Most of the time this price will cover a seafood boil that would be enough for 4 to 6 people.
You can help decrease these costs without compromising on the taste if you either buy the food in bulk or go for frozen seafood.
You can also ensure a budget-friendly seafood boil if you source your ingredients as wisely as possible. Local seafood markets usually offer very competitive prices for fresh catches. There are also seasonal specials that you can take advantage of. Some people also secure the best deals by comparing the prices per item and the quantity per price.
Breakdown of the price to make a seafood boil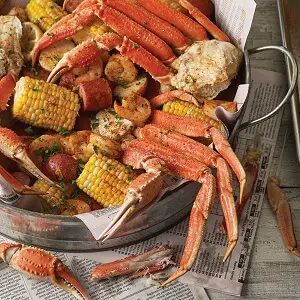 A huge difference will be made by the amount and type of seafood you choose. While crawfish and mussels are usually cheaper, king crab or lobster, on the other hand, will be on the more expensive side.
The number of people you want to serve is also something you should have clear right from the start. You will need considerably more seafood for big gatherings, so the expenses will easily add up. Keep an eye out for discounts for bulk orders when preparing food for big gatherings, as a way of saving money.
Another way to save on your seafood boil will be to make and use your own seasoning.
Budgeting and extra expenses for a seafood boil
When you're trying to plan the seafood boil, a very important aspect of creating an impactful overall experience will be proper budgeting. Although you will want to create the perfect food, you will have to find a balance between indulging in delicious ingredients and keeping your finances in check.
Below, you will find some great pieces of advice to plan your budget-friendly but still delicious seafood boil:
Consider Seasonal and Local Seafood – It will be cheaper and more environmentally sustainable if you choose seafood from local markets and ingredients that are in season.
Select the Right Seafood Options – It will be a lot more expensive to cook your meal using premium choices like king crab or lobster. You can mix in some more affordable options like mussels, clams, and shrimp. In this way, you will not only reduce the price per plate, but you will also create a more diverse plating.
Make Your Own Seasoning Blends – You can create some seafood boil seasoning blends using your own recipes as a way of personalizing the flavors of the seafood boil and reducing the expenses of the seasonings themselves. Seasonings can be made to perfectly along with your taste, using a combination of ingredients like pepper, butter, chili, or garlic.
Finding Deals and Discounts – It's always a good idea to look around for discounts at local grocery stores or seafood markets. You will usually get a better price per ingredient when buying in bulk.
Don't Throw Away Leftovers – You can always use whatever's left after the meal and create other dishes for the following days. Minimizing food waste is both a great way of being frugal and environmentally friendly.
Conclusion
In the world of seafood boils, costs sway with seafood choices, quantities, and flavors. By smartly selecting ingredients and considering options, you can savor the joys of this feast without denting your wallet. It's about balancing tastes and expenses for a delightful gathering.
https://www.thepricer.org/wp-content/uploads/2023/09/Seafood-Boil-cost.jpg
380
610
Alec Pow
https://www.thepricer.org/wp-content/uploads/2023/04/thepricerlogobig.png
Alec Pow
2023-09-16 06:25:13
2023-09-08 09:59:19
How Much Does a Seafood Boil Cost?