How Much Does a Vera Wang Wedding Dress Cost?
Last Updated on March 27, 2023 | Written by CPA Alec Pow
First Published on March 26, 2023 | Content Reviewed by

CFA Alexander Popivker
A Vera Wang wedding dress costs somewhere between $2,500 and $25,000 depending on how intricate its design is and the event it is created for. But more about this in the article below.

Many women have fantasized about waltzing down the aisle while they wear an original Vera Want dress. If you're one of them, then you should start saving as soon as possible, as the price of such impressive gowns won't be insignificant, for sure. Of course, you shouldn't get scared of the cost alone, as this type of investment will leave a mark that your wedding guests will have a really hard time forgetting.
How Much Does a Vera Wang Wedding Dress Cost?
So let's go into the important part of the article: How much will a Vera Wang wedding dress cost with all its elegance and glamour? The cheapest design ever done by Vera Wang was sold for around $2,500, while the most important designs are known to cost $25,000 or more, depending on how exquisite the custom design of the dress is.
But you shouldn't consider the higher end of the range if you don't have the budget for a very expensive dress. If fact, if you have a budget of anywhere between $5,000 and $9,000 for the dress alone, you can actually get one really amazing design. She also has a specially-designed Luxe Collection priced between $6,000 and $18,000, depending on the individual model.
Below you will find a few examples of Vera Wang wedding dresses from some of her most recent collections:
You can get a one-shoulder wedding dress that features an amazingly beautiful drape for anywhere between $6,000 and $18,000, depending on the exact detailing of the dress you're interested in.
Strapless layered mermaid wedding gowns that have a corset with detailing will usually be priced between $4,500 and $9,000.
You can also get a dramatic champagne taffeta strapless wedding gown that has a large black flower accent for anywhere between $5,500 and $8,000.
A strapless chiffon-draped wedding gown that has a Grecian shape and an empire waist will be priced between $2,500 and $6,000.
You should also know that your bridesmaids can also get their dresses from Vera Wang's collection. The usual Vera bridesmaid dress will cost between $200 and $1,200, being among the cheapest dresses she makes.
And of course, if you're very tight with your budget, you can also check out online marketplaces for older Vera Wang styles that have been discontinued. You can also opt for a used Vera Wang gown on online local marketplaces for a fraction of the tag price. Vera Wang also offers an annual sample sale in New York. This is where she offers her overruns and samples for up to 75% off the usual cost.
Can you afford a Vera Wang Dress?
It might not sound like a sane financial decision to splurge on an extravagant Vera Wang wedding dress, especially considering the rising unemployment rates, falling stock prices, and other issues related to a struggling economy.
You might also like our articles on the cost of a wedding dress in general, a wedding gown by Berta, or a gypsy wedding dress.
But truth be told, all of these issues related to the state of our country's economy are bound to pass while your dream wedding, along with all the photos and memories that come with it, in which you will look like a star in a couture gown, will stick with you forever.
If you need to cut down on some other costs to reduce the budget so you can afford the gown, then you can consider economizing on less visible details like using seasonal flowers instead of ones that have to be imported and foregoing the wedding favors.
The Uniqueness of Wang Dresses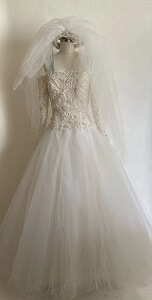 If you've ever had the pleasure of seeing Vera Wang gowns from a close distance, you surely know that they aren't your usual run-of-the-mill dresses. They have amazingly fine details and sophisticated lines to define them. Vera Wang dresses have been called sophisticated and sleek, they are made with only luxurious fabrics combined with elegant and even unique designs, including understated trains, full ball gown shapes, tulle overlays, elegant bows, and rich hand-beading.
And that's not all. You will also notice that most Vera Want Dresses will stand out thanks to the way in which sleek silhouettes can combine a true timelessness with a modern silhouette, creating the perfect note for a bride, regardless of her taste. Vera Wang gowns manage to show off a woman's figure in a tasteful style with their body-conscious lines.
Vera's story
Vera Wang was initially known in association with Vogue Magazine. She worked there as a Senior Fashion Director for almost two decades. But she also worked at Ralph Lauren, where she had a leading role. Wang is said to have recognized a strong lack of style in the whole bridal industry while working in these amazing places.
This was what drove her to try her hand at building a style that would fill the gap. She launched her type of high-fashion bridal line that was intended for brides that had upscale tastes and seeds and wanted to be dressed in something sleek and elegant for their big event.
Her Style Caught The Attention of Celebrities
Many celebrities have chosen to make a beautiful appearance for their weddings flaunting an amazing Vera Wang gown. The first celebrity to get married in a Wang dress was the popular skater Nancy Kerrigan, who, in 1994, asked the designer to create a dress with a unique look for her wedding.
Among the other celebrities that have made Wang a household name in the bridal industry are Mariah Carey, Uma Thurman, Sharon Stone, and Jessica Simpson. An interesting fact is that along with wedding creations, Wang also designs costumes for the U.S. Olympic skater team.
Dresses for Every Taste
If you really like Vera Wang gowns and you imagine yourself wearing one for your big day, then you should know that you really aren't the only one. One of the most popular designs that can be found in a lot of cuts and fabrics is the strapless Vera Wang dress. Regardless of whether you're going for refined puffs of beautifully crafted layers, pleated folds, or a column shape, the sashes, trims, and ruffles will make the style of the model you pick really unique to your taste.
And you can pick from a wide range of existing options that feature anywhere from iridescent silk with a hint of lavender coming with a perfect swirly drape to warm tones of ivory organdy, falling in sleek pleats.
Where to Shop
Vera Wang shows off her gowns at her flagship stores which can be found in Los Angeles and New York City. You can also find some of her designs featured in exclusive department stores like Saks Fifth Avenue, Bloomingdale's, and Neiman Marcus. And you'll surely find at least a limited selection of her models in exclusive boutiques and very exclusive online websites.
Her Most Expensive Designs
According to experts, the most expensive dress Vera Wang ever sold was made with a unique style, for the engagement party of Jennifer Lopez to Ben Affleck. According to Vera Wang herself, this dress was record-setting in terms of cost but also featured special custom-made details and 18 hand-sewn layers of luxurious couture fabric. Although this dress was made as a gift to J.Lo, which means it wasn't given an actual price, considering that some of her most expensive dresses are priced at $25,000 and above, this one would surely have cost considerably more.
Of course, most experts consider this gift as a great step made by Vera Wang toward popularity, as the event was bound to be a very publicized one. But, as you surely know, at that point Lopez and Affleck broke up before reaching the altar together. This also means that the beautiful dress was not once worn in public. Weirdly enough, although Lopez still wore a Vera Wang wedding dress when marrying her then-husband Marc Anthony, this dress is said to be considerably less elaborate and less expensive.
Gowns Not Just for Brides
Vera Wang doesn't only offer impressive wedding gown designs in a large range of styles. She also makes ready-made clothing lines (not all of them really expensive), along with wedding stationery, jewelry, footwear, and eyewear. She is also responsible for some Wedgewood dishes and upscale house0wear items.
https://www.thepricer.org/wp-content/uploads/2023/03/vera-wang-wedding-dress-cost.jpg
380
610
Alec Pow
https://www.thepricer.org/wp-content/uploads/2023/04/thepricerlogobig.png
Alec Pow
2023-03-26 11:01:06
2023-03-27 06:57:07
How Much Does a Vera Wang Wedding Dress Cost?