How Much Does HOTWORX Cost?
Founded in 2017, HOTWORX represents an innovative and unique way you can lose weight and get in shape. This company has changed the fitness world by offering workout exercises in a sauna environment. They provide inexpensive and easy exposure to a 24-Hour Infrared Training Center where members can reach their fitness goals.
How much does a HOTWORX membership cost?
The cost of a HOTWORX membership depends greatly on the type you choose. There is the "Sweat Everything Unlimited Use", that offers unlimited sessions, 24-hour access at the FX Zone (Functional Training Area), and Home Diet Trax to any location. With a 90 days commitment the enrollment fees for this type of membership are $15 and the monthly dues are $90.
Also, HOTWORX offers the "Sweat Here Phase 2" membership that costs $60 per month, with 90 days commitment and the enrollment fee is $15. Members are offered unlimited sessions, 24-hour access at the FX Zone (Functional Training Area) to any location
HOTWORX overview
The idea of the HOTWORX business was to create a new type of fitness experience that would offer several advantages to their clients. The founder, Stephen Smith, who is an entrepreneur and fitness guru, wanted to combine the power of exercise with the benefits of infrared heat in order to create an effective and unique workout.
It has been shown that infrared heat promotes relaxation, reduces pain, detoxification, cellulite reduction, anti-aging and skin rejuvenation, improved circulation, and provides many other benefits for the human body.
You might also like our articles on the cost of becoming a member of iFIT, WarriorBabe, or Anytime Fitness.
Also, isometric exercises are great for lowering cholesterol, building, and strengthening muscle, weight loss, burning fat, and boosting the metabolism. HOTWORX aimed to offer a really beneficial and innovative workout experience by integrating this technology into their fitness programs.
HOTWORX provides a range of in-studio and virtual workouts such as strength training, yoga, cycling, and Pilates. Each workout session is designed to offer a customized fitness experience that meets the goals and needs of each client. Regardless of whether you want to build muscle, lose weight or just improve your overall wellness and health, HOTWORX has a training session that will help you to reach your goal.
Why is HOTWORX so good?
This company sets itself apart from its competitors through the innovative way they use technology. The fitness studios are equipped with a proprietary infrared heat system which is made to offer several health advantages to their clients. This technology comes in combination with different exercise techniques and equipment to create a really effective and unique workout training.
How does it work?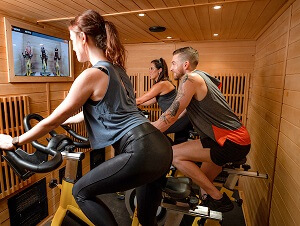 HOTWORX members will be able to choose between two categories of workouts: Isometric (Iso) and HIIT (High-Intensity Interval Training). In each sauna a screen is installed, where videos of a Virtual Instructor are played, who will help you burn a lot of calories and build muscles as well.
Isometric classes take around 45 minutes and include hot Pilates, hot iso, barre none, hot yoga, hot blast, hot warrior, hot blast, hot core, and hot buns.
High-Intensity Interval Training is done during machine classes that last fifteen minutes and include hot thunder, hot blast, and hot cycling.
You will have to use their app in order to schedule a class. Also, you can track your progress through their HOTWORX app, and with a fitness watch you can track your calories.
Can I lose weight with HOTWORX?
Your body weight will significantly improve with three 15-minute HIIT sessions per week. Members can record how many calories they have lost in their mobile HOTWORX app and the one-hour post-burn HOTWORX encourages them to exercise for at least 90 days.
Is HOTWORX recommended to beginners?
Yes, HOTWORX is recommended to beginners as everything is at your own pace and the video workouts are easy to follow. Moreover, you are free to change the exercises as this is an individualized workout session.
Where can I find a HOTWORX location?
HOTWORX has expanded rapidly all over the United States since its beginning. Currently, the company has more than four hundred locations across the United States of America, Australia, Saudi Arabia, and Ireland, and they have plans to open more studios in the future.
You should visit the company's official website to see where you can find your nearest HOTWORX location.
https://www.thepricer.org/wp-content/uploads/2023/04/hotworkx-mermbership-cost.png
380
610
Alec Pow
https://www.thepricer.org/wp-content/uploads/2023/04/thepricerlogobig.png
Alec Pow
2023-04-05 08:46:11
2023-04-01 23:43:47
How Much Does HOTWORX Cost?