How Much Does it Cost to Build a Car Wash?
One of the most important factors you should have a big understanding of before considering starting a business in this industry is the average cost to build a car wash. This is how most entrepreneurs will know whether this business is a right fit for them and a sane financial step. Learning all there is to know about the initial capital you will need and then planning around it in a way that helps you avoid overspending or borrowing too much is the best road to success.
The type of setup you are going for will dictate the total cost you will end up spending on the car wash. In the next part of the article, we'll go over some of the most important factors you should consider when figuring out the average cost to build a car wash business, as well as how each type of car wash will differ in terms of the initial price and ongoing expenses.
Average Cost to Build a Car Wash
When it comes to different types of car wash businesses, mobile detailing is usually the cheapest type of startup. This is mostly because this business model will help you save money on renting or purchasing land and developing the buildings related to the car wash business.
A mobile detailing business can be started with as low as $15,000 in initial investments. Other more complex types of car wash businesses will set you back anywhere between $500,000 and $1,500,000, depending on the factors we will go over below. These costs should include both the needed land and the construction you build on it.
Licenses, Permits, and Professional Fees
When starting this type of business, you will be required to pay some professional fees and fill out some paperwork including getting a safety and environmental permit, a business license, a construction permit, getting studies and appraisals for things like traffic and impact, as well as pay engineering fees and architectural fees as well. On average, permits and licenses will cost between $150 and $250 for this type of business.
You might also like our articles on the cost of washing your car, vacuuming your car, or leather car seat repairing.
When it comes to budgeting for all of this, when you include professional fees, you can end up spending between $10,000 and $150,000.
Location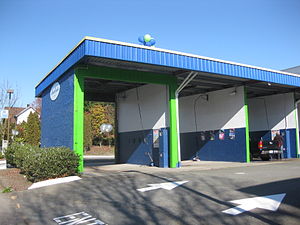 One of the most important decisions, when you consider building a car wash structure, is finding the perfect business location. Your desired location should be in a neighborhood that is safe and secure, while also being accessible to your target market.
If you're going for an in-bay automatic car wash, then the space needed for just one bay will be around 7,000 square feet. If instead, you will opt for a self-serve bay, that can be used by car owners to wash the exterior and then vacuum the interior of their cars without professional help, then you will only need about 2,000 square feet of space.
If you're going for the more expensive alternative, which is a full-service car wash, then you shouldn't forget about the land needed for additional structures where you can have your customers wait or shop while their cars are getting cleaned by professionals. As mobile detailing businesses are the least expensive, they won't require any land acquisition to operate, as they will move to their customers' cars and not wait for the cars to come to them.
When it comes to the location of your choice, you can pick between renting a car wash building, buying an existing car wash building, or building a structure from scratch.
Land acquisition is usually estimated to cost between $100,000 and $250,000. You should also account for site work that will include landscaping and building the foundation, which should cost between $200,000 and $350,000. Building the construction, if electrical and plumbing services are needed, is bound to cost between $350,000 and $600,000.
Equipment
Each type of car wash system will require its own equipment. Self-serve car wash equipment, for example, shouldn't cost more than $8,000 and $11,000 per bay. Automatic units are more expensive, being priced between $32,000 and $50,000 per bay.
To make sure you're getting the best deals, you should talk to your local equipment distributors and compare their prices based on the brand and individual tools you're looking for. If you want to cut down the costs, you can always consider going for used car wash equipment.
Although a mobile detailing business will be considerably cheaper, you should still look for a vehicle that is large enough so that all of your equipment fits inside it. A used van is likely going to cost you between $3,000 and $6,000.
Waste Management System
When starting a car wash business, Environmental authorities will require your facility to have a system integrated to not only collect but also process and then reuse any wastewater. Wastewater recycling will cost more the more contaminants you push into the water. You are likely to spend between $30,000 and $120,000 on a closed-loop system that will be capable of restoring and reusing water right in your car wash facility.
Insurance, Safety, and Security Systems
It's always better to protect a business from accidents and other potential risks that can really hit you financially. Commercial property insurance, professional liability insurance, or general liability coverage are the types of insurance you should consider when starting a car wash business. You should put aside at least $500 to $15,000 for insurance coverage alone. Doing proper research into different types of insurance coverage and the best type of coverage for a starting business and its workers will help you make sure you're getting the best for the lowest price.
Advertising and Promotion
It will be pretty hard to make customers get to you when you're just starting a new business. That's why you should consider using advertising campaigns. These can cost somewhere between $1,500 and $5,000, although depending on what you're going for, you might spend a lot more or a lot less. Signage costs can also amount to $15,000 to $30,000 or more.
You can also go for a car wash franchise if you want to cut down the costs related to advertising in particular, as you'll take advantage of an already established brand.
Final words
Although starting a car wash business isn't easy and is clearly not a cheap investment, as long as you're doing everything according to a proper plan and with a set budget in mind, it should start to bring in quite a decent profit as soon as the customers start to come in in higher numbers.
https://www.thepricer.org/wp-content/uploads/2023/03/car-wash-business-cost.jpg
380
610
Alec Pow
https://www.thepricer.org/wp-content/uploads/2023/04/thepricerlogobig.png
Alec Pow
2023-03-24 09:06:34
2023-03-24 09:06:34
How Much Does it Cost to Build a Car Wash?