How Much Does it Cost to Clean Out a House?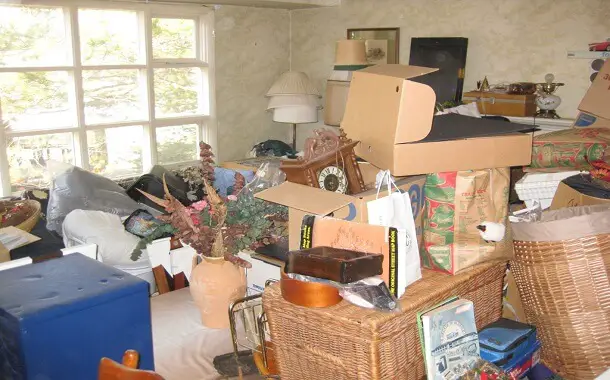 In general, an estate clean-out occurs when a loved one passes away and their family has to take care of the estate. This may include the donation of some goods, the home, selling, vehicles, junk removal, paperwork, and asset identification. Most choose to hire an estate clean-out service to help organize, sort and move away the contents of the estate.
How Much Does A House Clean Out Cost?
The cost of house clean-out services will vary depending on the contractor you hire, the place where you are living, the accessibility to the items, the number of the items, and the amount of time necessary to sort out everything. The prices for a house clean-out would start at around $50 and go up to more than $6,000, with an average cost of $1,300.
House Clean-Out Cost Breakdown
Labor
The overall labor cost will depend on how accessible the items are in your house. The costs to hire movers would be anywhere between $30 and $55 per hour.
Geographical location
If you live in a large metropolitan area, you will have to pay much more than if you were to live in a small rural town.        
House CleanOut Cost by Heft and Location
You should budget $210 to $310 for hiring a junk removal service to take away your unwanted stuff. If the items are located in hard-to-reach places or upstairs, the prices will increase. Also, bulky, heavy items that need extra labor, special packing material, and equipment will determine an increase in the cost of junk clean-out and removal services.
Hazardous and electronic waste
The cost of removing electronic and hazardous waste would start at around $55 and go up to more than $550. Most junk removal professionals charge an extra fee for removing and properly recycling computers, electronics, televisions, latex paint, and fluorescent light bulbs.
Piano
Expect to pay around $410 for moving a piano. Though, the cost will depend on its weight, height, and location. Plan on spending another $45 to $110 per staircase or $5 to $12 per step, if it is located upstairs. Some other extra costs may include special packing materials that are between $110 and $200, and cranes or dollies that are $25 to $2,100.
Yard debris
If you need to haul yard waste away, then the expenses with your clean-out services will increase by another $210 to $570. The total cost of yard cleanup will depend on the amount of labor, debris, the size of your yard, and if the junk removal professional is able to get their truck close the waste.
You might also like our articles on the cost of deep house cleaning, post-construction clean-up, or estate planning.
Mattress and furniture
If you have to remove your house's mattresses and furniture, you will have to pay around $190. The price will be higher for items that are located up flights of stairs and are bulky and heavy. In order to make sure that the items are disposed of and removed properly, hire a furniture removal professional near you.
Refrigerator
The cost of removing large appliances such as freezers and refrigerators would be anywhere between $55 and $170. These items require special hazardous recycling and pickup because they contain ozone-depleting freon gases.
The cost for these items will vary, depending on how heavy they are, their location within your estate, and how many you have. Plan on spending more for extra labor, special equipment, staircases, and other specialty disposal costs for chemicals.
Estate Cleanout Cost by Type
The cost of clean-out service will vary, depending on the type of service you need. Some of the most common estate clean-out services include donating or selling unwanted items, sorting estate paperwork, removing junk, and identifying assets. The extra costs include junk removal fees, which would be anywhere between $410 and $820 for a full truckload.
| Service | Average Price |
| --- | --- |
| Removing junk | $66 – $770 |
| Estate paperwork | $55 – $550 |
| Identifying assets | $2,200 – $6,600 |
| Donating items | $110 pickup fee |
| Selling items | 38.5% – 44% commission from gross proceeds |
Donating items
Plan on spending around $110 for a charity that would come to your estate to pick up the large items, like furniture, that you want to donate. Or, you can choose to pay an hourly fee for an estate clean-out service to pack up your stuff and move them to a donation center
Selling items
You should expect an estate clean-out company to charge anywhere between 35% and 40% commission out of the gross proceeds of your estate sale, according to the American Society of Estate Liquidators. When the homeowner is selling their items, a professional will sort, organize, display, price, and be in charge of the public sale.
Sorting estate paperwork
The cost for sorting through, finding, and disposing of important estate paperwork would be anywhere between $55 and $510. The estate paperwork includes any medical or household bills, deeds, death and birth certificates, wills, social security numbers, insurance policies, and car titles. An estate clean-out professional will offer important and essential documents to the estate executor. All the unnecessary documents will be disposed of through shredding, and the old hard drives and computers will be recycled.
Removing junk
Depending on your location, the access to the items, the amount of junk you have, and whether you have to remove hazardous materials, you will have to pay anywhere between $65 and $710 for junk removal. For instance, the cost of removing furniture and mattresses would be anywhere between $80 and $220. You need to consider the cost to rent a dumpster, if you have a lot of junk. This would cost you around $390 per week.
Identifying assets
Plan on spending anywhere between $2,100 and $6,100 for hiring a professional that will properly identify the assets of the estate. This would include:
bringing in experts to price valuable items;
taking inventory of all estate assets;
organizing all assets into categories to donate, sell or keep;
assigning assets to heirs and beneficiaries of the estate.
Obviously, the costs for smaller estates with a few items will be much lower than those for larger houses that have a lot of items that must be organized, assigned, and tagged.
Other House Clean-Out Cost Factors
Move-Out Cleanup Cost
The average cost for move-out cleaning is around $370. If you plan to sell the house, this service is essential as the areas behind appliances, the kitchen, baseboards, bathrooms, and floors will be cleaned.
Pre-Clean-Out Checklist
In case you are able to do all the prep work yourself, like packing, organizing, and sorting all the items, then you will only have to haul junk away to a local landfill, and this would cost you anywhere between $25 and $55 per ton.
Days to Complete the Job
The costs will increase with each additional day you need to clean out the estate. It may take just one day to several days, depending on the size of the estate.
Company You Hire
The price will vary from one company to another. This is why you should contact a minimum of three estate clean-out and junk removal companies, like local, small, and national brands, and compare their offers. Most of them will be more than happy to give you a free estimate of the price of the job. The overall costs will depend on the fixed or hourly rate that the professional charges and the type of service you need.
DIY House Clean-Out Cost vs. Hiring a Pro
The estate clean-out can be your DIY project if you have the patience and time to do it.
Also, if you don't want to hire a professional and spend $550 to $2,100, you can hire a junk removal service near you, and pay $80 to $700. It may be worth your time to hire a professional to come and haul everything away for you.
FAQs
Should I clean or declutter first?
It is recommended to declutter before you clean. You should leave the cleaning at the end when everything is sold, moved, relocated, and hauled away.
What is the four-box method for decluttering?
For the four-box method, you will need four large empty boxes that will be labeled: relocate, keep, give away, and trash. This will help you to organize and sort everything before the professional estate cleaner comes in. Also, this way you will save money and time on the overall costs.
What should I look for when cleaning out an estate?
When cleaning out an estate, you should contact all your family members and ask if they want to keep any items. So, you will know to look for important documents and paperwork, sentimental values, and items of value for an appraiser. Any other items can be donated, sold, or discarded.
https://www.thepricer.org/wp-content/uploads/2023/06/house-clean-out.jpg
380
610
Alec Pow
https://www.thepricer.org/wp-content/uploads/2023/04/thepricerlogobig.png
Alec Pow
2023-06-06 08:26:22
2023-06-02 22:23:19
How Much Does it Cost to Clean Out a House?