How Much Does Paint Protection Film (PPF) Cost?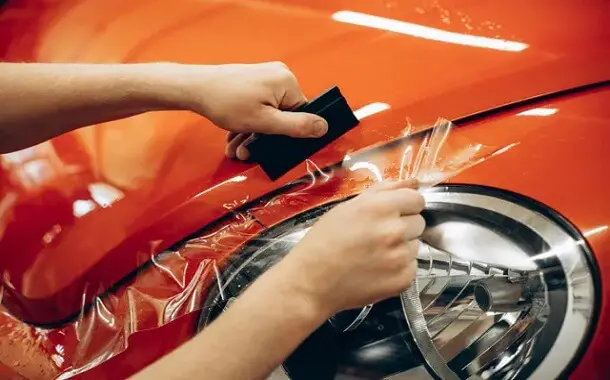 If you want to keep your car's exterior in pristine condition and keep its value as high as possible for as long as possible, you can cover it in paint protection film.
It's no surprise that cars lose value quite quickly after you buy them. And one of the main reasons behind the big depreciation of goods like cars is that their exterior will start to look dull and dingy due to issues like sun exposure, debris, dirt, bird droppings, or dents and dings. Snow and salt represent a big challenge for the car's paint in the winter, which is why protecting it might be quite the challenge.
Although you can prolong the life of the paint by frequently washing your car and applying a higher-quality wax, it might be enough to keep it in its best form.
A very cost-effective choice is ceramic coating. However, you can preserve the look of your car's paint and keep its looks, adding a paint protection film might be a better choice.
But will the PPF benefits outway the cost of the service? This article will give you a better understanding of the paint protection film and the cost of PPF.
How Much Does Paint Protection Film (PPF) Cost?
Yes, the paint protection film is rather expensive when compared to other protective measures.
It will, in fact, make sense to protect your car with paint protection film if you have a vehicle that is left exposed to the outside elements for longer periods of time, because it will still look great for a very long time.
The cost of a full car PPF will vary between just a few hundred dollars and over $7,000 based on several factors including the value of the vehicle needing to be treated and the experience of the detailer you're working with.
Although you might be tempted to go for a cheaper service or even try a DIY kit, keep in mind that PPF is hard to apply. Using inexpensive services might cause damage to the exterior of your car, which will eventually cost more money to repair in the long run than you'd have spent to get a higher-quality paint protection film.
Exterior Conditions Can Affect the Car Paint Protection Film Cost
Your vehicle will never look as great as it does when it is just getting out of the factory. And degradation won't start when you go on bumpy roads. It starts as soon as the car reaches the dealer's parking lot or even sooner, while it is getting transported from the factory. When it comes to factory imperfections, they are very unlikely and when they do happen, they are almost invisible to the naked eye.
And that's the appearance you're interested in keeping as soon as the new car gets in your hands, to avoid elements from doing their thing. Keep in mind that high-quality wax, although it provides protection for about six months, won't protect the paint from all possible problems. Here are some of the imperfections your car's paint might experience:
Clearcoat fading
Paint oxidation and ultraviolet fading
Water spots
Isolated deep scratches
Etchings from bird droppings
Buffer trails and holograms
Marring and micro marring
Swirl marks, aka spider webs
PPF will be able to protect your car's finish from imperfections like rock chips, swirls, and others. When going to a professional detailer, they will examine the condition of the cart's paint closely and look for any imperfections or minor scratches that will have to be removed before the PPF is applied. Removing imperfections is a process that is called paint correction.
You won't need more than a single-step polish if your vehicle is in a good condition, and this process of removing imperfections will cost about $300 to $500. You will only need a multi-step paint correction process if your car has other problems like scratches or swirl marks. This is likely to increase the price of the car protection film to about $600 to $1,100.
Figuring Out The Paint Protection Film Price
Depending on your preferences, you will only cover essential areas of your car or cover the entire vehicle with paint protection film. To get an exact quote for paint protection film services for your particular vehicle, you should contact your local dealers and shops.
You can treat only the front end of your car to reduce the car PPF costs. You might have heard of this treatment as a clear bra and should usually include side mirrors, the hood, the front bumper, and other vulnerable areas. When putting paint protection film only on the front car, the cost will be between $900 and $2,500, depending on the number of panels you will have covered, as well as the general condition of your vehicle.
Getting your entire car protected with a full body paint protection film will cost anywhere between $2,000 and $7,000.
Different Types of Paint Protection Film
Are there multiple types of paint protection films? And which one is the best? There are multiple brands of paint protection film and picking the right one for your needs might be overwhelming. Among the most important brands when it comes to these products are 3M Scotchgard, SunTek, XPEL Ultimate, and Llumar. When it comes to application costs, all will be priced relatively the same, including the popular Llumar paint protection film cost. But each of them will have its own pros and cons.
Final Words

Although ceramic coating is a very economical option, you will only be able to offer the ultimate protection to your car with protective film products. The cost of PPF will be between $900 and $2,500 for partial coating or $2,000 to $7,000 for a full-car service.
https://www.thepricer.org/wp-content/uploads/2023/03/paint-protection-film-cost.jpg
380
610
Alec Pow
https://www.thepricer.org/wp-content/uploads/2023/04/thepricerlogobig.png
Alec Pow
2023-03-30 11:00:15
2023-03-30 11:01:44
How Much Does Paint Protection Film (PPF) Cost?