How Much Does PetSmart Microchipping Cost?
PetSmart is a nationwide known business that provides all the supplies for your pets such as food, treats, toys, grooming services, and others.
With over 1,660 locations all over Northern America with the help of the Banfield Clinic, they can offer various services and products, even microchipping for your pet.
More and more owners choose to microchip their pets, to be reunited in case they get lost.
How Much Does PetSmart Microchipping Cost?
The cost of microchipping your pet at a PetSmart location is anywhere from $25 to $80 depending on your geographical location and the type of chips that are used.
According to QuerySprout.com, to microchip your cat you will spend around $25. However, if you are a dog owner expect to pay an average of $25 to $50 each, depending on its breed and other factors.
A-Z-Animals also stated that microchipping your pet can cost from $25 to $50, depending on the location and whether there are any ongoing promotions.
BestiePaws.com wrote that at PetSmart's in-store Banfield Pet Clinic, the cost of microchipping your pet starts from $39.99. They also stated that the cost may be even higher, depending on the PetSmart facility.
To get an accurate quote for a cat or dog microchip you should get in touch with the closest PetSmart location to you. Along with the geographical location, any add-on fees might also be added to the final bill.
Pet Microchipping overview
Deciding to microchip your dog or cat has several benefits. For example, usually, pet owners choose to microchip their pets to increase the chances of finding them, in case the pets are lost. Another reason why people are microchipping their dogs or cats is to be able to travel abroad by plane. The law states that the pets need to be microchipped and all vaccinations have to be up to date if you want to take them with you.
The microchip, also called radio frequency identification (RFID) tag, is a small electric device, that is inserted under the dog's skin, commonly between the shoulder blades. With the size of a larger grain of rice, this small chip has a unique number that contains the contact information of the owner.
In case the dog is lost and found by an individual, they will be able to reach the owner by scanning the dog in order to obtain the contact information. The scanning of the microchip can be done at a veterinary clinic or at an authorized dog shelter. Every identification number is unique and it is linked to the pet's and owner's information. This information is stored in a pet recovery database.
You might also like our articles about the cost of Yorkies and training at PetSmart, and the price of the Banfield Wellness Plan.
When implanting a microchip, before the procedure the small chip will be scanned in its package to ensure that the information is valid. The microchip will be inserted under the skin through a specific needle with the help of an application gun or a syringe. Usually, the dog needs to stand up or lie on its stomach. The procedure is almost painless, commonly compared with a vaccine or a blood draw.
Once the dog is microchipped, the owner will need to register on the specific pet recovery database agency from where the chip is purchased. The pet owner also has to complete the identification details. Keep in mind to always have an up-to-date account.
As we stated above, if the dog gets lost and brought to a veterinary clinique or an authorized shelter, with the help of the implanted microchip, the owner can be found and contacted. The staff will scan the entire body of the dog with a reader, as sometimes microchips tend to migrate under the skin. The microchip reader will detect the small chip and display the unique identification code. The code will be run through the registration database in order to find the owner's contact information.
Important things about the PetSmart Microchips

Keep in mind that this type of microchip is not a GPS device to show your lost dog's location.
Many people choose to microchip their dogs at the same time when the pets are neutered or spayed. During these procedures, the dogs are anesthetized and the owners prefer to avoid even the smallest pain that can provoked when implanting a microchip.
Most of the veterinary clinics and animal shelters have a universal microchip scanner device.
This small chip does not need any source of power. Until the PetSmart microchip is scanned, it will stay inert.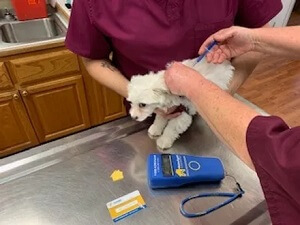 Remember to get in touch with your local PetSmart location to ask for an accurate microchip cost. Costs may vary with every location.
Puppies are usually microchipped from six to eight weeks old.
Always keep your contact information up-to-date. If you move or change your telephone number, as a pet owner it is advisable to contact the pet recovery database agency to inform them about these aspects.
At PetSmart, the Banfield Clinic operates with microchips from HomeAgain's Microchip & Pet Recovery system.
Most of the PetSmart locations have an extended work program.
Microchipping your dog will highly increase the chances of finding him, in case he gets lost.
Microchips are permanent, and because they are under the pet's skin there is no way for them to be lost or damaged.
Take into consideration that if the dog gets lost, it must be found by someone and brought to a veterinarian, veterinary office, or an authorized animal shelter for the chip to be scanned and the owner's contact information to be retrieved.
Extra costs to microchip a dog at PetSmart
Microchipping your dog is a one-time procedure. Although an extra cost may be necessary for the database agency, aside from this, the microchipping is only paid once. Usually, they require a small fee annually.
Most of the database recovery agencies may perceive an extra cost when updating the information.
An extra expense to be considered may be the office examination fee.
Save money when microchipping a dog
If you are an Optimum Wellness Plan member, you may be able to save up to 20%.
Most of the PetSmart stores provide a free examination for new customers.
On the Banfield Pet Hospital's official website, there are often different discounts.
Having a pet insurance plan may cover the microchipping expenses.
https://www.thepricer.org/wp-content/uploads/2023/10/PetSmart-Microchipping-cost.jpg
380
610
Alec Pow
https://www.thepricer.org/wp-content/uploads/2023/04/thepricerlogobig.png
Alec Pow
2023-10-12 10:13:36
2023-10-05 09:35:40
How Much Does PetSmart Microchipping Cost?