How Much Does Powder Coating Cost?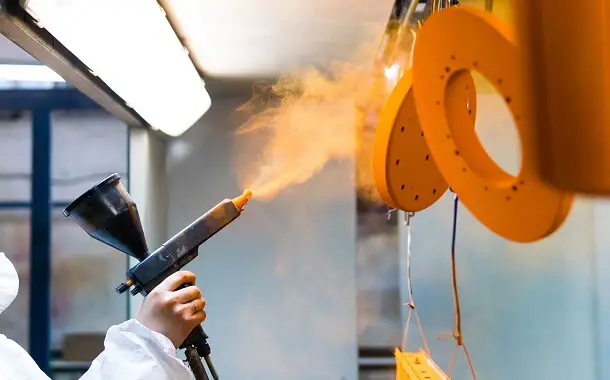 Powder coating involves applying dry powder material to an object which is coated. It is considered a finishing process. The powder will be applied to the particular object and then it will be baked in the oven so that it gets harder.
Powder coating is used by a lot of people as a great alternative to wet paint. It will provide a uniform and premium finish to any object. You can powder coat a lot of everyday objects, including handrails, vehicles, bed-frames, patio furniture, and fences. Powder coating is, in fact, a very popular alternative to wet paint.
How Much Does Powder Coating Cost?
The average powder coating job costs anywhere between $100 and $1,200, depending on several important factors like the prep work needed, the number of objects you need to powder coat, as well as the size of the objects, and who does the job. Although it is more expensive than getting a wet paint job, powder coating is also a lot better.
As you can see, the prices of powder coating vary quite a lot, and this is mainly because of the amount of prep work the job will need and the size of the object you need to have coated. As bigger objects will take more materials, more prep work, and more work to cure the items. they will obviously cost more.
For example, you will spend a lot more to have a vehicle powder coated, than the same job done for a bed frame of average size. A bed frame shouldn't cost more than $100 to $150 to have coated, while a vehicle can cost $1,000 or more.
And this is obvious, as the vehicle is not only bigger than the bed frame, but the work needed to prep the vehicle for coating will take a lot more time.
So let's go over the cost ranges expected for some of the most common items that are usually coated.
How Much Does Powder Coating Household Items Cost per Square Foot?
Expect powder coating prices that range between $100 and $600 when it comes to domestic application, depending on the same factors, the prep work needed, and the size of the item. When it comes to oversized items like gates or fences, these will usually cost more, as you won't be priced only on the number of items, but on the square feet as well.
Expected powder coating price structure for common household items:

Expect to spend $200 to $350 to powder coat a radiator.
If you need to powder coat patio furniture or different appliances, then expect a price range between $100 and $600 per appliance or item, depending on their size.
The cost to powder coat a bed is around $75 to $200 to coat.
When it comes to grills, these have an average cost between $75 and $120 per item.
Aluminum windows or security doors will cost between $50 and $100 per item.
Expect to spend between $10 and $15 per linear foot to coat railings.
Fences and gates shouldn't cost more than $7 to $8 per square foot to coat.
Along with the necessary prep work, the color you choose will also influence the price you pay, as more unique colors won't be readily available at most shops and will cost more to have ordered.
You might also like our articles about the cost of car undercoating, paint protection film, or ceramic coating.
Below you will find a table with the powder coating cost of other common items
| Item | Cost |
| --- | --- |
| Bicycle frame and forks | $77 to $99 |
| Four Wheeler ATV frame | $275 |
| Motorcycle exhaust | $82.50 and higher |
| Vehicle Carburetor | $110 to $220 |
| Standard Car Rims or Wheels | $55 to $66 each wheel |
| Side Chair | $55 to $82.50 |
| Metal Sheet | $6.60 per square foot |
| Iron Gate | $110 to $220 |
| Aluminum Railing | $27.50 to $33 per foot |
| Outdoor Furniture Set | $330 to $550 |
| Metal Fence Panels | $77 to $99 per panel |
| Alloy Wheels | $99 to $110 each wheel |
| Metal Toolbox | $55 to $60.50 |
| Garden Bench | $110 to $165 |
Keep in mind that these are just estimates, as the actual pricing might differ for any of these items. Different factors, like the prep work needed, whether you need one coat of paint or more, the paint job, as well as the materials used, can make these numbers go up or down.
Important Factors that Affect the Cost of Powder Coat
As said earlier, the cost of a powder coat depends on various factors. Let's have a look at the factors which will affect the cost of powder coating an item.
Choice of Paint – Most paints cost between $10 to $20 per round for this job. Add around $10 to $15 more to the overall cost for special paints like metallic coatings, coatings with electrostatic properties, or heavy-duty paints. The price can go even higher if you opt for custom-made paint.
Size of Item or items – The cost of powder coating is proportionate to the size of the object, as larger objects will require more materials and more work, which makes them more expensive to have coated.
Labor Cost – The amount of prep work needed will differ depending on how many objects you need to have powder coated and their size, which will also influence the cost.
Is powder coating cheaper than wet paint?
Although the actual cost of the job makes powder coating more expensive than liquid paint, in the long run, it might cost you less to have your items powder coated. This is because the powder coating process comes with very low maintenance and upkeep costs.
Benefits of Powder Coating
Powder coating comes with a lot of benefits, although it is a more expensive alternative than wet paint. In the long run, it is actually smarter to powder coat your items. Here are some benefits of powder coating that you should consider:
It is very easy to remove. You will only need a chemical stripper and you can easily remove the powder coating from your items.
It is considered more environment-friendly than wet paint.
It keeps its color even if you expose it to UV radiation.
It will resist any damage caused by erosion, as well as peeling, chipping, or cracking.
Powder coating is durable and rust-resistant.
It has a long lifespan, as it can last up to 20 years on average, with proper maintenance.
If you want to go for a premium finish for your product and ensure that the job has long durability, then you should go for Powder Coating. Although the job itself is more expensive than wet paint, in the long run, you will spend less, as it will need less refurbishing.
https://www.thepricer.org/wp-content/uploads/2023/08/Powder-Coating-cost.jpg
380
610
Alec Pow
https://www.thepricer.org/wp-content/uploads/2023/04/thepricerlogobig.png
Alec Pow
2023-08-15 08:20:05
2023-08-11 08:55:12
How Much Does Powder Coating Cost?