How Much Does Trophy Club Country Club Membership Cost?
The Trophy Club Country Club is located in the Trophy Club town, in North Tarrant and Denton Counties, Texas. This private club is known to be the most beautiful club in the country, with a great history and outstanding amenities.
The Club is known to also have two world-class golf courses. They are the home of the legendary LPGA golfer and Golf Hall of Fame Member, Kathy Whitworth.
How much does a Trophy Club Country Club membership cost?
The cost of a Trophy Club Country Club membership can be anywhere from $2,000 up to $10,000, for the initiation fee alone. According to GolfLifeNavigators.com, the annual dues will cost somewhere from $5,000 to $10,000.
There are four different types of memberships, each one with its specific initiation fee and annual dues.
Several online sources stated that the Full Privilege membership may require a $6,000 initiation fee and monthly dues of around $550.
Keep in mind that these membership costs can change and the above prices are to be taken as an estimate. Contact the club's department for exact costs.
According to MyAdviseGolfer.com, the cost of a membership at the Trophy Club Country Club can be as much as $8,000 for the initiation fee with monthly dues of around $700.
Several old members we talked to claimed that the cost of the initiation fee would be as little as $2,000 to as much as $25,000. Also, they noted that the monthly dues can cost anywhere from $200 to $800.
The membership options
According to their official website, the Trophy Club Country Club provides four different memberships. These memberships are listed and detailed below.
Full Privilege membership – The Full Privilege membership provides full access to all of the club's amenities. The members will have unlimited access to tennis courses, fitness area, swimming pools, and also to the dining and social area as well as full golf privileges. Also, if you have a Full Privilege membership, your spouse and children will benefit from full access to all the membership's amenities.
Associate Golf Membership – The Associate Golf Membership is also a family membership from which the spouse and children can benefit. The membership includes full access to the tennis courses, swimming pools, fitness and social areas and activities. However, access to the golf courses is available only at noon from Sunday until Friday.
Racquests Membership – The Racquests Membership provides access to amenities such as tennis, pickleball courses, swimming, fitness, dining area social access. Also, the entire family can benefit from this membership as well.
Social Membership – Under Social Membership the family can benefit from the club's amenities such as fitness, swimming, dining area, and social access.
Trophy Club Country Club overview
Members of the Trophy Club Country Club can benefit from various amenities
The club has two championship courses named after legendary people. The Whitworth Course is named after Kathy Whitworth a legendary LPGA golf player. The Hogan Course was named after Ben Hogan as it was designed by him.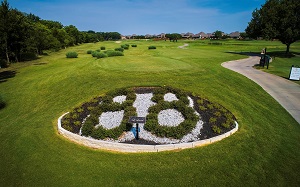 The golf courses are designed for golfers of all levels. The members can benefit from chipping/wedge practice space, a landing area, a putting area, and a single-level hitting deck. However, the Trophy Club Country Club also provides an indoor golf simulator called The Swing Suite.
Even though it is an indoor space, the room has a large screen for virtual exercise, which gives a real outdoor course feel. The weather can be unpredictable most of the time, but the club offers the chance to practice your swing and play golf, regardless of the outside weather.
You might also like our articles about the cost of membership at the Stonebridge Ranch Country Club, Ridglea Country Club, or Brookhaven Country Club.
Due to the advanced technology of the golf simulator, members can choose to customize the settings and follow a skill-level-based course in order to help improve their game.
Also, members of the Trophy Club Country Club can access six lighted tennis courses and eight lighted pickleball courses. Besides the courses, members can shop at a pro shop. The facility offers specific clothing and professional equipment.
Swimming pools are available for all ages. The star of the club is the Junior Olympic swimming pool where you can find fresh snacks and drinks. However, the Trophy Club Country Club also provides swimming lessons and low-impact exercise in the warmer months.
At the Trophy Club Country Club, you can stay fit with the help of their high-end equipment such as treadmills, stationary bikes, and elliptical machines. Also, they provide weight-training circuits on Cybex equipment, resistance training bands, free weights, medicine balls, exercise balls, and others.
Members can enjoy the special regional dishes, on an excellent outdoor patio. Also, the indoor dining area, the Whit's Eighty Eight Family Dining Room is said to offer an outstanding experience.
What are the extra costs?
An extra cost to consider is the green fee, which will apply to members who do not benefit from golf amenities through their Trophy Club Country Club membership, and guests. On weekdays expect to pay around $85 and on weekends the fee will be closer to $110.
Another expense to consider will be the lessons, clinics leagues and tournaments, and camps. Depending on the type of membership you have, different fees will apply.
For an extra fee, you can benefit from a bag storage and locker.
To participate in different social events hosted by the Trophy Club Golf Club, an extra fee may be charged.
Canceling your membership can come with penalties depending on your membership agreements.
Bringing a guest to the club will be charged an additional fee.
Important things to consider

The membership at the Trophy Club Country Club, Tx, does not have an expiration date. As long as the member pays his dues, the membership will be available.
Memberships are available for anyone, and members are not required to be a Trophy Club resident.
The club has a business casual dress code policy that needs to be followed.
During special events or maintenance periods, some amenities may be limited.
The Trophy Club Country Club was declared by Avid Golfer one of the Best Country Clubs in DFW in 2011 and from 2013 to 2015.
https://www.thepricer.org/wp-content/uploads/2023/10/Trophy-Club-Country-Club-membership-cost.jpg
380
610
Alec Pow
https://www.thepricer.org/wp-content/uploads/2023/04/thepricerlogobig.png
Alec Pow
2023-10-17 10:20:58
2023-10-17 10:20:53
How Much Does Trophy Club Country Club Membership Cost?