How Much Does Walmart Plus Cost?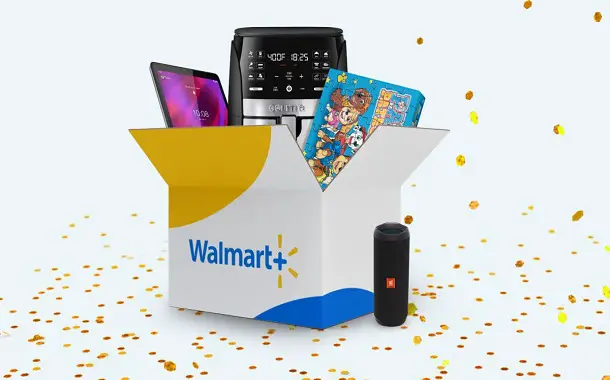 Some people consider the online retail battle between Walmart Plus and Amazon Prime as the biggest one to hit the US in a long time.
Walmart Plus, or Walmart+, is a new subscription service launched by Walmart, that was designed to bring some important competition to the most important online retail program, called Amazon Prime.
As you might already know, the job of Amazon Prime is to slash your delivery costs, while charging you a small monthly or annual fee. This is handy, especially during important events like Black Friday or Christmas, which are known as intense shopping periods.
Aside from its monthly costs, this program also has a free trial. This means that you could sign up for the first month, do all of your shipping online for holiday gifts, and then cancel before the trial ends. Doing this will help you have a lot of shipping while also paying nothing for this benefit.
So let's go over how much Walmart Plus costs and what you will get for the money. This article should be a non-biased picture of the service, to provide you with a definitive answer on whether Walmart+ is good for you or not.
How much does Walmart Plus cost?
Walmart Plus costs $12.95 per month, but if you're ready to commit for a whole year, you will only spend $98 per year. This means somewhere around $2 per week, which means that this service makes sense if you only need to have things delivered to you twice a month, as the standard delivery charge is just under $8.
Online ordering fans will surely notice that Amazon Prime is more expensive than Walmart when it comes to their free-delivery services, with Amazon being priced at $119 a year or $12.99 per month. If you're an avid shopper, of course, you can get both memberships as there are items you might find in one store and not in the other.
You might also like our articles about the cost of oil changes, tire installation, and fried chicken at Walmart.
If you're unsure whether $12.95 a month or $98 a year will be worth it, you can always sign up for the free 30-day trial and cancel it at any point in those 30 days.
What is Walmart Plus?
The shorter explanation is that this is Walmart's equivalent of the Amazon Price service. The longer explanation is that this subscription service will offer you next-day or even same-day delivery, depending on your specific order, for items sold by Walmart, including goods like electricals or groceries.
Walmart also had a service that people know as Delivery Unlimited. It was meant to remove shipping fees for each individual grocery delivery and was also priced at $12.95 per month or $98 per year. That service was first launched in 2019, spreading all around the US to more than 1400 stores.
So what's new with the Walmart Plus and why did they need to replace the Delivery Unlimited service? Although the pricing is basically the same, you get a whole bunch of additional perks with this new version. First, Walmart Plus can be used for a lot more products offered in Walmart's inventory, aside from foods and beverages.
Becoming a member of the Walmart Plus program will also give you access to discounts for gas but only at participating gas stations, as long as you have access to the Scan & Go section of the Walmart app, which is a faster way to do your shopping in the store.
You will only be able to enjoy free delivery on your products if your order is bigger than $35. But there are also items you can have delivered within the same day.
When did Walmart Plus launch?
Inside sources talked about an original date of launch for Walmart Plus in late March or April of 2020, but due to the global pandemic, the program was postponed.
This means that the service was only launched officially on September 15th of 2020. It is currently available all across the US, in all Walmart stores.
What does Walmart Plus include?
So let's go over some of the benefits of Walmart Plus:
First off, you will get unlimited free delivery for products that include in-store purchases with next-day or even same-day delivery. It covers over 160,000 items in all categories, including groceries, household essentials, toys, and tech gadgets. This service came as an upgrade to the old Delivery Unlimited, which was a subscription service meant to give customers the opportunity of placing unlimited deliveries with no shipping fees for a low, flat monthly, or yearly fee. When Walmart Plus was rolled out, all Delivery Unlimited Subscribers were converted to Walmart+ members.
Members can also get access to fuel discounts that would enable them to save up to five cents per gallon when filling up, in any of the 2,000 Walmart, Murphy USA, and Murphy Express fuel stations. As a Walmart+ member, you can also get better rates when filling up at Sam's Club fuel centers.
As a subscriber, you will also get access to the Scan & Go area of the Walmart app, which is designed to be a faster way to shop in-store. With this app, you can just scan the items as you go around the shop, and then pay with Walmart Pay for a quicker, easier, and of course, touch-free payment experience.
And aside from these benefits, you will also receive other existing customer bonuses like Walmart's free curbside pickup, two-day delivery, or even next-day delivery. Walmart also offers some delivery options and pre-delivery transaction fees that will work best for its customers.
Is Walmart Plus better than Amazon Prime?
It's very hard for Walmart to beat Amazon, the number one online retailer in the world, especially considering that the Prime program was launched over 16 years ago. And it has managed to completely dominate the market when in tandem with other services like Prime Music and Prime Video, offering a lot of value for the money.
But Walmart is a retail giant that surely won't give up the fight too easily, as it has many physical stores to push its services inside, stores that are trusted and very old in communities. There isn't a clear winner at this point so it's more about which of the stores has more of your usual or desired products.
https://www.thepricer.org/wp-content/uploads/2023/04/walmart-plus-cost.jpg
380
610
Alec Pow
https://www.thepricer.org/wp-content/uploads/2023/04/thepricerlogobig.png
Alec Pow
2023-04-02 13:17:04
2023-04-02 13:17:05
How Much Does Walmart Plus Cost?