LA Fitness Personal Trainer Cost
Last Updated on September 15, 2023 | Written by CPA Alec Pow
First Published on April 5, 2021 | Content Reviewed by

CFA Alexander Popivker
LA Fitness has more than 800 clubs spread out throughout the United States and Canada. Founded in 1984, the club provides a variety of facilities from modern equipment to private physical fitness trainers.
Just how much does a private fitness instructor cost at LA Fitness?
The expense of an LA Fitness instructor, from what we could gather online, is based upon the number of sessions you register for at once and the kind of fitness instructor you go for. A master trainer, one with more experience, can cost somewhere close to $60 per 60-minute session, while a private fitness instructor, who is just somebody with less experience than a master trainer, can cost about $40 per 60-minute session. For the most part, it looks as if the business needs you to commit to a minimum of 12 months, amounting to somewhere between $1,920 and $2,400 a year.
You might also like our articles about the cost of Onelife Fitness membership, Lifetime Fitness birthday party, or the cost of a fitness trainer.
For instance, an online forum member on a BodyBuildingForum thread noted that he used to work there as a fitness instructor. He claimed that it might cost $99 for the registration fee, $50 for the processing, and as much as $60 per session if a five-pack session bundle was acquired.
On PissedConsumer, a previous LA Fitness client was charged $880, which was half of the 11 months remaining on his private training agreement. This seemed to be the requirement for those who signed a 12-month offer and wished to cancel early.
Personal fitness instructor at LA Fitness summary
With each person that is utilizing an LA Fitness private trainer, each month will come with a private physical fitness examination, a detailed and extensive assessment in which your private fitness instructor will check out your specific personalized and written exercise routine. Your progress is checked as your fitness instructor will carry out a muscle strength test, a cardiovascular test, a flexibility test, circumference measurements, and a month-to-month objective setting evaluation. You can also get ahold of your fitness trainer for questions you have in between scheduled training sessions.
The physical fitness trainer will have the ability to create diets and meal plans, aid with any special requirement you might have, calculate your body fat, and develop weekly reports. When you are not at the fitness center, the trainer will have the ability to offer you weight lifting and running instructions, food journals, and a diary to record your activity.
The physical fitness trainer will either have a degree in exercise science or a certificate in physical fitness training. A physical fitness trainer at most health clubs will have the ability to screen individuals, examine what they want to accomplish, and develop a workout regimen. Advanced fitness instructors might have the ability to aid with chronic or persistent health conditions.
What are the additional expenses?
If you are not a member of LA Fitness you will have to get a membership, which will consist of a one-time initiation cost ($50-$150) and a month-to-month subscription cost of around $35 each month.
If you are going to be training in your home between your sessions with the private fitness trainer, you might require some equipment such as weights or a medicine ball to continue your workouts at home. If you are following a particular meal plan, you might have to buy food that you are not used to buying.
Any tips to remember?
There are a couple of things to remember when dealing with a fitness trainer, the very first of which is to specify your physical fitness objectives. You will want to know what you want to achieve with the help of your fitness instructor. You should be sure that you match up in terms of characters, priorities, and expectations right from the start. Clearly determine if your objective is to drop weight, build muscle, or merely keep a healthy weight and figure, and let the fitness trainer know exactly what you desire. You will need to make sure the private fitness trainer is on the exact same page, otherwise, it will be just a waste of money.
Last but not least, you'll wish to make sure you're dealing with somebody who has current qualifications. Look for accreditations from organizations like the American Council on Exercise, National Strength and Conditioning Association, and/or the National Exercise and Sports Trainer Association.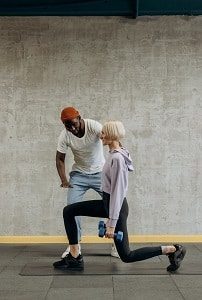 If you are going to take advantage of a long-term deal, remember that there is a high turnover rate with many name-branded gyms, and because of this, you might not work with the very same fitness instructor the whole time.
Check out the small print of your agreement before you sign up for sessions to know everything about the refund policy and how the billing works. If you were to sign a 12-month agreement, for instance, and canceled early, then you might find yourself paying a substantial early termination charge.
Is there any way to save some money?
The longer you commit to the trainer, the less you will pay per session.
Occasionally, LA Fitness also offers promos or discount rates.
If possible, do your own research before choosing to work with a fitness center. Lots of private fitness instructors who work on their own are often a portion of the expense of those who work with a corporate-based fitness center.
New members frequently get a free session to check out the way in which the gym functions. Despite the fact that there might be a hard sell, this is something you might wish to make the most of to see if it's something rewarding.
If you wish to register for a private trainer at the gym, do not accept the very first deal tossed at you. From checking out online forum threads and from those who used to work as fitness trainers, they will always decrease the expenses, particularly if you show interest for longer periods of time.
https://www.thepricer.org/wp-content/uploads/2021/04/la-fitness-trainer-cost.jpg
380
610
Alec Pow
https://www.thepricer.org/wp-content/uploads/2023/04/thepricerlogobig.png
Alec Pow
2021-04-05 21:40:04
2023-09-15 12:17:08
LA Fitness Personal Trainer Cost