Mariachi music is the quintessence of Mexico. Violins, trumpets, harps, and stringed instruments come together to create a unique festive sound. Originally appearing in the farmers' environment, mariachi has a rural rhythm.
It is believed that the origin of the word mariachi comes from the French "mariage", which means wedding because bands composed of five people often played at weddings in the 19th century.
Originally comprising two violins, a harp, a "jarana" and a "vihuela" (types of guitars), these bands performed romantic ballads after Mexico gained independence. Trumpets, now an integral part of most mariachi bands, were added in the 1930s.
How Much Does a Mariachi Band Cost?
The amount of money you are going to spend for hiring a mariachi band will depend on various factors such as the number of band members, the experience of the performer, rental time, the place where you are living, and how far the band needs to travel. The size of a mariachi band may vary, from only three members to bands that have more than twelve members. In general, a mariachi band, even though it is larger than average, will be able to accommodate for any event size.
According to our research, the average cost of an entire mariachi band would be anywhere between $400 and $700 per hour, with the majority of the bands coming with three to seven members. From what we could gather, before confirming the booking, most of these bands will require a two to three-hour minimum.
If you want to hire a mariachi band with more than four members for any event across the United States of America, you should be prepared to pay $750 to more than $3,200.
According to discussions on online forums, the average cost of a mariachi band is $370 per hour, while the price for three hours would be around $850.
What are some additional expenses?
In some situations, extra sound equipment, if necessary, would be another cost to consider.
You might also like our articles about the cost of a live band, stage rental, or DJ for a wedding.
The majority of the bands are willing to travel for free for a specific number of miles. Though, if they need to travel for a longer distance, there may be travel and accommodation surcharges.
It is highly recommended to tip the band and these expenses are not included in most quotes.
Mariachi band overview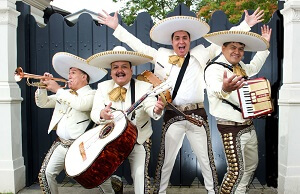 A mariachi group generally consists of no more than eight violinists, two trumpet players, a guitarist, high-tuned vihuela players, and a guitar called guitarron. The members of a band sing in turns, but at the same time, they also have the role of backing vocals.
The songs performed by mariachis are of many kinds: ballads, polkas, and waltzes, but also from less-known genres such as pasodobles, joropos, danzones, corridors, and ranchera. In general, the music performed by mariachis is about love, betrayal, death, politics, revolutionary heroes, and rural life.
Mariachis are known for the costumes they wear, which have the name charro. A charro is a cowboy from the Mexican state of Jalisco, where mariachi music was very popular. The mariachi costume generally consists of a jacket with spectacular embroidery, a silver tie, trousers, short boots, and a sombrero. The jackets are decorated with silver or gold buttons or other embroidered designs.
Important things to consider
Among the most famous mariachi songs, we find Motivos (Vicente Fernandez), El Rey (Vincente Fernandez), Si Nos Dejan (Luis Miguel), La Bikina (Luis Miguel), Por Que Me Haces Llorar (Juan Gabriel), Matalas (Alejandro Fernandez), Mexico Lindo Y Querido (Vicente Fernandez) and Como Quien Pierde una Estrella (Alejandro Fernandez).
If you want to hire a mariachi band, it is recommended to search on the following websites: GigMasters.com, GigSalad.com, or ThumbTack.com.
Mariachi music is less popular in Europe, but in countries like Spain, where there is a large Mexican community, concerts are held from time to time. In contrast, mariachi music can be heard more often in Mexico and neighboring countries, especially in the US state of Texas.
This musical genre is also often found in films, TV series, and games. In particular, the series "Narcos: Mexico", one of the most famous on Netflix, had many songs performed by mariachis on the soundtrack.
Mariachi music has been on the UNESCO list since 2011, being part of Mexico's cultural heritage given that it is internationally known.
https://www.thepricer.org/wp-content/uploads/2023/02/mariachi-band-cost.jpg
380
610
Alec Pow
https://www.thepricer.org/wp-content/uploads/2023/04/thepricerlogobig.png
Alec Pow
2023-03-03 06:19:17
2023-02-27 12:54:09
Mariachi Band Cost