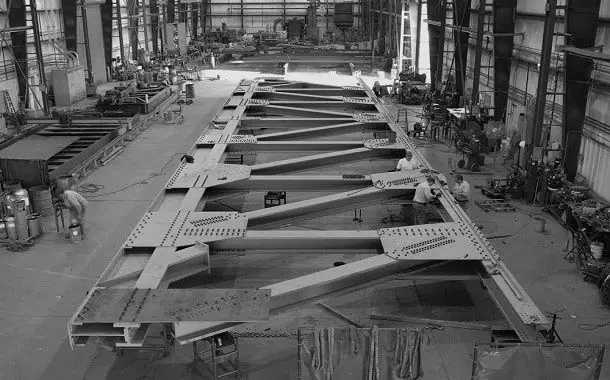 Metal fabrication has been dropping in price due to new processes and technology that come into light pretty regularly nowadays. Production is higher than ever before with more developed chains of metal production, transport, fabricating, and erection all seeing overall price drops over the last decade.
Summary of the expected costs:
National

Average
$

1.843

Typical Range
$

625

– $

3.138

Low End – High End
$

150

– $

6.000
Metal Fabrication Costs Detailed
In order to fabricate metal, the price is about three times that of raw steel. One ton of steel will cost around $400 which is not all that cheap; this would mean an estimated cost of $1,200-$1500 just for fabrication with a primer coat on top (for every ton of structural steel). If you're looking for other metals or even fabrication of sheet metal with all kinds of designs, prices can be even higher, around $2,500 per ton.
You might also like our articles about the cost of steel I beam, steel buildings, and standing seam metal roofing.
The cost of steel fabrication depends on the size and design you need. If the type of steel you need is longer than 30 feet, there will be an additional charge for fabricating it; if your project has a unique or unusual design, prices may also vary and they might end up looking nothing like those listed above. You can save money by making sure that all dimensions are exact – this saves material costs and cuts down labor expenses because less cutting needs to happen in order to make things fit properly.
Spending a little more upfront to get the metal pre-primed will save you money in the long term by preventing future maintenance costs. Not only that, but factory workers are efficient and knowledgeable with how to prepare metal for paint jobs so it's usually cheaper than hiring someone new who doesn't have any experience doing this kind of work.
Is there any way to spend less?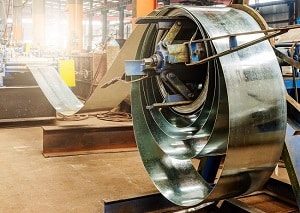 When figuring the price of metal fabrication, things are a little more complicated than shopping for the usual, smaller-sized items. You won't find a bunch of factories around you competing for your order, so calling to get a bunch of quotes won't usually work out. What you can do, though, is go for the closest factory that you can find. This is because, as metal is very heavy, shipping costs will be a considerable part of the final expense. This means that it is in your best interest to find the closest factory and order from there.
For bigger orders, you can always negotiate a better deal, but when talking about factory production, big order will usually mean more than what the average builder will need. Even so, it won't hurt to ask for a discount on your order. If you're working with a contractor, then talk to them, see if they can negotiate the metal acquisition with the factory in your name. Some contractors will be able to get better prices, because of repeating orders.
As metal fabrication costs fluctuate depending on the state of the market, if possible, if you feel like the price is above the normal average, then it would be a better idea to wait for it to drop.
https://www.thepricer.org/wp-content/uploads/2021/04/metal-fabrication-costs.jpg
380
610
Alec Pow
https://www.thepricer.org/wp-content/uploads/2023/04/thepricerlogobig.png
Alec Pow
2021-04-26 06:28:49
2021-12-10 06:24:55
Metal Fabrication Cost