Mezzanines are a great idea when you want to use the empty space inside a building, regardless of whether you're planning an office or storage space in your warehouse or you're looking for renovation ideas for your home. With space becoming an issue for more and more people and open-plan living becoming very popular nowadays, a lot of people consider building a domestic mezzanine. Most of them will convert houses that have vaulted ceilings or barns.
If you have a room with high ceilings, you might consider adding a mezzanine as a way of adding style as well as functionality to your home space. This mezzanine floor cost guide should give you a good idea of what to expect in terms of the average prices when installing a mezzanine for personal or commercial functionality.
How Much Does a Mezzanine cost?
When trying to figure out the cost of a mezzanine floor, you will notice that most contractors will give a simple but not very helpful answer. They will say that it depends on multiple factors. Although this is somewhat true because most mezzanines are custom-built and the individual accessories and criteria that have to be followed will affect the price, this won't be very helpful for you to budget for this project.
How can you know whether a warehouse mezzanine is a viable solution for your particular storage needs if you know nothing about the expected cost of the project? How would a building owner know whether a mezzanine floor will be the financially sound solution for their needs?
So the real question is this: How much would a mezzanine floor cost? And can you finish a project like this within your set budget?
So as you can imagine, the specific criteria and accessories you will need for your mezzanine will dictate the final cost. Prices will vary especially if you're not interested in an out-of-the-box, standard solution or you want to add special accessories. If you're looking for upgraded handrails, staircases, a lot of mezzanine gates, or higher load capacities, then the price per square foot of the finished mezzanine project will surely be higher.
While most individuals are looking to add livable space when building the mezzanine, most companies will look to add a basic storage mezzanine.
So companies that run out of space, will try to add one quickly, and these are the specs they will usually use:
Straight staircase(s)
2-Rail Handrail
Load capacity of 125 or 150 PSF
Deck height of somewhere between 10-12 feet
Mezzanine Floor Cost Guide
Mezzanines with all of these common specifications will be priced somewhere between $40 and $60 per square foot. This amount will include mezzanine materials, as well as freight to the worksite and their installation. Labor rates differ across the country, which means that the cost of installation will also differ depending on your geographical area.
This means that someone living in New York City will be on the higher end of the range, while someone that wants to build a mezzanine in North Carolina will be on the lower end. Based on the economies of scale, the larger the mezzanine you build, the lower will be the quoted price per square foot.
Based on these estimates, the average cost of building a mezzanine floor in a home is around $12,500, for a mezzanine area that is around 23m2.
Item
Average cost
Average domestic mezzanine floor (23m2)
$12,500

Industrial/commercial mezzanine floor with supply and installation included – depends on size and accessories needed

200m2
$104,000
100m2
$52,000
50m2
$26,000
25m2
$13,000
Keep in mind that these costs should be taken as ballpark averages and shouldn't replace quotes from experts.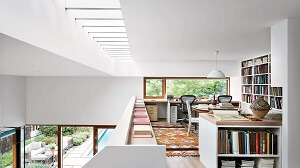 Of course, as with any construction, some factors can even increase the price, going above $60 per square foot. This usually happens when you need to add concrete footers, fire suppression systems, or lighting, or you need to obtain permits. Also, when dealing with a congested work area, you might be faced with an increase in the installation price. The installation can also move slower so the project could take longer, which means an increase in price when the team has to work around active work areas and operations.
Other factors that will influence the cost of a mezzanine floor are:
Access to the site
Location of the property
Need for bespoke design and installation
The complexity of the design
Type and quality of materials used
Size of the mezzanine area
Although there are a lot of factors you should consider when figuring out the price of the mezzanine project, when it comes to basic storage warehouse mezzanines, the needed budget can be fairly predictable. If you have more complex projects or applications, you should get in touch with pre-fabricated mezzanine suppliers.
You might also like our articles about the cost of building a house, a guest house, or a detached garage.
They can provide a quote or budget expectations for your needs. Although the conversation might go back and forth and it will usually take a bit of time, this is the only way of getting a proper estimate.
Space Needed for a mezzanine
Due to how the mezzanine floor is built, the most important thing you need to consider is whether you have enough height in the room. The building of a mezzanine in an existing room requires a minimum height of the ceiling of 4m if not more. This means over 12 ft.
The assessment of the space should be done by a mezzanine specialist before you get on with the project, to ensure that the space has the needed dimensions to add a mezzanine.
Mezzanine floor checklist
When it comes to any significant building project, always work with a tradesperson with enough experience and positive reviews. Don't be shy about asking for recent work examples or a portfolio before you decide.
Spend enough time looking around for competitive and fair costs for building a mezzanine floor.
Talk with local authorities to find out what permits you will have to get before starting the work.
Make sure the room where you want to add the mezzanine has at least four meters/12 feet in height.
Use local mezzanine experts to plan the mezzanine project even before looking for price quotes, when possible.
Pros and cons of adding a mezzanine floor
Here's what to expect in terms of good and bad parts about building a mezzanine floor to know whether this is a good idea for you or not:
Pros
When done properly, it can increase the value of your property.
Uses height previously unused in rooms that have high ceilings.
Adds a lot of usable functional space.
It can be an impactful feature in a home, creating a unique space.
Cons
Requires a minimum height of the room.
To make the most of the space, you will need to plan it carefully.
Most mezzanines don't offer a lot of privacy because they are open space.
Most projects will need licensed contractors, especially for commercial buildings.
https://www.thepricer.org/wp-content/uploads/2023/02/mezzanine-floor-cost.jpg
380
610
Alec Pow
https://www.thepricer.org/wp-content/uploads/2023/04/thepricerlogobig.png
Alec Pow
2023-02-01 11:59:17
2023-02-01 12:01:04
Mezzanine Floor Cost