According to the business's main site, the Miracle Method is known to be the biggest bathroom and kitchen redecorating company in the USA.
Today, the business flaunts more than 140 franchise places, every one of which focuses on fixing and restoring all sorts of ceramic floor tile, kitchen counters as well as bathtubs.
Just how much do the Miracle Method services cost?
The main Miracle Method site does not feature the specifics of the actual expenses; instead, they note that the typical full bath tub replacement can set you back more than $3,000 in labor and products, however, with their technique, they could aid you to save as much as 75%. An older post we were able to find on the web site noted that the Miracle Method normally can set you back $500 to $650 to restore a bathtub or around $1,000 to $1,200 to redecorate both the bathtub and the floor tile surround, which, according to the company, will be around 30 to 50% less than the normal tub lining systems.
You might also like our articles about the cost of bath fitters, labradorite countertops, or Thermospas hot tubs.
While the main site didn't really give out any specifics, we did find many individuals online that could share their price quotes, every one of which we included in our table below. To be able to make a spending plan, the expenses, ultimately, will certainly depend upon the sort of task, the time expectancy of the task and also the specialist you're working with.
| SOURCE | Price Paid/Quoted |
| --- | --- |
| Yelp review for Sacramento, CA location | $1,700 for a new tub and surround |
| Yelp review for Sacramento, CA location | $1,600 for new shower surround |
| Yelp review for Sacramento, CA location | $475 for bathroom tub resurfacing only |
| Yelp review for Sacramento, CA location | $675 to repair cracks and corner fixes in shower surround |
| Yelp review for Campbell, CA location | $600 to repair "Victorian iron sink" |
| Yelp review for Campbell, CA location | $700 to refinish old fashioned cast iron tub |
| Yelp review for Campbell, CA location | $2,000 for entire shower stall refinish |
| Yelp review for Clearwater, FL location | $1,595 for bathtub refinish |
| Yelp review for Portland, OR location | $2,500 to refinish two tubs and three vanity tops |
| Yelp review for Tempe, AZ location | $1,000 for bathroom remodel |
| Yelp review$7000700 for Tempe, AZ location | $1,600 to refinish tub and vanity |
On one DSLReports.com forum thread, as an example, the user spoke about their experience with Miracle Method, also providing before and after photos. According to their message, they paid $500 for the whole work, including the chip repair service.
What is the Miracle Method?
According to the business, the Miracle Method can redecorate any of your bathroom and kitchen components, helping glimmer like brand-new once again. Whether it's changing the out-of-date colors for a more contemporary appearance or fixing structural damages, such as damaged or broken fiberglass or porcelain, the Miracle Method has the ability to transform your needed space for a portion of a complete remodeling project. The business does not drywall, paint or do any kind of carpentry job; they just "redecorate." All Miracle Method places function locally and are franchise-owned, and they easily provide quotes as long as you live inside the business's local area.
Throughout the restoration procedure, the business's proprietary non-acid bathroom tub redecorating process is guaranteed to bring back practically any kind of surface area. The first action, a two-step cleaning procedure, gets rid of any kind of soap residue, natural deposits and/or body oils. Next off, after the cleaning is done, any kind of cracks and/or chips that are visible are then fixed. Following the chip and crack repair work, the company's proprietary bonding agent, MM-4 is applied to ensure that there's a solid bond between the older surface area and the new material being applied. Asa finishing touch, the specialist will use a fine-finish spray to apply the acrylic layer. To see the complete work, you should check out the company's official picture gallery.
This refinishing technique, according to the business itself, can last approximately 15 years or even more as long as you take proper care of it as well as adhere to the standards recommended by the bathtub supplier.
Miracle Method options
Tub refinishing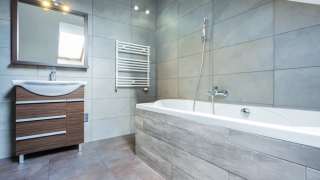 The Miracle Method, inside of a restroom, will really aid recover any type of splits or cracks to restore a surface to feel and look fresh once again, helping the typical customer save as much as 75% in comparison to a full replacement. The Miracle Method can recover tubs, floor tile surrounds, showers, vanities/sinks as well as mount Easy Step, which is a product made to protect against any kind of falls or slips.
For tub types, the business can redecorate these particular types: acrylic, cultured marble, clawfoot tubs, fiberglass and also porcelain.
Ceramic floor tile refinishing
The ceramic floor tile refinishing procedure can aid recreate the appearance of the initial floor tile. The Miracle Method makes use of specific tools, bonding agents, top layers, clear coatings as well as a primer, producing a sturdy gloss in contrast to a paint work. Throughout the procedure, the ceramic tile surface area is cleaned up, the chips/cracks are filled and then, the grout will receive a brand-new, thin coat to make sure that every one of the grout lines are uniformly loaded. When it comes to the finished bathroom, consumers can pick from more than a dozen shades, including the business's known Natural Accents™ procedure.
Kitchen countertop refinishing
Like the tub refinishing procedure, the business can fix and restore an existing counter top, whether it's inside the washroom or in the kitchen area. Practically all surface areas, according to the business, can be refinished, including most cultured marble, floor tile, Corian, Formica, Wilsonart, as well as several laminate counter types, with more than 12+ shades to pick from, including a stone-like appearance. A refinished counter with the Miracle Method can last more than ten years with the proper maintenance.
Miracle Method grievances
Most of the issues we saw online, particularly in one ViewPoints.com blog post, included the following:
Required several repairs a year or even more after the process was finished, with some people mentioning they needed to pay (this seemed to be the most significant grievance).
Some customer service problems (very dependent on area, though).
Some areas hard to contact by phone.
Keep in mind that your results might differ as each location and circumstance is unique.
https://www.thepricer.org/wp-content/uploads/2021/03/miracle-method-cost.jpg
380
610
Alec Pow
https://www.thepricer.org/wp-content/uploads/2023/04/thepricerlogobig.png
Alec Pow
2021-03-01 11:38:47
2022-12-22 16:39:37
Miracle Method Cost