Last Updated on September 16, 2023 | Written by CPA Alec Pow
First Published on January 30, 2022 | Content Reviewed by

CFA Alexander Popivker
Salt Bae is a Turkish chef and butcher who owns Nusr-Et, a chain of luxury steak restaurants. He became famous for his technique of preparing and seasoning meat
His restaurants have become a must-see for celebrities and athletes, including Maradona, Paul Pogba, David Beckham, Ronaldinho, Manuel Neuer, Mesut Ozil, Leo Messi, Kevin De Bruyne, Mehmet Oz, Pierre-Emerick Aubameyang, Diddy, Virgil Van Dijk, DJ Khaled, and Gareth Bale, among others.
As of 2020, Nusr-Et has restaurants in Miami, New York, and Boston in the United States; Ankara, Bodrum, Istanbul, and Marmaris in Turkey; Abu Dhabi and Dubai in the United Arab Emirates; Jeddah in Saudi Arabia; Doha, Qatar; Mykonos in Greece.
BAE is an acronym for Before Anyone Else, but the term is often used with the meaning of lover. In any case, both poses fit Gökçe's style perfectly.
Nusr Et Steakhouse Menu Prices
Item
Price

Picked for you

Sirt (Serves 2) (Picked for you)
$140.00
Nusret Special Salad (Picked for you)
$28.00
Saltbae Burger (Picked for you)
$25.00
Baklava (Picked for you)
$25.00
Nusret Wagyu Burger (Picked for you)
$30.00

Stay Home Special

Istanbul Steak (Serves 2)
$100.00
Ottoman Steak (Serves 3)
$200.00
Saltbae Tomahawk (Serves 3)
$275.00
Sirt (Serves 2)
$150.00
Sirt (Serves 3)
$210.00
8 Hours Roasted Asado (Serves 2)
$150.00
8 Hours Roasted Asado (Serves 3)
$300.00
8 Hours Roasted Asado (Serves 4)
$250.00
8 Hours Roasted Asado (Serves 5)
$590.00
Amor (Serves 2)
$350.00
Amor (Serves 3)
$450.00
Amor (Serves 4)
$550.00
Gold Istanbul Steak
$200.00

Starters, Burgers & Sandwiches

Saltbae Burger
$25.00
Nusret Wagyu Burger
$30.00
Meatball with Cheese
$40.00
Saslik
$70.00

Salads

Ottoman Salad
$29.00
Nusret Special Salad
$29.00

Sides

Herb Crusted Fries
$16.00
Sauteed Mushrooms
$20.00
Sauteed Broccoli
$20.00
Creamy Spinach
$20.00
Asparagus
$20.00
Mashed Potato with Onions
$20.00

Dessert

Baklava
$26.00

Soft Drinks

Coke
$4.99
Diet Coke
$4.99
Sprite
$4.99
Brand History
The American success story is told without hesitation by Nusret Gökçe, a Turkish butcher from a family of miners who has enjoyed international success and created a whole hysteria without controversy in the United States. But how did the Turk build a thriving empire at the age of 35? With the help of a top investor from his home country and a stroke of luck that made social networks explode almost five years ago.
The first steakhouse restaurant set up under this name opened in Etiler, an elegant district of Istanbul, in 2010, when the co-owner, who is also the image of the restaurant, was only 27 years old. After gaining experience in butcher shops and steakhouses in Turkey, America, and Argentina, the young Gökçe found the resources to start his own business, a restaurant with eight tables and ten employees.
You might also like our articles with information about the menu prices from locations such as Culver's, Olive Garden, or Chick-Fil-A.
Located in a luxurious place in Istanbul, the clientele was well-suited and it did not take long until the businessman Ferit Shahenk crossed the threshold and became a regular guest. Delighted by the dishes on the menu, he asked the butcher to let him invest in his business and help him grow. With a fortune that at one time was considered the largest in Turkey and businesses in various fields, including shares in one of the most important Turkish banks, Shahenk was the savior of Nusret.
Restaurants in other major Turkish cities, such as Ankara, Bodrum, and Marmaris, followed Istanbul, and then the expansion went further east to the United Arab Emirates, with two locations, one in Dubai and one in Abu -Dhabi, but also a restaurant in Doha, Qatar.
Miami was the first western location, which was joined in January 2018, by the first steakhouse in New York, and the development continued with two new locations, one more in America, in Dallas, and one in London. In addition to steakhouses, the chain has also developed a chain of restaurants specializing in burgers. There are four Nusr-Et Burger restaurants in Istanbul, and according to some sources from the restaurant, space is being sought to open such a location in New York as well.
With a total of 21 locations currently open, the empire built by Nusret Gökçe and Ferit Shahenk is worth a fortune, which is estimated at more than $1.5 billion and is also of interest to a group of Singapore investors who want to buy a minority stake, according to the Financial Times.
Our review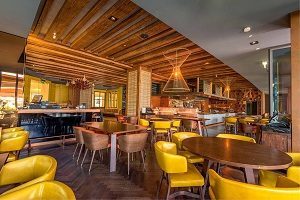 Becoming famous all over the world overnight with a video posted online that went viral, Nusret Gökçe, now known as Salt Bae, has created a movie star image. He is trying to do the tour of the locations he owns to satisfy the customers who come to the restaurant not so much for its steaks, but especially for the hope of seeing Salt Bae and enriching their Instagram account with a video that is always the same, but always generating a lot of appreciation. The routine lasts 45 seconds, perfect for a video on Instagram, and is repeated at every table that ordered a Tomahawk cut, for example.
However, beyond the image, Nusr-Et restaurants are a controversy among critics, especially the locals in New York. Opinions are divided on the quality of food, but they are certainly not divided on prices. Everyone who has crossed the threshold claims that it is a far too expensive steak, especially for what it offers. The same is not true of the Istanbul restaurant, for example, which has fairly affordable prices for locals and is attractive to Westerners.
The show is also controversial, staged by local employees, a show that mimics the owner's movements, whether it's cutting a piece of meat or assembling dessert at the table. Also, on the show and image side is the live cooking that takes place in all the restaurants for the preparation of a house specialty, beef sushi.
The thin strips of raw beef are placed over rice bowls and burned with a torch in front of customers for each portion ordered by someone, so the rest of the guests are tempted with the unique snack that ends up appearing on almost every bill.
In fact, the prices in his restaurants also differ depending on his presence there; a steak with a 24-carat gold leaf can cost up to $2,000 if it is served by the owner himself.
On the other hand, many claim that the steak together with the almost art-like play is worth all the money. And people are still queuing up at his restaurants, so it seems that the food isn't everything, they're looking for the whole package.
Nusr-Et FAQs
How much would it cost to eat at Nusr-Et?
In order to get an idea about how much you would spend at a Nusr-Et restaurant you should know that a burger costs around $30, an Istanbul steak is $100, a salad is around $30, the sides cost around $20, and for the baklava, you will have to pay $25. Find out more about this on the official Nusr-Et website.
Does Salt Bae come to your table?
Only if you are lucky enough. When he is in one of his restaurants he may come and cut the meat at your table.
How much would you have to pay for a 24k gold steak?
One of the most expensive items on the Nusr-Et menu, the golden tomahawk steak, which is wrapped in edible gold leaf, costs around $2,000.
What should I order when going to a Nusr-Et?
Definitely, you should order steak. The tender striploin is one of the customers' favorites.
https://www.thepricer.org/wp-content/uploads/2022/01/nusr-et-menu-prices.jpg
380
610
Alec Pow
https://www.thepricer.org/wp-content/uploads/2023/04/thepricerlogobig.png
Alec Pow
2022-01-30 07:37:03
2023-09-16 12:21:46
Nusr-Et Menu Prices