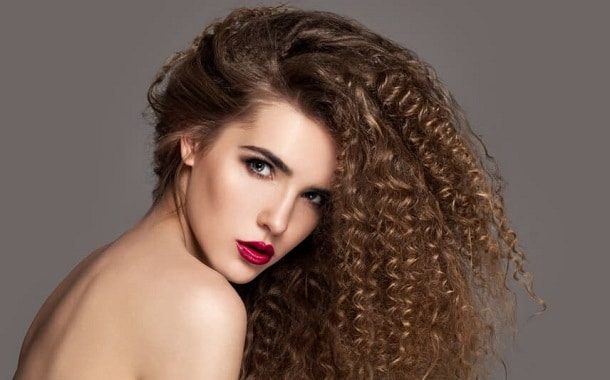 Almost any woman, whose hair is naturally straight, dreams of beautiful curls. However, curling your hair with a curler every day not only destroys them, but it is also a time-consuming procedure. Fortunately, there is a more efficient way than daily curling. This is represented by permanent curling. This type of stylistic intervention allows you to get lush, thick, and curly hair for a long time. Today, curling is a safe procedure, but you must remember that it can damage your hair more. Therefore, it is worth doing in a professional hair salon.
The idea of permanent hair probably makes you think of that very curly helmet hairstyle, popular in the '80s.
But the truth is that things have changed a lot, and now permanent hair can look spectacular. From beach waves in the style of those worn by Blake Lively to perfectly defined voluminous curls, all are possible with the help of the new permanent procedures.
The perm works by using certain chemicals that change the texture of the hair, whether it creates fine curls or massive curls. In the traditional version, the hairstylist will wrap the hair on curlers and will apply the permanent solution that will create the curls. After the solution is left to act, the specialist rinses the hair, dries it, and applies a substance that neutralizes the solution and stabilizes the shape created on the hair.
You might also like our articles about the cost of box braids, Ombre hairstyle, or hair highlights.
But the new formulas and techniques give new life to the procedure permanently: instead of using curlers, hair stylists can use various materials that will help you get the perfect curls. For example, use textiles or foam rollers.
How is the modern permanent different?
It all depends on the technique used. Stylists usually used plastic curlers applied all over their heads, but now other methods are used. "When I do permanent, instead of using a classic curler, I sometimes use textile material, curl my hair on my finger or use sponge rollers." says hairstylist Anthony Cole, according to goodhousekeeping.com.
The new technique leads to the formation of different types of curls, from spiral curls to slightly wavy hair, in beach wave style. Cole claims that women now use the permanent option to emphasize the natural texture of their hair, whether it is S-type curls or curls without a perfectly defined shape.
Does the permanent perm affect the hair?
There is a preconceived notion that perms leave your hair dry and damaged, but if done correctly, modern perms should not affect your hair health. "If you do it yourself permanently, you can definitely destroy your hair. But if it is done by a professional, the hair should not be affected ", says the hairstylist.
How long does a permanent last?
First of all, when you go to the salon for a permanent you should know that you will need at least two and a half hours. After you make your hair permanent, the lifespan of the procedure largely depends on how long your hair is. On short hair, which is cut regularly, it can take three or four months.
"I have clients who have long hair, and when they grow their roots, they like the result even more. Hair grown at the roots makes the curls go down and be only at the tips. In this case the permanent can be kept for six to eight months." says Anthony Cole.
How should you take care of your permanent hair?
The best way to make your new curls shine is to let your hair dry in the air for almost three quarters, then use a hairdryer with a speaker, the specialist recommends. If you want to use a hair straightener you must make sure that the temperature used is around 150 degrees Celsius.
If the board is too hot, you risk permanently destroying it. "When you exceed the temperature of 230 degrees Celsius, remove all the water from the hair. It will produce a thermal shock inside the wires and you can lose the shape given by permanent due to the heat ", says the specialist.
Another care trick is to use products specially designed for curly or wavy hair. Choose especially products that offer flexibility, hydration and elasticity to the hair.
How much does this treatment cost?
The price you would pay for a permanent hair can depend on the used techniques, length of your hair, the necessary time to complete this procedure and the hairstylist's experience.
Relatively, the cost of a Permanent Curl Hair will be from $50 to $200, depending on the type of the permanent style, as shown below:
Beach Wave Perm costs between $40 and $200;
Body Wave Perm costs between $69 and $200;
Spiral Perm costs between $89 and $200;
Plain Curl Perm costs between $40 and $200;
Long Hair Perm costs between $49 and $200;
Short Hair Perm costs between $50 and $100;
Medium Hair Perm costs between $90 and $200;
Shoulder Length Perm costs between $40 and $100.
After all, perm hair is characterized by both pros and cons. Therefore, before carrying out this procedure, it is necessary to weigh them. And, of course, it is important not to forget the rules of your hair care and then it will shine with beauty and health.
https://www.thepricer.org/wp-content/uploads/2021/02/perm-hair-cost.jpg
380
610
Alec Pow
https://www.thepricer.org/wp-content/uploads/2023/04/thepricerlogobig.png
Alec Pow
2021-02-02 23:04:27
2022-12-18 22:47:04
Perm Hair Cost