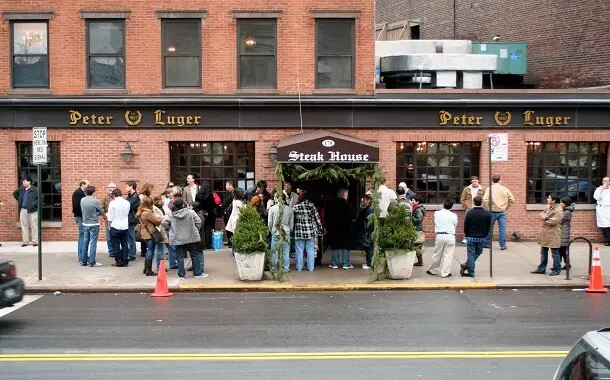 Peter Luger is a famous steakhouse with a history of more than one hundred years, being the third oldest operating steakhouse in New York City. It has two locations in New York, one in the Williamsburg area of Brooklyn and one in Great Neck, on Long Island. Both of them are known for their rustic décor, with brass chandeliers, exposed wooden beams, weathered beer-hall tables, and burnished oak wainscoting.
Peter Luger holds a Michelin star, so their prices may be a little bit too high for some. But you can get a better idea about the steakhouse by taking a look at the table below, where you will find its latest menu prices.
Item
Price

Appetizers

Caesar Salad with Grated Pecorino Romano
$15.99
Iceberg Wedge Salad
$18.99
Luger's Sizzling Bacon (By the slice)
$5.99
Mixed Green Salad
$12.99
Shrimp Cocktail (4)
Market price
Shrimp cocktail (6)
Market Price
Sliced tomatoes & onions (for 2) with Luger's sauce
$16.99
Sliced tomatoes (for 2) with Luger's Sauce
$16.99

Main Courses (Dinner)

Filet of sole (lamb & fish)
$32.99
Grilled Atlantic salmon
$31.99
Lambchop (2 pcs. )
$57.99
Rib Steak
$59.99
Single steak
$56.99
Steak (for 2)
$114.99
Steak (for 3)
$169.89
Steak (for 4)
$219.89

Lunch Specials

Served with potato & vegetable of the day until 3:45 pm
Chicken (Home Style) – Wednesday
$21.99
Filet of Sole (Lamb & Fish) – Tuesday & Friday
$26.99
Pot Roast – Monday
$18.99
Roast Prime Rib of Beef (USDA Prime) – Tuesday through Friday
$35.59

Daily Lunch Specials

Served daily until 3:45 pm
Chopped Steak (USDA Prime)
$20.99
Grilled salmon w/ potato & vegetable of the day
$24.99
Lamb chops (2 Pc.)
$28.99
Luger-Burger
$16.99
Luger-Burger with Bacon
$22.99
Luger-Burger with cheese
$18.49
Luger-Burger with fries
$20.99

Vegetables & Sides

Baked potato with sour cream
$7.99
Broccoli (for 2)
$10.99
Creamed spinach (for 2)
$12.99
French fries (for 1)
$7.99
French fries (for 2)
$13.99
German fried potatoes (for 2)
$14.99
Onion rings (for 2)
$13.99

Salad Dressing, Toppings, & Extras

Add chopped bacon
$5.99
Add crumbled blue cheese
$5.99
Blue cheese dressing
$0.99
Garlic French dressing
$0.99
Russian dressing
$0.99
Vinaigrette dressing
$0.99

Coffee & Tea

Coffee, Decaf, or Tea (Dinner)
$4.59
Coffee, Decaf, or Tea (Lunch)
$3.59
German Coffee
$14.99
Irish Coffee
$14.99

Dessert

Served with Homemade "Schlag" (Whipped Cream)
Apple Strudel
$13.99
Chocolate Mousse
$13.99
Key Lime Pie
$13.99
Ice Cream
$13.99
Cheese Cake
$13.99
Fruit Tarts
$13.99
Pecan Pie
$13.99
Sorbet
$13.99
Fresh Fruit
$13.99
Luger's Special "Holy Cow" Hot Fudge Sundae
$14.99
Brand history
Peter Luger was founded in 1887 by the German-born Peter Luger. His nephew, Carl was the chef and he owned the restaurant. The first location was opened in Brooklyn and was named "Carl Luger's Café, Billiards, and Bowling Alley".
You might also like our articles with the prices you will find on the menus of Nusr-Et, Longhorn Steakhouse, or Outback Steakhouse.
In 1941 Peter Luger died and the management of the restaurant was taken over by his son, Frederick. With him in charge, the restaurant went through a period of decline.
Frederick closed the restaurant in 1950 and put it up for auction. The auction was conducted by Lester and Bernard Magrill, frequent patrons and local auctioneers. So, Peter Luger was purchased by Seymour Sloyer and Sol Forman, as partners. They paid only $35,000 for both the building and the restaurant.
The business developed under the new ownership and the restaurant received a four-star review of the steakhouse from Craig Claiborne of The New York Times in 1968. The same year, Sloyer and Forman opened the second location, in Great Neck, New York. In 1984 this location was closed due to a severe fire. However, in 1986 it reopened.
After the death of Sol Forman, in 2001, his family took ownership of Peter Luger.
Our review
The Peter Luger menu includes various appetizers, salads, sides, daily lunch specials, steaks, lunch specials, and desserts.
You should be prepared to pay anywhere between $15 and $20 for an appetizer such as mixed green salad, sliced tomatoes with Luger's sauce, Iceberg Wedge salad, sliced tomatoes and onions with Luger's sauce, Caesar salad with grated Pecorino Romano, Luger's sizzling bacon and shrimp cocktail.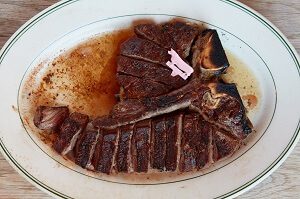 Sides and vegetables are priced from $10 to $15 and include French fries, onion rings, German fried potatoes, creamed spinach, and baked potato with sour cream.
You should budget around $220 for a steak main course for dinner, which is enough to feed four people. Also, the single steak, lamb chop, and rib steak cost $55 to $60 each. The cheapest is the grilled Atlantic salmon, which costs around $35.
The daily lunch specials can be served every day until 03:45 p.m. and include a Luger burger with bacon, lamb chops, chopped steak, a Luger burger with fries or cheese, and grilled salmon with vegetables and potatoes. These cost anywhere between $20 and $30 each.
As for the dessert, you will have to pay around $15 and you will be able to choose between Luger's Special "Holy Cow" hot fudge sundae, apple strudel, fresh fruit, chocolate mousse, sorbet, key lime pie, fruit tarts, ice cream, pecan pie, and cheesecake.
A coffee or a tea at Peter Luger costs around $7, while for a German coffee or an Irish coffee you will have to pay almost $15.
The Peter Luger restaurant accepts credit card payments only for online ordering. At their location, you will only be able to pay with cash, US debit cards, US checks with a valid photo ID, and Peter Luger cards. Also, they don't take online reservations and you will have to call the restaurant directly to make a reservation.
Peter Luger FAQs
At what time does Peter Luger open?
Peter Luger opens at 11:45 a.m. Monday through Saturday, and at 12:45 p.m. on Sunday.
At what time does Peter Luger close?
Peter Luger closes at 09:45 p.m. every day at the Great Neck location, while the Brooklyn location closes at 09:45 Sunday through Thursday, and on Friday and Saturday at 10:45 p.m.
Does Peter Luger have a dress code?
No, Peter Luger does not have a dress code. You can dress casually at this restaurant.
How many Michelin stars does Peter Luger have?
Peter Luger has one Michelin star.
How long does Peter Luger dry age their steak?
Peter Luger dry ages their steak at the restaurant for a period of 28 days.
https://www.thepricer.org/wp-content/uploads/2022/10/peter-luger-menu-prices.jpeg
380
610
Alec Pow
https://www.thepricer.org/wp-content/uploads/2023/04/thepricerlogobig.png
Alec Pow
2022-10-13 12:09:34
2022-10-11 10:44:22
Peter Luger Menu Prices