Rainbow vacuum cleaner cost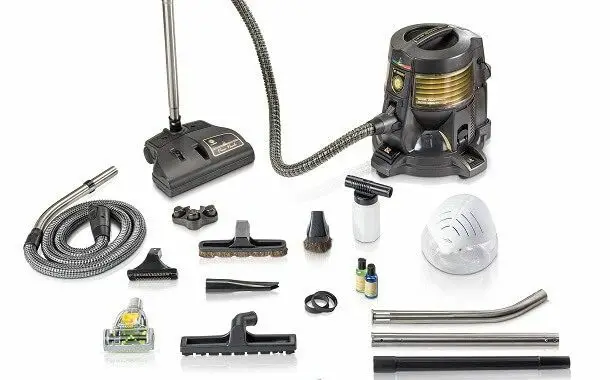 Rexair LLC, from Troy, Michigan, has been manufacturing Rainbow vacuum cleaners for over 80 years. The legendary water filtration system has made Rainbow known around the world. Today, Rainbow vacuum cleaners are sold and distributed in over 80 countries around the world.
The original idea for a bagless vacuum cleaner was born in the 1920s. John W. Newcombe invented the "separator" – a device that was designed to separate dust and air particles. Leslie H. Green saw real potential in this invention and joined forces with Newcombe to develop "Newcombe Bagless".
In 1929, Green formed a new corporation called Rexair, meaning "King of the Air". While the nation was in crisis, the Rexair Company began to produce, refine and market the "Rexair Cleaner".
The year 1955 brought drastic improvements to the "Rexair Cleaner". With an elegant, efficient design and an engine twice as powerful as its predecessor, Rexair executives decided to rename it the "Rainbow".
How much does a rainbow vacuum cleaner cost?
If you are one of those people who don't want to pay a large sum of money for a vacuum cleaner, then the rainbow vacuum cleaner is not for you. On a vacuum cleaner costs scale, the rainbow vacuum cleaner is located to the higher end, with prices that start at around $300 and go up to more than $3,000.
All the vacuum cleaners that are available on the market right now have the capacity to clean your house by sucking the debris from all around. But the dirt will not stay away for such a long time and you will have to clean again and again. This is the main reason the rainbow vacuum cleaners are much better than other vacuum cleaners.
They have the capacity to refresh the air as well. Rainbow vacuum cleaners use a HEPA filtration system in order to clean the water and make the air fresh. Meanwhile, ordinary vacuum cleaners are not using any type of water when collecting the dirt from the house. So, the rainbow vacuum cleaner is worth every penny.
Rainbow vacuum cleaner details
Any buyer should know how does the vacuum cleaner work before thinking about purchasing a rainbow vacuum cleaner. The vacuum cleaner is an appliance that uses an air pump to create a partial vacuum that absorbs dust and dirt. Dust is collected in a rigid removable collector with a centrifugal system or in a bag (textile or paper) that acts as the main filter.
What sets the rainbow vacuum cleaner apart from other water-like systems is the total absence of the bag and filters (which reduce the efficiency of a regular vacuum cleaner). In addition, there is a device that separates dust and air from water, with a purity of 90 percent. Dust and dirt collect in the two-liter water tank, which is mounted under the vacuum cleaner.
How does a rainbow vacuum cleaner work?
The Rainbow system cleans your house in the most natural way possible, using "Water Power". In addition, Rainbow creates a healthier environment for your family.
It absorbs air along with fine dust, bacteria, viruses, microbes, mold spores, and mites in the water pool.
The air is centrifuged and the dust along with bacteria, viruses, microbes, mold spores, and mites remain in the water. The air that returns to the room is thus purified.
This unique water filtration system captures 99.997% of household dirt.
Microscopic particles that do not adhere to water are trapped by the HEPA Neutral Filter.
This combination of two-stage filtration removes almost 100% of dirt and contaminants.
Using magnetic induction technology, the Hurricane engine used by rainbow vacuum cleaners solves the most difficult cleaning problems, maintaining indefinite reliability over time.
Changing the accessories for different surfaces can be done in just a few seconds.
There is a switch in an ergonomic handle that allows precise control of the accessories.
Rainbow follows you from room to room, is easy to handle, and has a rubber protection band that protects the walls and furniture.
Rainbow vacuum cleaner repair cost
It is pretty hard to find the broken parts of a vacuum cleaner and if it is a rainbow vacuum cleaner it will be an even harder job. However, if you succeed in finding the damaged parts then you should be prepared to spend a huge amount of money to repair it, depending on each part.
Expect to pay anywhere between $25 and $75 to replace various parts of the vacuum cleaner such as the interior hose, the cords, the handles, or the rollers. Though, it is recommended to rebuild the old rainbow vacuum cleaner if it is not working properly. The whole rebuilding cost would be anywhere between $210 and $460. It is up to you what to choose – rebuild the entire vacuum cleaner or just replace the damaged parts.
Types of rainbow vacuum cleaners
Genuine Rainbow SE Vacuum Cleaner
This model has a power of 72 CFM and is perfect for household cleaning jobs. There are six pieces included in the tool kit that comes with the vacuum cleaner: a curved extension wand, a straight extension wand, a duster brush, a floor tool, an upholstery tool, and a crevice tool.
Genuine E2 Black E Series Rainbow Vacuum Cleaner
It shouldn't be hard to figure out that you actually need this powerful bagless canister vacuum cleaner because this comes with the HEPA filtration technology system. Thanks to this feature it is certain that it will last for a long period of time. The tool kit that comes with a vacuum cleaner includes six items: an upholstery tool, a duster brush, two straight extension wands, a crevice tool, and a floor tool. With this vacuum cleaner it will be easy for you to switch between hard floor and carpet surfaces with the help of a high-quality wide path electric power nozzle kit with an on and off switch.
You might also like our articles about the cost of vacuum cleaner repair, dryer vent cleaning, or leaf removal and yard cleanup.
Genuine Rainbow E Series Vacuum Cleaner
This model uses an efficient water technology with a power of 80 CFM. The tool kit should include six pieces: a curved extension wand, a duster brush, a straight extension wand, a crevice tool, a floor tool, and an upholstery tool. If there are hard-to-clean surfaces you can use the wet pickup hose.
Rainbow SRX
In 2019 Rexair announced the launch of a completely new model – Rainbow SRX. A result of more than 3 years of intensive research, development, and testing, SRX offers significant performance improvements over previous models and is also well ahead of its competitors. With over 20 enhancements, including a completely new, patented, 4-speed engine with increased air cleaning performance and 30% more airflow than previous models, the SRX is the most advanced cleaning system ever produced and continues to be the only cleaning system certified as an air purifier by the Association of Home Appliance Manufacturers (AHAM).
Final words
You keep cleaning your house permanently, but the air is not as fresh as you would like and everything around is not sanitized enough. Maybe it is time to replace your old vacuum cleaner with a rainbow vacuum cleaner.
https://www.thepricer.org/wp-content/uploads/2022/01/rainbow-vacuum-cleaner-cost-1.jpg
380
610
Alec Pow
https://www.thepricer.org/wp-content/uploads/2023/04/thepricerlogobig.png
Alec Pow
2022-01-17 10:49:15
2022-01-16 00:56:24
Rainbow vacuum cleaner cost