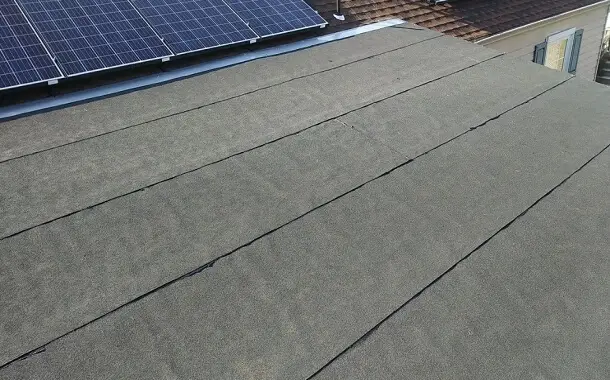 Roll roofing is an economical low-slope solution for homeowners who want a new roof that's easy to install and provides waterproof protection. It is also called modified rolls or mineral surfaced roofing (MSR).
Available in several different styles, rolling roofs may not win any awards when it comes to aesthetics but they are practical options for those looking for something simple with effective results. Below you'll find more information about the benefits of various kinds of roll roofings as well as their prices so get started by learning which type suits your needs.
Roll Roofing explained
Rolled roofing is a practical alternative to asphalt shingle installation for those in need of low-slope roofs. It has many benefits that can make it the right choice, such as being thinner and lighter than traditional roofing which means easier transportation and installation onsite. The only drawback with this type of material may be its inability to withstand heavy snowfall but if you're looking for something lightweight, then rolled roofing should provide an excellent solution.
You might also like our articles about the cost of a new roof, IKO roof shingles, or the price of a standing seam metal roof.
Different types of roll roofing
Even though all roll roofing types are made using bituminous asphalt binding agent, you should know that there are three types of rolled roofing material, pretty different one from another.
Saturated felt is one of many environmentally friendly options on the market today when it comes to sustainable building practices. It's made primarily out of natural resources such as wood chips and paper which are soaked with liquid rubber until they become rigid enough not only to stand up straight but also provide insulation against harsh weather conditions too. This means less money spent on heating bills.
Smooth finish roofing sheets are thin layers typically used as an underlayment or a temporary finish. The organic felt and soaked with asphalt for waterproofing, they're made to be smooth so that it doesn't stick when applied.
Mineral finish rolled roofing is more durable than other types of roofs and many people choose to use it as a stand-alone. Mineral sheets are thicker, with talc applied on one side and rock granules on the other. These resources make for thick protection from outside elements including snow or rain.
Why would you install roll roofing?
Rolled roofing is a popular choice for new construction, but also can be applied to existing roofs. The low cost and ease of installation make it the top pick among builders today.
With its simplicity and ease of installation, roll roofing is the perfect solution for a do-it-yourself project. Rolled roofs work to protect you from rainwater by being water tight as well as easy to install – just unfurl it over your substrate! A high-quality rolled roof can last between 10 and 20 years depending on the general weather.
Average costs of roll roofing
The roll-roofing cost varies based on location, the material used, and complexity. It is difficult to provide a complete list of costs because the price depends on numerous factors.
The actual rolled roofing may range from $30 – $100 per square (a square is usually 100 sq ft in size). In total it will cost around $300-$1000 for a 1,000 sq ft roof.
The total cost of rolled roofing installation (materials and labor) might be $1.50 to $3.00 per square foot, or anywhere from 1,500-3000 dollars for a whole roof. Removing the old roof can add up to $2 per square foot if not already included in the initial quote and specifically recommended by the contractor.
https://www.thepricer.org/wp-content/uploads/2021/05/roll-roofing-cost.jpg
380
610
Alec Pow
https://www.thepricer.org/wp-content/uploads/2023/04/thepricerlogobig.png
Alec Pow
2021-05-16 21:04:44
2021-12-09 13:02:59
Roll Roofing Cost