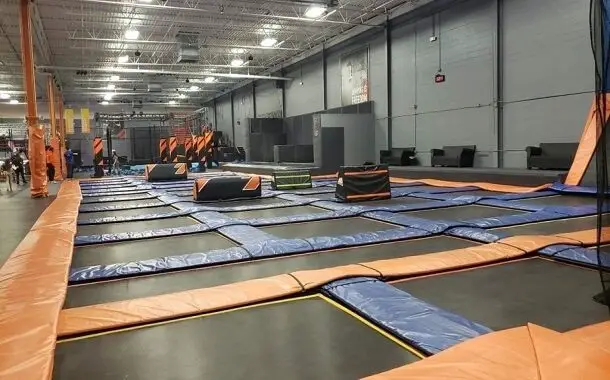 The first SkyZone Indoor Trampoline Park, then known as SkyMania Fun Center opened in Las Vegas back in 2004 and since 2009 the company has been franchising.
Sky Zone is the world's first all-trampoline with three-dimensional walled playing fields. This was created by a team of skilled welders, engineers, carpenters, and builders who were able to design an entire indoor park from scratch. The Sky Zone was one of the first companies to take on an ambitious design project and they have been rewarded for their success with a United States patent.
The trampoline court from every Sky Zone location is the perfect place to host your next event. Whether you're looking for a walk-in open jump session, a party, or a fitness class, they have it all. Make sure to check out their events page so that this great facility can be an option for your next fun escapade.
Currently, there are more than 200 locations all over the world, from the United Kingdom to Saudi Arabia, even in India and Kuwait.
How Much Does Sky Zone Cost?
The cost of admission in the Sky Zone depends on some factors such as the location you choose to go to and the number of hours you wish to spend there. From what we managed to find, one person will have to pay around $12 for half an hour, around $18 for one hour, $22 for 90 minutes, and $24 for two hours. Keep in mind that these estimates greatly depend on the geographical location. Also, the cost may increase if there is a special event going on at the time.
For example, the Peoria, Arizona location lets you purchase tickets via their official website page. At the time this article was written the price of a 120 minutes jump was $24, while for 120 minutes toddler jump the cost was $16. The cost for the Family Fun Day pass that is also available for 2 hours is $85.
Sky Zone details
Sky Zone is a world-renowned facility for all sorts of sporting events and activities, but it's also so much more than that. There are dodgeball courts to take on the freshest competition in town; basketball rims where you can show off your skills against other players or work on improving your game; soccer fields to play with friends. Sky Zone has something to offer no matter what sport interests you.
You might also like our articles about the cost of becoming a member of the Camp Transformation, The TITLE Boxing Club, or the Equinox Gym.
Guests will be separated by their age group on the court, usually by walking to the group for four-year-olds, five to ten-year-olds, eleven to fifteen-year-olds, and more than sixteen.
It is important to always refer to the local location's open jump time before making a reservation.
What are the extra costs?
It is recommended to make reservations for a group of more than ten people. You will be required to pay a reservation fee of around $2 per individual.
Also, all jumpers will have to wear Sky Zone socks that cost $5 per pair, depending on the location.
Important things to consider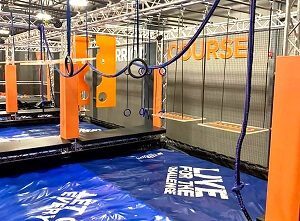 Sky Zone is a great place for kids of all ages, including those who are just learning how to jump. It's important that they can do so on their own and are not helped by parents or other adults around them while jumping because it encourages independence.
It is recommended by the Sky Zone staff that younger jumpers (10 years and under) start their day at the park by 9 a.m. Younger kids love to go as early in the morning because they know it means an entire afternoon spent there.
Dodgeball is not guaranteed, just like any other sport or game of chance where availability may vary. So, make sure you ask about the availability of this sport before buying your ticket.
Sky Zone offers a variety of open jump hours to suit your needs. You can find out what the next available slot is by visiting their website and checking in advance.
You will be required to sign a waiver before coming in. The company recommends filling out the online form and saving yourself some time, as those who are under 18 must have their signatures verified by an adult or legal guardian on-site while visiting the facility.
How can I save money?
From time to time many locations offer discounted deals through Groupon.com.
Also, make sure you check their official website as they often have deals on promotions to offer.
There are locations that will let you purchase sessions in bulk and this way save money. For example, the Arizona location, already mentioned above will allow you to purchase 10 passes at the cost of eight.
https://www.thepricer.org/wp-content/uploads/2022/01/Sky-Zone-cost.jpg
380
610
Alec Pow
https://www.thepricer.org/wp-content/uploads/2022/01/thePricer.png
Alec Pow
2022-01-06 09:08:05
2022-01-06 09:08:05
Sky Zone Cost