How Much Does a Spray in Bedliner Cost?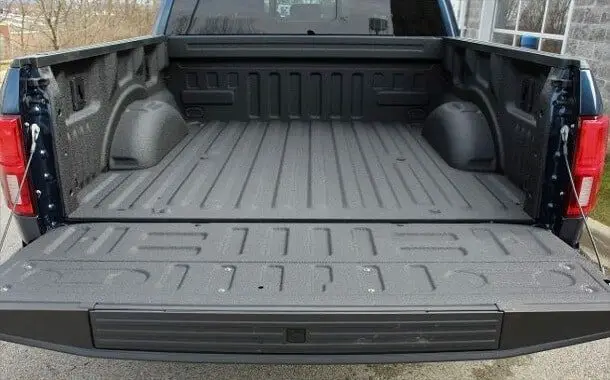 A spray-on bedliner is a great way to protect the truck bed from rust, scratches, and marks. A thick coating of this material can be applied easily by spraying it on your truck's surface in order to keep them looking clean for longer periods of time. This process would take less than five minutes as opposed to having one installed or applying an ordinary cover which could potentially take a lot more time to have installed.
How much does a spray in bedliner cost?
The cost of a spray-in bedliner is anywhere between $350 and $800, depending on what product you are going to use and the professional you hire to do the job. You can find two very popular products on the market for this particular job: Rhino and Line-X. Their prices are somewhat similar, from what we managed to find online, so in the end, it comes down to your personal needs and preferences.
A color match, additional surface coating, and UV protection will cost around $800. However, if you are after just the basics from an unknown third-party company then it could be closer to $350.
DualLiner conducted a study on 248 installers to see the average cost of Line-X or Rhino installs. The results found that, according to their responses, Line-X bedliner installers wanted an average cost of $481 while Rhino has an installation cost of about $470.
One Edmunds article said that Ford F-150 owners could get a factory spray-on bedliner for $475, but at the local Line-X franchise business, the bed liner costs about the same, just about $10 more. For an additional $150 they can add UV protection to prevent fading in their paint job. The process is shown step by step on how this works out as well.
On the official website of Line-X, you can find a starting price of $500 for its spray-on truck bed liner.
Spray-on bedliner details
Spray-on bedliner kits come with a spray gun, armor coatings, and other features. It is important to look for the items listed on the packaging so that you know exactly what's included in your kit prior to purchase. The installation process can be done either using heat (aromatic) or without it (aliphatic). Using an aromatic application will ensure better durability by countering UV rays but may not necessarily always provide more cost-effective results due to higher material costs. Aliphatic applications are usually cheaper upfront however this might result in fading over time as well because of its lower quality protective coating capabilities against UV damage.
You might also like our articles about the cost of leather car seat repair, to plasti-dip a car, or the cost of car wrapping.
For a more custom look and feel, you can get your bedliner spray matched to the color of your car. A custom color will come at an additional cost. Bedliners also come in different textures. Smooth textures are easy for spills or messes to be cleaned up with ease, while rougher textured options like sand provide traction so you don't slip.
The bedliner is applied to the entire truck bed and allowed to dry for up two hours. The process starts with taping off the area like you would do to a wall at home when you want to paint it.
Next, it will be sprayed or painted on by either Rhino product or Line-X's high-pressure spray system – the process involving the Rhino product mostly uses hot pressurized systems whereas the process involving Line X can use both methods of application depending upon customer preference. After drying completes, an additional coat will be added if necessary so that it lasts for a long time.
Line-X and Rhino both offer a lifetime warranty on their products, but some third parties may not. The installation time will vary based on the installer's expertise, but overall it shouldn't take more than 6 hours to complete.
Any additional expenses to consider?
For many professionals, the color black is standard. However, if you want to match your exact colors, that will cost an additional $50-$150.
Line-X bedliners are a great way to provide your pickup truck with protection for years. Not only does Line-X protect the inside from scratches, rust, dents, and corrosion but it also protects against UV rays that fade over time.
The UV protection will cost about $150 and if you want to have the truck bedliner in the same color as your car, you should expect an additional fee of about $400. If you want two coats of paint on your liner, then there is an additional cost as well for supplies as well as installation since the job will take twice as long.
What should you ask the installer?
What installation process will you use? The process of installation can make a big difference in what your final product looks like. Some installers use the cold application, and it often creates dryness that makes their final product look runny or messy. If you choose to go with the hot-process approach, it leaves behind cleaner-looking results, according to Tundra Headquarters.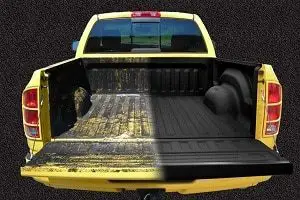 How long will you prep? Preparing a truck bed is an essential part of the installation process. It can take less than 15 minutes depending on how much prep work it needs, but if you want to make sure your product looks its best, then power sanding will be necessary and that takes well more than an hour. The installer should start by removing any accessories inside the bed before they begin prepping so nothing gets scratched up or damaged.
How long have you been in business? If you are looking for an expert, then it's good to know that they have been doing their job for a very long time. If you buy a Rhino or Line-X product and get installation from one of these experts, then you will be sure they will be in business in the future and can enforce the warranties. A fly-by-night installer may be out of business in just a few years if something bad happens – you won't be able to get the necessary fixes done.
Can I peek inside your shop? A clean and well-organized shop will always add to a professional job. A shop that is full of dirt, dust, or grime can contaminate the product in production leading to a less-than-favorable end result. If you are not allowed into the inner workings of a shop then it may be best for you to go elsewhere.
Is there any way to spend less?
If you are in the market for a new truck, it may be beneficial to negotiate an option that includes a bedliner. It's best to talk with at least three installers around you before committing to a shop so you can be sure you got the best price.
If you're up for the challenge, consider doing it yourself. The spray in a bedliner cost – if purchased on your own—will vary depending on the brand you go for; in general, however, expect to spend anywhere from $85 to as much as $175 for materials alone! On Amazon.com there are various kits available at different price points, that will also feature very different results.
https://www.thepricer.org/wp-content/uploads/2021/07/spray-in-Bedliner-cost.jpg
380
610
Alec Pow
https://www.thepricer.org/wp-content/uploads/2023/04/thepricerlogobig.png
Alec Pow
2021-07-08 10:56:19
2023-04-26 10:28:08
How Much Does a Spray in Bedliner Cost?