There are a few objects around us that we just don't ask ourselves questions about, and that's because they've always been there. An example of this is the STOP traffic indicator. The bright red object, in an octagonal shape, is known internationally.
As it is known, the red octagon with the white inscription that reads "STOP" forces the driver to halt at the stop line, and in its absence – at the edge of the road intersection. William Phelps Eno, a wealthy New England native, spoke of the need for such a sign in the distant 1900s, trying to cope with the chaos on public roads. As a result, the first mandatory stop sign was installed in Detroit in 1915, at the intersection of Cass and Clifford streets.
How much does a stop sign cost?
You've seen them on the side of the road and now you might want to get one for your own property. You can purchase a stop sign that is just like those you see in front of schools, businesses, or traffic routes, but first, you should know about how these signs are priced.
The cost of the stop sign depends on whether they're reflective or not (reflective will be brighter at night), what size it may need to be (smaller ones might only range from $25-$40 while larger sizes could go as high as $150) and where you buy it from. As a general average, the stop sign will be priced between $20 and $200.
The website USA-traffic-signs.com offers a high-intensity reflective traffic stop sign which measures 24 inches for $50, while the expected average for this type of sign is around $70.
The cost of replacing a stop sign, in case you hit one, can be quite high, around $500-$600 on average. The government charge for the sign is around $55 – $80, while the labor rates are $60 to $80 per hour and depend on your location.
You might also like our articles about the cost of traffic lights, telephone poles, or billboard advertising.
According to Nasdaq, you may have to pay around $511 in case you hit a stop sign.
In the table below we give you the average prices for different stop signs.
| The Type of Sign | Average Price |
| --- | --- |
| 36″ Reflective | $70 |
| 30″ Reflective | $60 |
| 30″ High-Intensity Reflective | $75 |
| 30″ Diamond Grade Reflective | $145 |
| 24″ Reflective | $45 |
| 24″ High-Intensity Reflective | $55 |
| 24″ Diamond Grade Reflective | $90 |
| 18″ Reflective | $20 |
 Stop sign details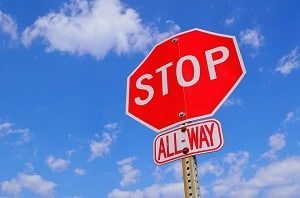 If you want to buy a stop sign for your own use, then you can choose any of the three different options: high intensity prismatic reflective aluminum, diamond grade reflective aluminum, or engineering grade reflective aluminum. Comparing with other kinds of materials, the diamond grade will last three to five years more.
Engineering grade reflective aluminum is a superior option for nighttime safety. The reflective aluminum will reflect at night, offering superior brightness and clarity compared to the standard engineering grade.
The high-intensity prismatic signs are also reflecting at night when hit by the light, which can offer better lighting and increased visibility for drivers on roads or highways. This material compared to engineering-grade signs is 10 times more reflective.
Diamond-grade reflective signs offer the brightest, most visible option for your sign needs. They're 10 times more luminous than standard engineering grade and have a visibility range of 200 to 600 feet. Plus, they'll meet or exceed all state DOT guidelines on brightness and reflectivity.
You may be surprised to know that the dimensions vary from country to country. In America for example they use an 18-inch STOP sign whereas in Kenya it's a 36 inch one. The red octagon is 750 mm across opposite flats and has a 20mm white border while the legend on top measures 250 mm tall.
Mounting holes will be able to accommodate up to four screws, and are generally the same size as a ⅜″ hole.
What are the extra costs?
Due to its larger size, ordering this item online may come with additional shipping fees. These costs will usually mean $15-$35 on top of its acquisition price.
Stop signs are important for safety, but they do not last so long. You should plan on replacing them every seven to 10 years if used outdoors but this will depend on what materials they are made of.
Mounting a sign can be expensive. If you need a contractor to install your sign, plan on budgeting at least $500 for labor expenses. If you want the best customer service and highest-rated contractors in your area, then get at the very least three quotes before deciding on who to work with.
Important things to consider

It is best to choose a stop sign that does not fade over time, as highly reflective signs will follow local DOT and MUTCD state directions. Try to choose one of the three grades mentioned above and avoid the standard engineering class.
How can I save money?
You may find a newly purchased and authentic sign from Craigslist or eBay for much less than what they would be at your local home improvement store, especially if it's slightly used.
Also, if you buy more than 5 to 10 at once you may receive a bulk discount from some companies.
https://www.thepricer.org/wp-content/uploads/2021/08/stop-sign-cost.jpg
380
610
Alec Pow
https://www.thepricer.org/wp-content/uploads/2023/04/thepricerlogobig.png
Alec Pow
2021-08-24 07:23:44
2021-08-24 07:23:44
Stop Sign Cost